SF City Hall Bride Adjusting Dress
Many times, the best photos are taken at San Francisco city hall between poses. You can catch a moment like this one above. A San Francisco city hall bride thought her train was not looking the way she wanted, so she was trying to move it when I captured this image. Candid photography can often be the most complimentary to the subject. This is certainly true when it comes to wedding photography. Yes, the image was candid, but we made sure the bride was in the perfect light before we even began taking her portraits. We like having the bride's veil facing the light source, which in this case was 3rd Floor window. As you can see from the photo above, the light makes her veil and train glow as it reflects back to the camera. Some pictures are accidental, but it is important to always place your subject in a great situation and background. San Francisco city hall has many of these amazing backgrounds. We took a series of more posed photos of this same bride in this location that all turned out amazing. If anything, my style is defined by making sure my subjects are in the best light and with a great background behind them. Once that is accomplished, any photo we take will look amazing. It doesn't matter whether it was on purpose of accidental.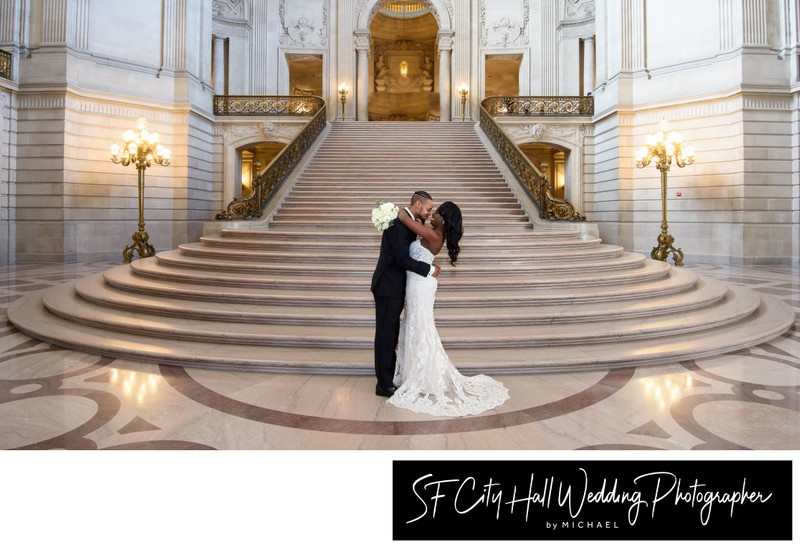 Back At San Francisco City Hall After Pandemic
It is great to be back at San Francisco city hall after it being closed for over a year. For so many years, we found ourselves at city hall weekly shooting weddings and doing what we love. The Pandemic definitely was a shock and took some time to understand what was happening. Hard to believe that we would not be making our many trips to San Francisco and meeting great couples during such a very important day in their lives. I don't think we took it for granted, but it sure was eye opening to see everything taken away from our brides and grooms all at once. Corona Virus has caused much worse and more important devastation and we do not want to minimize that in any way. It seems that all of us have been affected in different way. We are so happy to be back and photographing weddings again and maybe will shoot yours next! The wedding pictured here, was one of the last ones we photographed before San Francisco city hall closing.