Serious Wedding Photography
Sometimes good SF city hall wedding photography also means catching more serious or thoughtful moments on camera. This thoughtful bride image shows the serious side of Wedding Photography. Obviously everyone loves the images that show joy, laughter and emotion. But occasionally it helps to tell the story of the day when you can actually show thoughtful moments or something more serious. To be honest, I don't even remember what was going on at the time of this photo. I DO know that it was not a pose. We were in between stops on our San Francisco city hall photo tour and I just saw her looking at the view from the 3rd floor. I decided that it would print nicely in Sepia Tone, but it actually looks excellent in Black and White as well. As many of you have read through my past postings, catching moments is what successful city hall wedding photography is all about. Even moments such as this which are more thoughtful and serious. We think images like this round out a wedding album nicely but overall, we want your images to be joyful and fun! If anything, adding some more serious or thoughtful images makes a nice contrast to fun shots and makes them even more compelling. The important thing is that we all enjoy the experience and work together to make a great wedding photography session.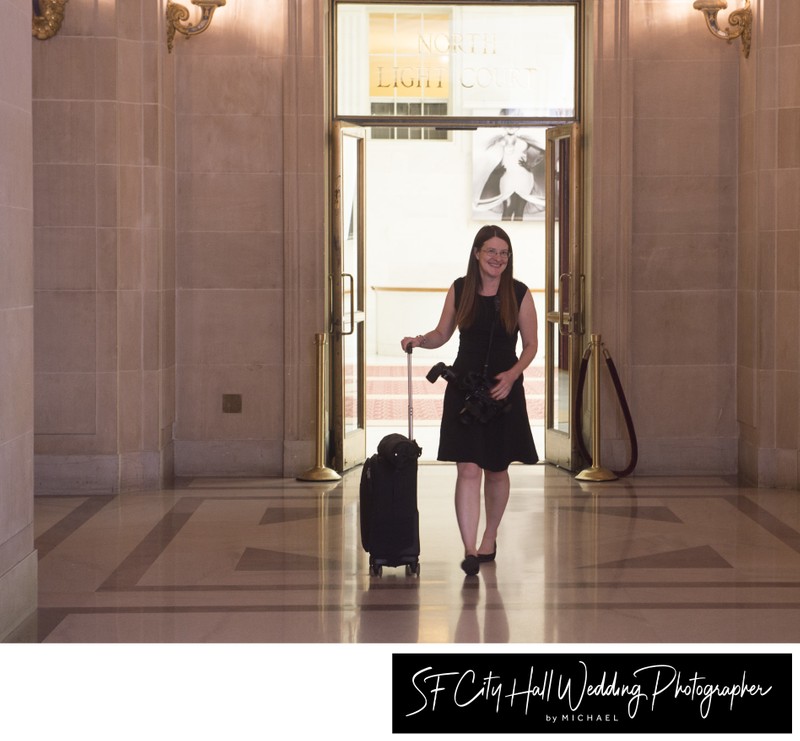 Our Experienced Wedding Photography Team
Toni, my long time City Hall shooting partner. We have photographed 600 weddings together. As of September, 2021, she is taking a break from City Hall photography to travel throughout the world. She will be sailing the South Pacific in January of 2022 and beyond. We wish her well and look forward to her coming back to shoot with us again in the future. Toni is still part of the team as she helps us out with her great editing skills. All of my weddings go to her for editing. Her substantial experience shooting weddings with me at San Francisco city hall allows her to really understand the lighting and the backgrounds better than anyone. The quality of her editing reflects this and our clients benefit from it. One of the great things about our online world, she can edit from anywhere. Meanwhile, we have Tiana and Lilly helping us out with the actual photography and doing a great job.