Candid Wedding Image at SF City Hall
This candid photo was taken just after the happy couple left their San Francisco city hall wedding ceremony and were newly married. As they put a little distance between them and the guests, the groom kissed the bride on the hand. I was waiting for him to do something fun and he did! At the last minute he glanced over to me, which adds to the photo. When photographing any type of wedding, especially a San Francisco city hall marriage, it's important to always be ready to catch moments like this. Why is SF City Hall any different? The ceremonies are often very short, giving you very little time to get good candid photos. It's important to catch them when they occur! The other issue with city hall from a wedding photographer's standpoint, is that there are many ways to enter to exit the ceremonies for the reserved weddings. As a San Francisco city hall wedding photographer, you have to be ready for any possible path they might take. This is one of the reasons I often employ a Second Shooter for my Reserved weddings here. In this particular case, we had the ceremony site surrounded so we would hopefully capture the moment no matter which way they went. You might be thinking, why not just set it up in advance? Well, we frequently try, but city hall brides and grooms will usually go whichever way looks the easiest. It is not their responsibility to make sure that the city hall wedding photographer gets the best image!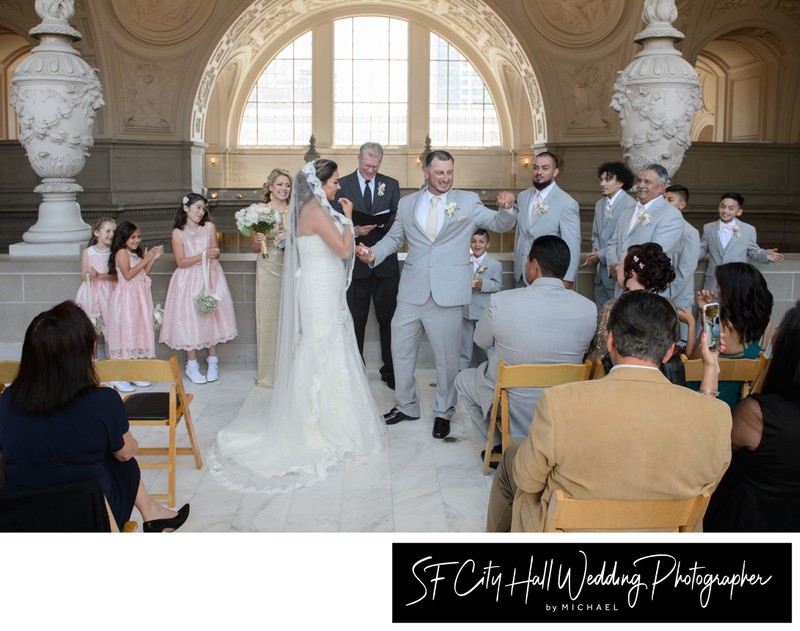 San Francisco city hall ceremony fun!
Documentary Style Wedding Photography
There are usually no wedding receptions at San Francisco city hall, but it is still possible to catch special moments if you are ready when they occur. Obviously, a wedding reception is one of the best places to record candid images, with all of the laughter and tears that happen. In addition, you have many event opportunities such as the cake cutting, the bouquet toss and of course, dancing. The First Dance and the Father/Daughter dance are great chances to catch special moments. In addition, the newlyweds interacting with their guests also presents some great chances to catch some fun Documentary style photography. The other name you will hear quite frequently for this style of photography is Wedding Photojournalism. Just another way of saying that you, as the photographer are trying to tell the story of the day in pictures. So how do we do accomplish this for a SF City Hall wedding? It just takes a bit more thought and creativity. We try to not spend the entire photo shoot posing the bride and groom in front of various backgrounds in the building. Instead, we make sure to set aside some time to allow the couple to interact and just have fun. A wedding day should be about having a great time and making memories. Not just making great wedding pictures! Static posing is great, but we like to utilize dynamic posing techniques whenever possible at San Francisco city hall.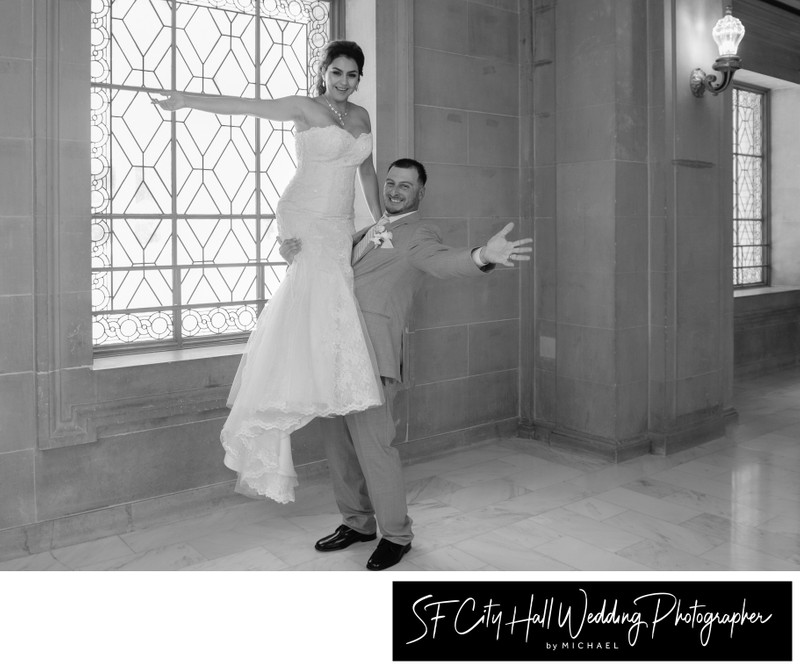 More Fun on the 3rd floor of city hall - black and white image