Baker Beach Wedding Photographer
We really enjoy taking our brides and grooms to San Francisco's Baker Beach after their City Hall nuptials are complete. What makes this location so special is the variety of photography background opportunities. Many of our recently married couples just think of Baker Beach as a nice place to get a Golden Gate Bridge photo, but there is so much more! Besides the bridge, we also can get some simple wedding photography images of the couple walking along the beach. Another option is pictures of them wading in the water or just playfully interacting. Some couples are not willing to go that far, but if they are are, that's a whole other series of beach photos possible. Even running hand in hand can be a very compelling wedding photography image. As you can see from the image above, there is also a secondary area for wedding photography at Baker Beach. This area has trees, sand and colorful bushes. We love to take our couples here and get away from the tourists! Very few places that we take our couples after their SF city hall wedding offer so many options in one location. This is why when clients request our Golden Gate package with one location, I often suggest Baker Beach. It is like 3 locations in 1! To see other Baker Beach Wedding photography pictures check out this page.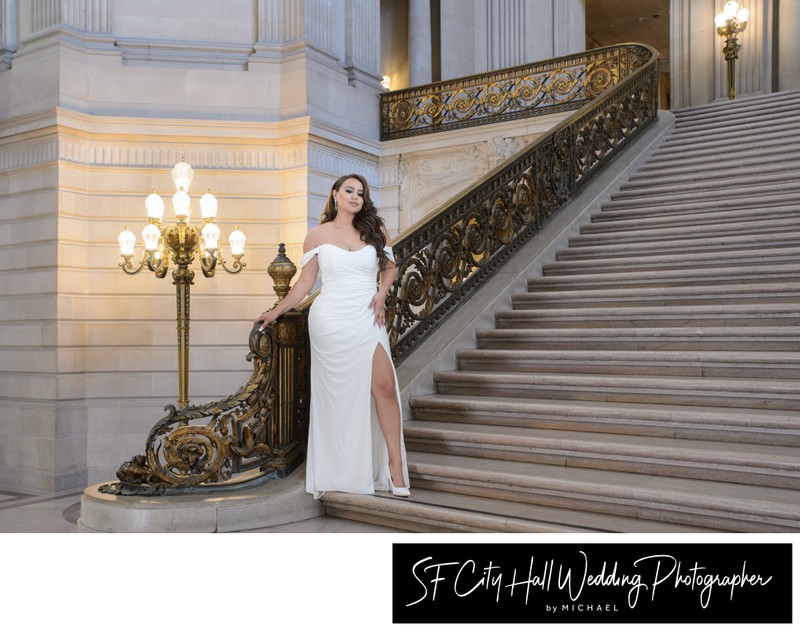 The photo above features one of our most photogenic bride of 2021. We could tell from the very start of our shoot that she knew how to pose for the camera. My second shooter was so excited that she spent a good 10 minutes posing her in various ways to get some amazing shots. The groom enjoyed watching the session even though he was left out of the pictures for a while. Of course, I have seen very few grooms that care about being left out of some of the wedding photos! They love the break actually. We took photos of this bride in different areas of the Grand Staircase and also on the 3rd floor with the natural light present there. She seemed more than happy to take part in the portrait session. Yes, we also captured plenty of pictures of the bride and groom as well!
The Legion of Honor, another fun place to take pictures after San Francisco city hall