Wedding Dresses at San Francisco City Hall
One of the fun things about photographing weddings at City Hall is that you never know what kind of wedding dress the Bride will show up in. For that matter, you never really know what anyone is going to wear. Couples have various ideas about what is the appropriate wedding attire for this venue. Some believe that formal wear is the way to go, because after all, it is a marriage. Others figure that since Town Hall weddings are different that they can go more casual. You really do see just about every variation you can imagine. By far, our favorite wedding dresses are the more whimsical attire that some couples wear. In the photo above we have a great couple and the bride has one of those dresses we love. We had an amazing day photographing them throughout the building. They chose a late city hall ceremony time and so by the end of the shoot we basically were the only people in the building. It was a bit dark, but this added to the drama of the images. I have mentioned this before, but the only negative aspect of City Hall wedding photography is the lack of color in the backgrounds. This is because the building is predominantly made of marble and stone. So when a bride comes along with a dress with some color, it really makes a splash. In this case, the bride wore a burgundy colored dress that really stood out and was so fun to photograph.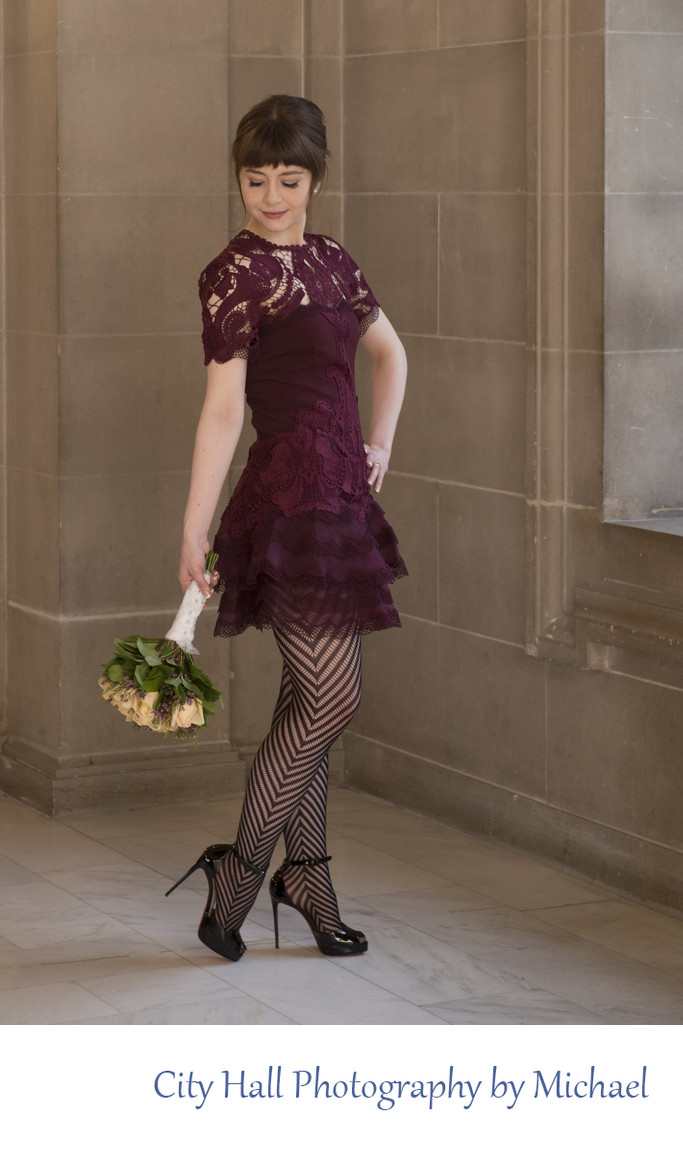 We took the image above by the 3rd floor south facing window at city hall. The light was soft due to the cloudy and rainy day. It made for amazing light and and a beautiful image. The image below displays the fact that both the bride and groom had dance experience. The bride had done some trained dancing including ballet and the groom had taken ball-room dancing classes. They were able to pull off the pose with relative ease! When it was time to meet up with the bride and groom I asked her how I would recognize her. She said, don't worry, you cant miss me! She was right.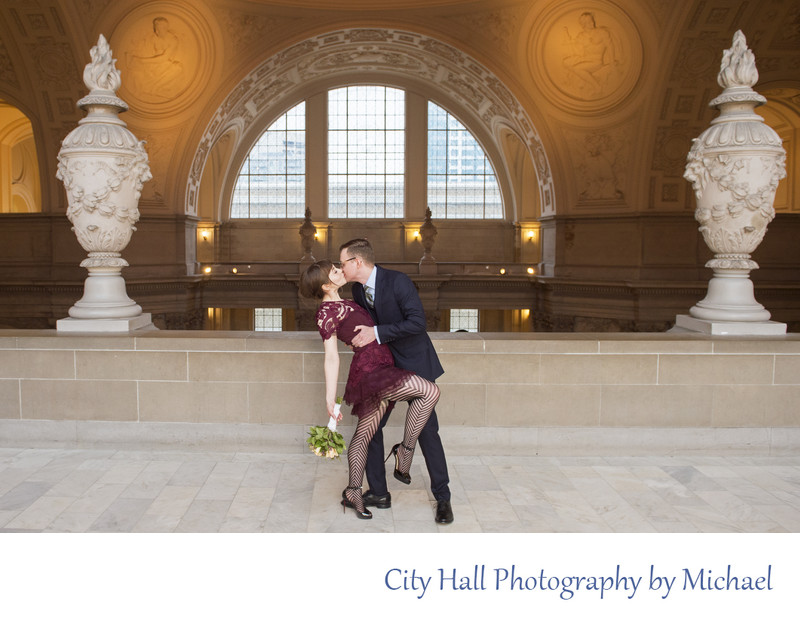 Bride and Groom posing on the 4th Floor Gallery at SF City Hall