Asian Bride and Groom - City Hall
We decided to put our focus on this beautiful Asian Bride and moved her groom to the background. It is a tricky shot because you have to make sure both newlyweds have an equal amount of light on them. We do this by using an off-camera professional flash. We bring this set up (off Camera lighting) with us for all San Francisco City Hall wedding photography shoots. Blurring the groom slightly also has the effect of bringing the bride more into sharp focus and attention. This selective focus wedding photography image is very popular with our newlyweds! This couple really knew how to pull it off and it made for a winning image. We love trying different photographic techniques at San Francisco city hall because there is so much to work with. The long hallways and repeating lines are a professional wedding photographer's paradise. It is nice to have the depth and beauty in the background that this amazing venue possesses. It is no wonder that so many couples choose to have their nuptials in this historic building.
Involving the Newlyweds in Wedding Photography
The more weddings we shoot here (700 as of the year 2023) the more we love it. This particular couple was very much interested in their wedding photography session and so were very upbeat and engaged. They asked lots of great questions about how things would work and wanted to be somewhat involved in the process. We were, of course, happy to oblige. It makes it a bit easier for us when the couple tells us what they want. Obviously, we have our own ideas and poses, but are happy to include our newlywed's suggestions. Doing this also have the added advantage of helping the couple to "own" the shoot. In other words, they may like their photos even better because we took their suggestions seriously and incorporating them into our own creative thoughts and ideas. I have heard stories of a few SF City hall wedding photographers that discourage input because they think they know what is best. I can honestly say that most of the professional photographers that work here are not that way and welcome the input. However, I think it is is important for engaged couples interviewing potential San Francisco city hall wedding photographers to keep this in mind. Make sure that your photographer is willing to listen and make adjustments accordingly.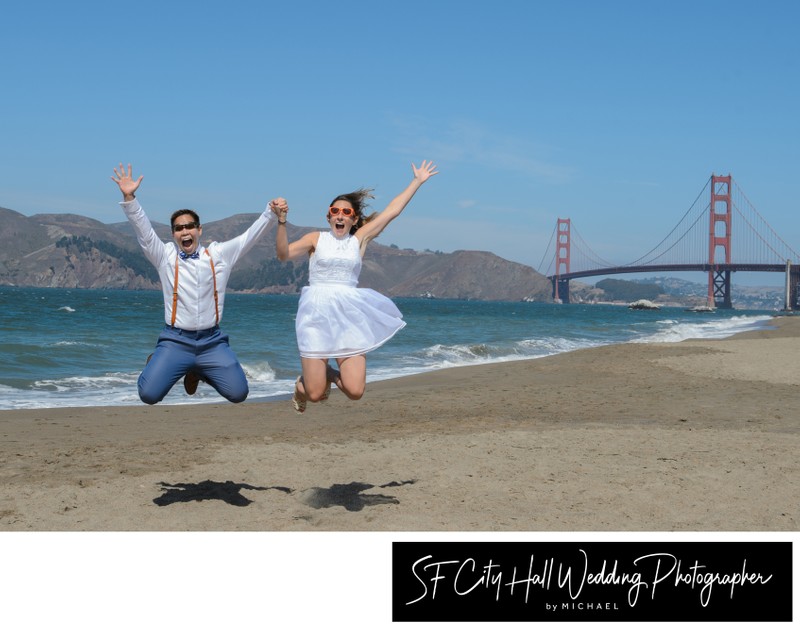 LGBTQ newlyweds jumping for joy at Baker Beach in San Francisco