4th Floor Wedding at SF City Hall - Helpful Tips
Learn How to Book a Reserved Wedding on the 4th floor
If you want some privacy and have a lot guests, a Reserved wedding on the 4th Floor North Gallery may be just the thing. An amazing opportunity to enjoy all that San Francisco city hall has to offer, but with a private area and no standing needed. Civil ceremonies here are limited to 6 guests and they have to stand. In order to book a reserved wedding you simply need to contact the Events Department at San Francisco city hall. For a fee of $1,000 you can reserve the 4th floor up to 12 months in advance. Civil ceremonies only allow a 90 day reservation, so this is another advantage. It allows more planning ahead for brides and grooms trying to make wedding decisions.
Why Choose the 4th Floor Gallery for your Reserved Wedding?
There are 2 options for reserved weddings. The Mayor's Balcony and the 4th Floor North Gallery. Both are great options and we talk about the Mayor's Balcony in this Blog Post. As far as the 4th Floor goes, it offers a tremendous amount of privacy because of it's location. It is also in an area without too much foot traffic so you do not have to worry about people trying to wander by. What I really like about the 4th Floor North Gallery is that fact that it is so high up, which makes it one of the more quieter locations at San Francisco city hall. This can be especially beneficial for your officiant's ability to be heard by the crowd. In addition, it is usually possible for your city hall wedding photographer to take pictures of the ceremony without showing too many people in the background. This can be a challenge on the Mayor's Balcony because of all of the foot traffic in the Rotunda area.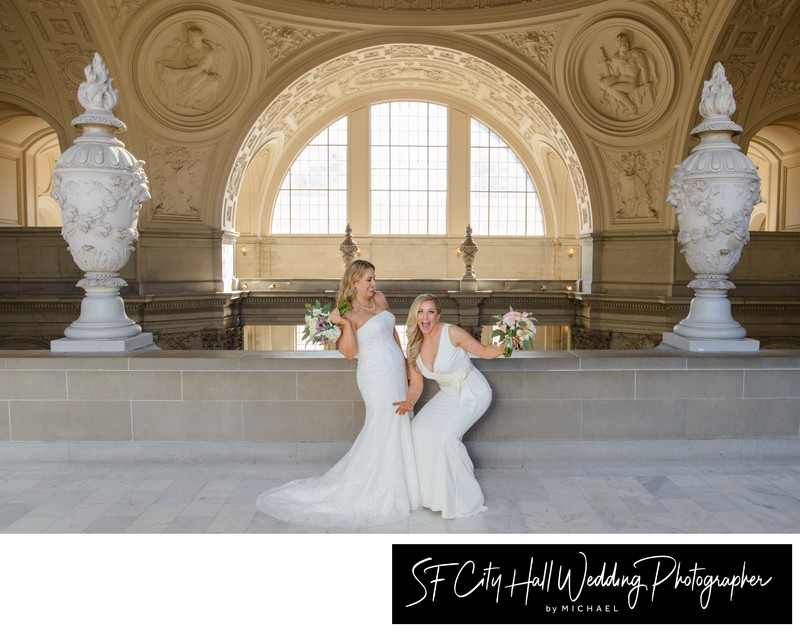 The Natural light on the 4th Floor at City Hall is Amazing!
On the 4th floor of San Francisco city hall you have one of the largest picture windows you have probably ever seen. It lets in an amazing amount of natural light making supplemental lighting unnecessary in most cases. The only time I use my off-camera flash is when there is direct lighting coming through from the other side of the 4th floor. This can cause a little bit Ghosting of images due to strong backlight. If needed, I will use a little bit of light to counteract that and make my subjects have more contrast. But in general, it is possible to use angles when photographing the bride and groom where you are not shooting directly into the window on the other side. For more examples of photos of reserved weddings on the 4th floor click the highlighted area.
The 4th Floor Gallery is a Great Location for Wide Angle Photos
SF City Hall is one of the few places I really like to use wide angle lenses. The desire to show off the architecture is the primary reason for this. The 4th Floor North Gallery is the perfect place to do this because there is so much to see. When photographing a larger weekend wedding, the focus is more on getting close-up shots of the bride and groom, quite often with a blurred background. But at San Francisco city hall it's different, people come here to get married because the building is so beautiful. You are doing them a disservice if you don't make sure they get at least some nice shots showing the architecture of this amazing wedding venue. The 4th floor image above was taken with what is known as a Fish-eye lens. This actually goes a little beyond a standard wide angle, but the results are amazing. These types of lenses usually give you close to 180 degrees of image with some distortion. We also decided to photograph this image in Black and White to add some more interest to the final result. We tried to fix the distortion in this picture just enough to still see a super wide angle view without cutting off too much of the background. Normally when you correct distortion, you lose some of the width of the picture.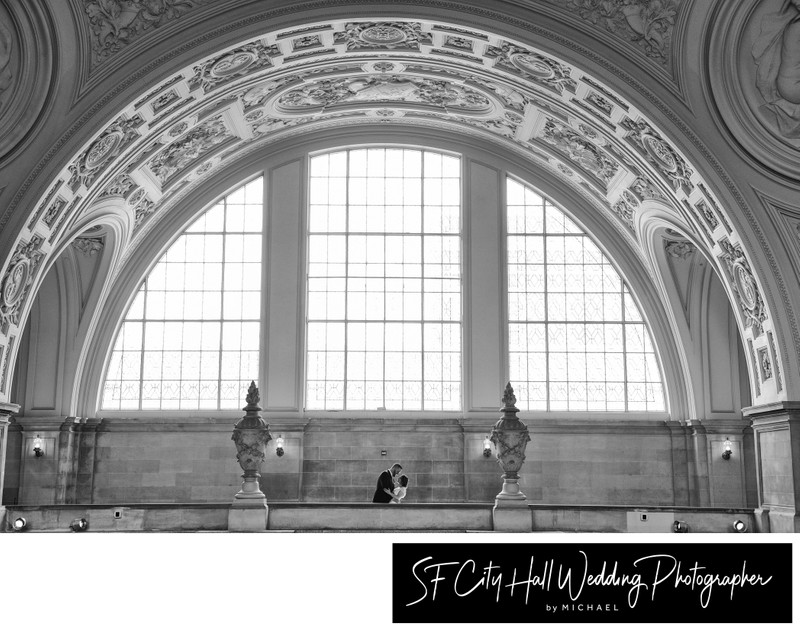 Other Important Details for 4th Floor Weddings at City Hall
There are other possible charges that are associated with Reserved weddings at San Francisco city hall and this is also true with 4th Floor North Gallery weddings. Keep in mind that you have to pay for your own officiant. The cost of this can range from $150 to $300 in most cases. You also have to pay for your own music if you would like a live performer. Any music has to be approved by the San Francisco city hall Events Department. They will provide you with a list of approved performers. I believe at this time that you are limited to only string instruments and not amplified. This is to keep the building a little quieter. I have seen 3 performers at a time in some cases, but they were all playing guitars, cellos, etc. The 4th floor can accommodate a large number of people, but only about 60 can be seated. There are also additional charges for adding extra seating. Contact the Events department using the link above for more details. 4th Floor North Gallery weddings start anywhere from 9:00 am to 3:00 pm and only at the top of the hour.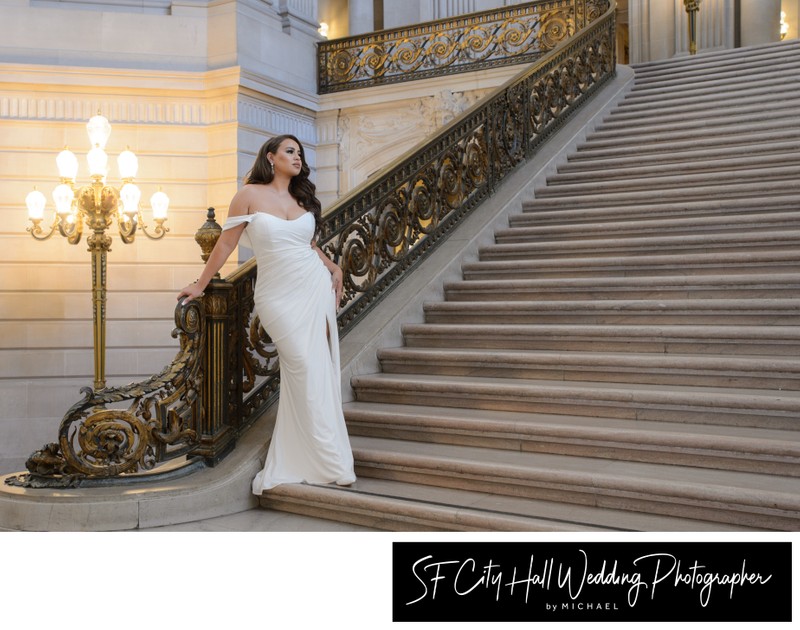 Arches at the San Francisco City Hall 4th Floor
One of the attributes of the Beau-Arts style of architecture at City Hall are the repeating lines, symmetry and arches. This is why we often set up our brides and grooms right in the middle of the frame and shoot everything straight on to minimize distortion. This is contrary to what you would normally do with professional photography in most instances. This technique is often used on the 4th Floor North Gallery for reserved weddings and also just for our normal bride and groom formal shots. There are other types of images that can be captured using these amazing backgrounds to their fullest. This image above of a newlywed bride posing on the Grand Staircase is one example of other areas that we take our City Hall brides and grooms after we complete photographing their 4th Floor Gallery reserved wedding. Please understand that you are not limited to just the 4th floor for photos. Yes, you have only reserved the North Gallery, but you still have wedding photography access to the entire building of San Francisco city hall. In this particular image we have captured just about everything you would want. The lights in the background add a unique glow and the diagonal lines created by the railing lead your eye right into the main subject. This city hall bride also knew how to pose!