For more information and helpful tips about having your wedding on the Mayor's Balcony at City Hall please go to our San Francisco City Hall Wedding Photography website. We provide you with complete information about how to have your wedding at San Francisco city hall. This also includes helpful hints on how to book your wedding and also how to obtain your marriage license. Plenty of wedding photography tips and ideas also!
Lacie and Brad had already eloped in Europe but wanted to still have a marriage ceremony in the US for their family and friends.  They booked the Mayor's Balcony so they could fit a large amount of people and have them seated comfortably at SF City Hall.  People often only associate San Francisco city hall weddings with small informal civil ceremonies.  You are limited to 6 guests and there is not much privacy.  However, there is another option which allows you to have many more guests and quite a bit of privacy.  The Mayor's Balcony is one of these places. You can book a Reserved wedding with the Events Department at this beautiful location. For more information and helpful tips about Mayor's Balcony marriages, keep reading.
What Does it Cost to Book the Mayor's Balcony?
The cost to reserve the 2nd floor Mayor's Balcony is only $1,000 and you get to have it for a full hour. This fee only covers the actual space and not anything else you might need. For example, with a Reserved wedding you will have to hire your own officiant. This can cost between $150 and $300 depending upon who you hire and how long you need them. In addition, you might want to have music such as a harpist or small string ensemble. We can refer you to wedding professionals that can handle both of these needs, but they need to be approved by City Hall Events. The San Francisco City Hall Events Department has a list of approved wedding vendors that they are happy to share with the bride and groom prior to your marriage date. This same link will also provide you with booking information and the appropriate contact to accomplish it. We can also provide you any advice needed related specifically to your photography needs or anything else that might concern you.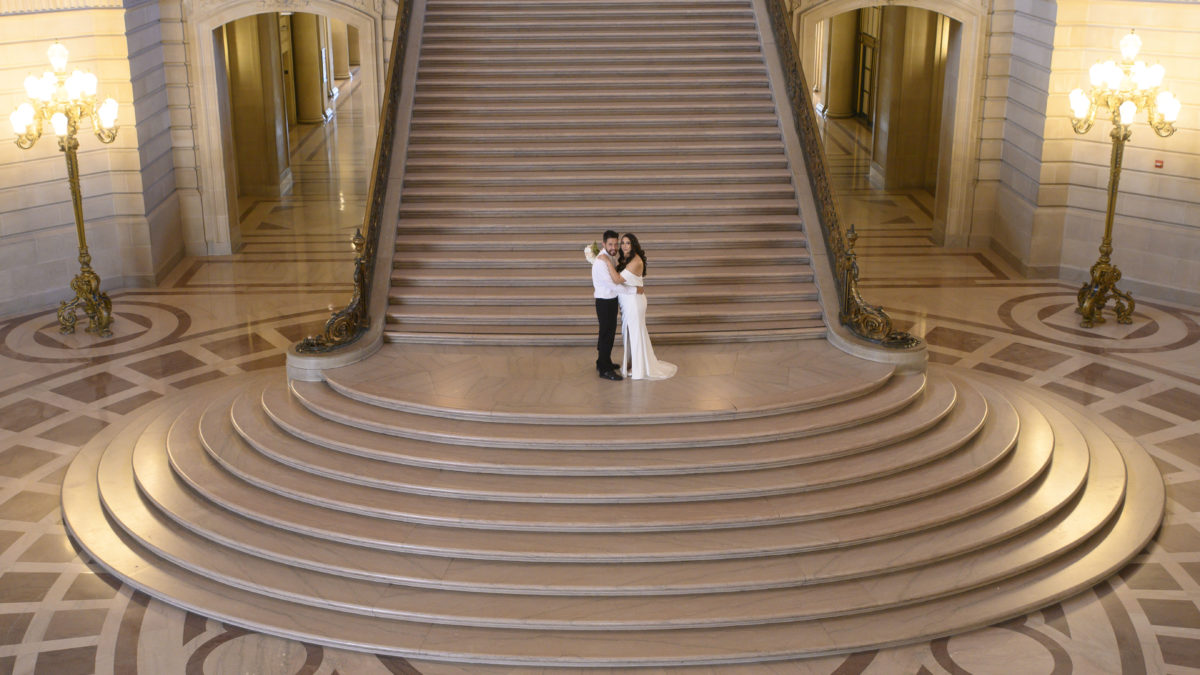 What About City Hall Wedding Photography?
The Mayor's Balcony is a great place to have your wedding photographed for a couple of reasons. The most important thing is that it is the most beautiful location in San Francisco city hall since it overlooks the Rotunda and the Grand Staircase. As you can see from the photo above, it provides a great angle to take wedding pictures of the bride and groom on the Staircase. In addition, it gives your city hall wedding photographer the opportunity to use this angle for as long as your reservation lasts (one full hour). It also happens to be one of the favored locations to bring the bride and groom for City Hall Wedding photography. If the couple has reserved the space, It can also be used for wedding photography after the ceremony is complete.  In most cases, this gives city hall wedding photographers plenty of time to not only do the family pictures, but also take care of the couple's pictures. The Mayor's Balcony is the best location to obtain photos of the city hall dome and also the Rotunda area.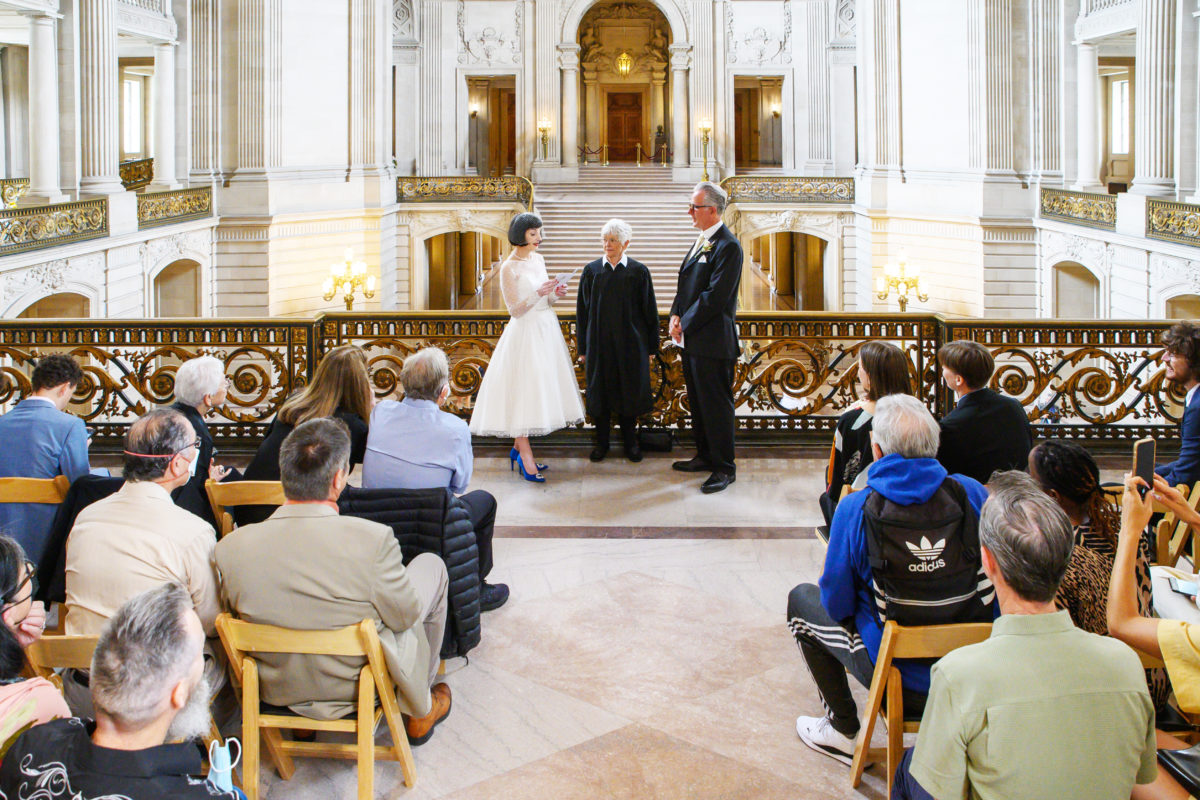 Your Guests Benefit from a Mayor's Balcony Wedding
The added benefit of a reserved weddings is that all of your guests can easily see the ceremony.  This is not the case with a civil ceremony and that is what makes the money spent well worth it.  Especially if you have a large group of guests and family present. It also affords an amazing view for them since their chairs face all of the beauty that San Francisco city hall has to offer. For this wedding, our couple really appreciated the chance to have everyone there. Since this couple had already been married in Europe, they did not want or need an extensive photo shoot of the 2 of them.  They were mostly interested in family pictures and wedding party shots.   So after a wonderful ceremony, we started in on our extensive list of Family Photos and everyone really enjoyed getting together for them.  It's nice when people genuinely seem to like being involved in group photos, it makes it much easier also!  We did not have to worry about rushing through this part of the photo shoot, because this was a major reason for the wedding in the first place. Despite the large amount of group shots, we made sure to keep the process moving so we would still have some time to obtain some nice shots of the couple throughout the building. Of course we started our wedding photography with some great shots of them on the Mayors Balcony!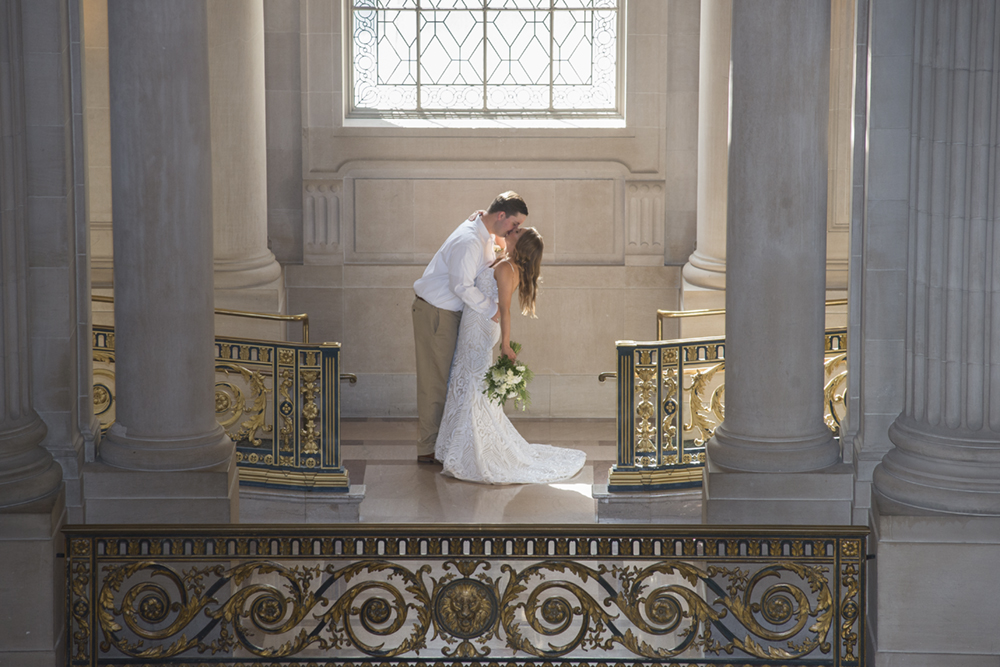 Across the building shot of Lacey and Brad at San Francisco City Hall (above)
Abbreviated San Francisco City Hall Photo Tour
After completing the family photos we did a large number of wedding party shots.  We photographed all the girls and all the guys and then paired each of them with the bride and groom.  They were dressed in matching outfits so this particular city hall wedding really resembled a large formal wedding.  After completing this portion of the festivities we took this attractive couple on a mini photo tour of San Francisco City Hall.  We still needed to get at least a few shots of them together.  We did not do the full 4 floor tour, but made sure we obtained plenty of meaningful wedding images at some of our favorite locations.  They also chose a wonderful day in terms of weather, which also helps the inside pictures look better with natural light.
Other Advantages to a Mayor's Balcony Reserved Wedding
Now that the County Clerk is enforcing the 6 guest limit for Civil Ceremonies, it makes even more sense to book a reserved wedding like Lacie and Brad did above. They chose the Mayor's Balcony at San Francisco city hall and their guests were quite happy. Nobody had to worry about going over the maximum allowed people. Yes, you pay more for reserved ceremonies, but the benefits are worth it! We already mentioned the privacy benefits, but it is worth repeating for emphasis. No strangers, or other brides and grooms are allowed into the Mayor's Balcony during the 1 hour reservation. The area is roped off and chairs are set up. This makes it nice for elderly family members that would otherwise have to stand for a normal civil ceremony. As mentioned above, the Mayor's Balcony has many great places to capture your family pictures after the ceremony is complete. Figure approximately $1,500 for a Reserved wedding at the Mayor's Balcony. This includes the reservation fee, an Officiant and music.