Summer at San Francisco city hall is a fun time. Lots of weddings and unpredictable weather. It could be foggy and cold with dark lighting or it can be hot and bright in the building. This past couple of weeks have been particularly pleasant in the building with no heat waves. When I first posted this blog a few years ago, we had just experienced at Mid August heat wave. Now, here it is, August of 2022 and things are calm after coming back from the year long Pandemic closures. This posting was done after a rare mid August heat spell in San Francisco and it created some pretty tough conditions for brides and grooms wearing heavy clothes. One of the things about all of the Marble present in the construction of SF City Hall is that if you have a number of hot days, it tends to hold the heat. So for example on Friday it wasn't really that hot outside, but City Hall was still burning. Why is this important information? It helps wedding participants know how to prepare for the conditions on their wedding day. For example, if it is going to be hot, don't wear a vest if you are a groom. On the other hand, the marble can also hold in some of the coolness which can also help on a hot day that follows a colder one.
Lighting and Fog Outside of City Hall
Yes, San Francisco is known for foggy summers. How does it affect the lighting for wedding photography? The answer is, not that much. Despite the fact that it's possible to get some really nice shots with the natural light in the building, there are other ways to get amazing pictures without it. We bring in our own professional lighting and we can often mimic the soft lighting that comes from the North side windows at City Hall. Most of our lighting techniques make it nearly impossible for the average person to even know that professional studio lighting was used. We go for subtle lighting that doesn't interfere with the beautiful backgrounds and architecture at SF City Hall. The photo below was actually lighted professionally with our powerful flash unit, but you would never know it from looking!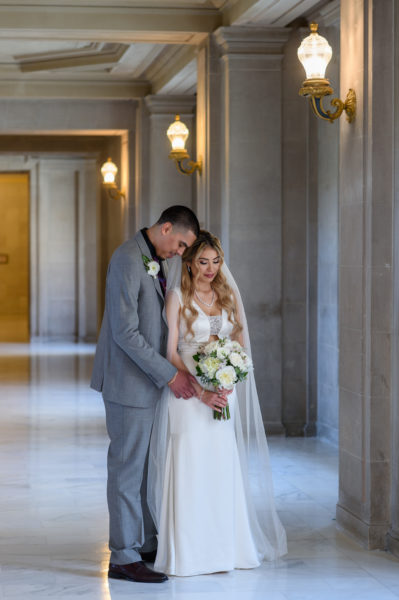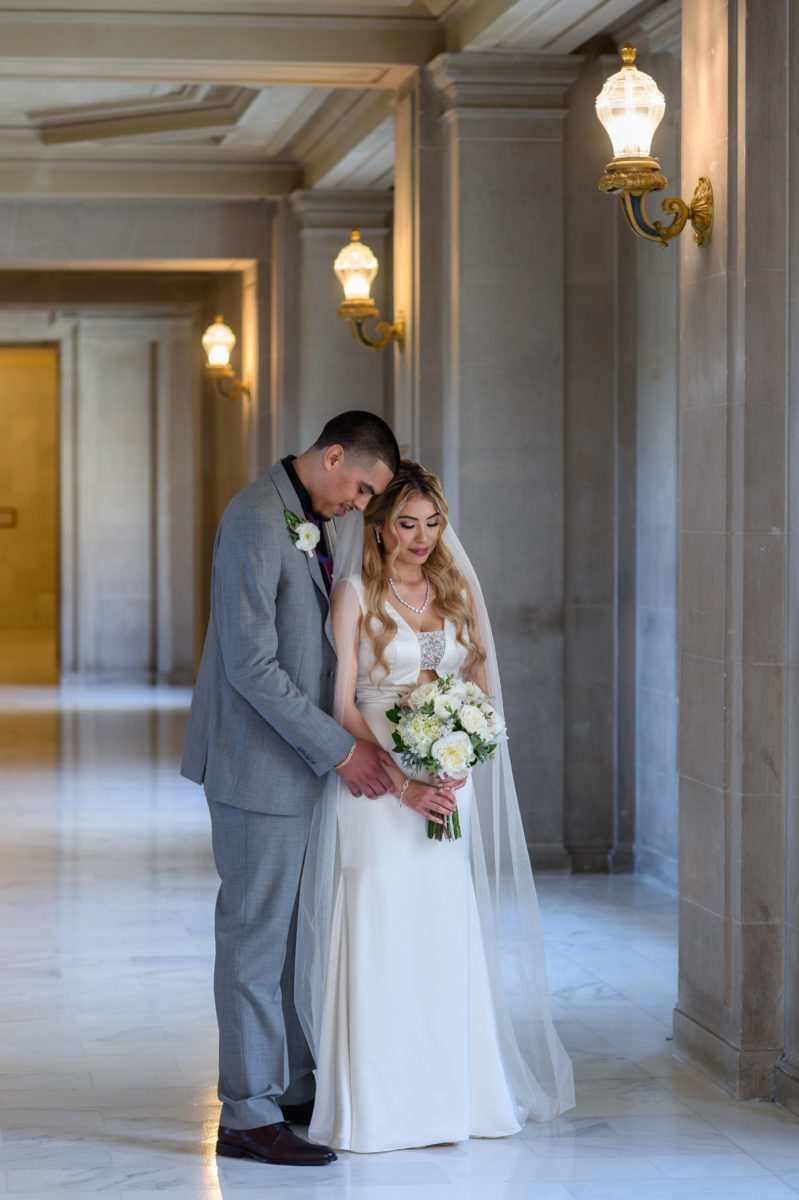 This soft lighting is obtained by bouncing our lights off of the neutral walls at San Francisco city hall. It always surprises me that I don't see more San Francisco city hall professional wedding photographers doing this. Yes, it cuts down on the light considerably, but with today's modern cameras, there is always sufficient light to capture photos like this one. The payoff is that you get directional lighting, but without the harsh shadows and shiny faces that are usually present with direct flash.