San Francisco city hall is a very popular place to have your Civil Ceremony. Its combination of beauty, convenience and affordable pricing makes it an ideal venue for anyone looking to get married. For engaged couples who are on a strict budget, but still want an elegant wedding it is the perfect place. Approximately 30 couples celebrate their nuptials at San Francisco city hall on a daily basis. It's immense popularity makes it necessary to have a reservation system to book weddings here. However, this may be one of greatest things about choosing City Hall for your Marriage Ceremony. You can actually book a date and a time to get married and be fairly confident that your wedding will take place very close to your scheduled reservation. This is NOT the case at many other City Halls across the country, where couples show up early and hope to get married at some point that day. This makes it very hard to plan for guests, wedding photographers and some sort of celebration after the wedding.
San Francisco City Hall Wedding Fees
This all sounds great, but just how much does it cost to get married at San Francisco city hall? If you want to have your marriage at this historic building, the SF County Clerk has an online reservation system that allows you to book and pay for both your marriage license meeting and the actual civil ceremony. This link for City Hall's Online reservation system makes it remarkably convenient and fast to obtain both of these bookings. The cost for your marriage license is currently $113 and the Civil Ceremony will run you $95. As mentioned, all of this can be paid with a credit card online when you make your reservation. One fact that is not that well known is that San Francisco city hall will also allow you to have your civil ceremony off-site on a weekend or a holiday for the low price of $307. $157 of this fee is due when you make your reservation with the County Clerk and the other $150 is payable directly to the Marriage Commissioner (Wedding Officiant). This provides brides and grooms with a very flexible option to have their wedding for a low price in San Francisco. All you have to do is supply the location and you are all set!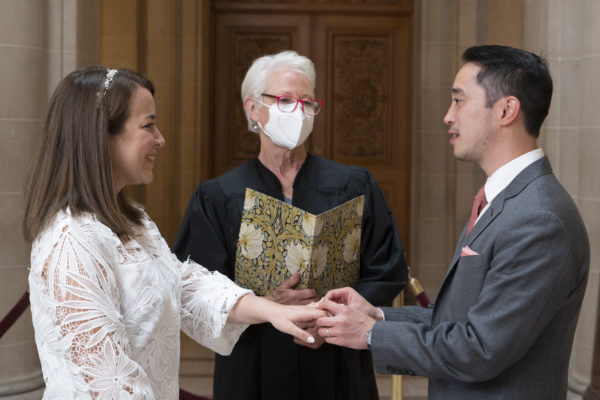 Other County Clerk Fees and Costs
The County Clerk will issue you a Duplicate copy of your Marriage License for $25 if it lost or stolen. In addition, you might need a copy for legal reasons. It is often a good idea to make a copy to send to someone, especially if you are unsure if it will be returned. Another great thing that is offered by the County Clerk is the chance to be temporarily licensed to perform a wedding ceremony for a friend on any given day. The cost for this privilege is $157 and it allows the recipient to perform a civil ceremony that day (only) at San Francisco city hall. Other services offered by the County Clerk include printing a souvenir marriage certificate for $8 and processing a Domestic Partnership filing for $63. To see all County Clerk fees related to marriage, click the link.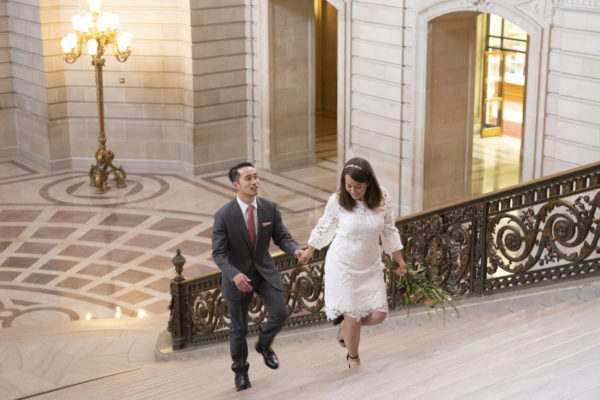 Optional Costs for your Wedding at SF City Hall
You probably knew this was coming… Yes, Professional Wedding Photography! If you are having your wedding at San Francisco city hall then you owe it to yourself to hire the best wedding photographer you can afford. There are a great many photographers who specialize in photographing newlyweds in this amazing building and they are quite easy to find by searching Google or Yelp. Other options available at San Francisco city hall include renting out the Mayors Balcony or 4th Floor Gallery for the price of $1,000. In most cases you will need to find and pay for your own Officiant to perform the ceremony for one of these reserved weddings. For more details about this and other important information feel free to check out our City Hall wedding photography website.