I have been photographing San Francisco city hall weddings now for over 12 years with 800 weddings under my belt.  During this time I have managed to make friends with many of the other SF City Hall wedding photographers and have tons of respect for them.  We often talk to each other while waiting at city hall for our couples or at various places around the building to exchange ideas and problems before or after our weddings.  Its a nice professional collaboration that I find to be very beneficial.  We even provide each other moral support at times if needed.  Yes, we are competitors also, but I think that for the most part it is a friendly competition that we put aside when we are in discussions at city hall.
I find that I learn a lot from having these types of discussions with my fellow wedding photographers. Through these conversations and my own experience I have started to form some opinions about what makes a particular San Francisco City Hall wedding photographer the best!  I also will talk about some of things to be avoided when it comes to wedding photography at this magnificent building.  I will share some of these thoughts below: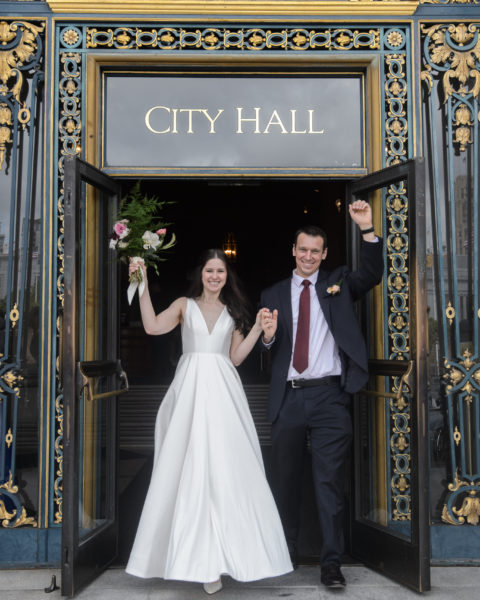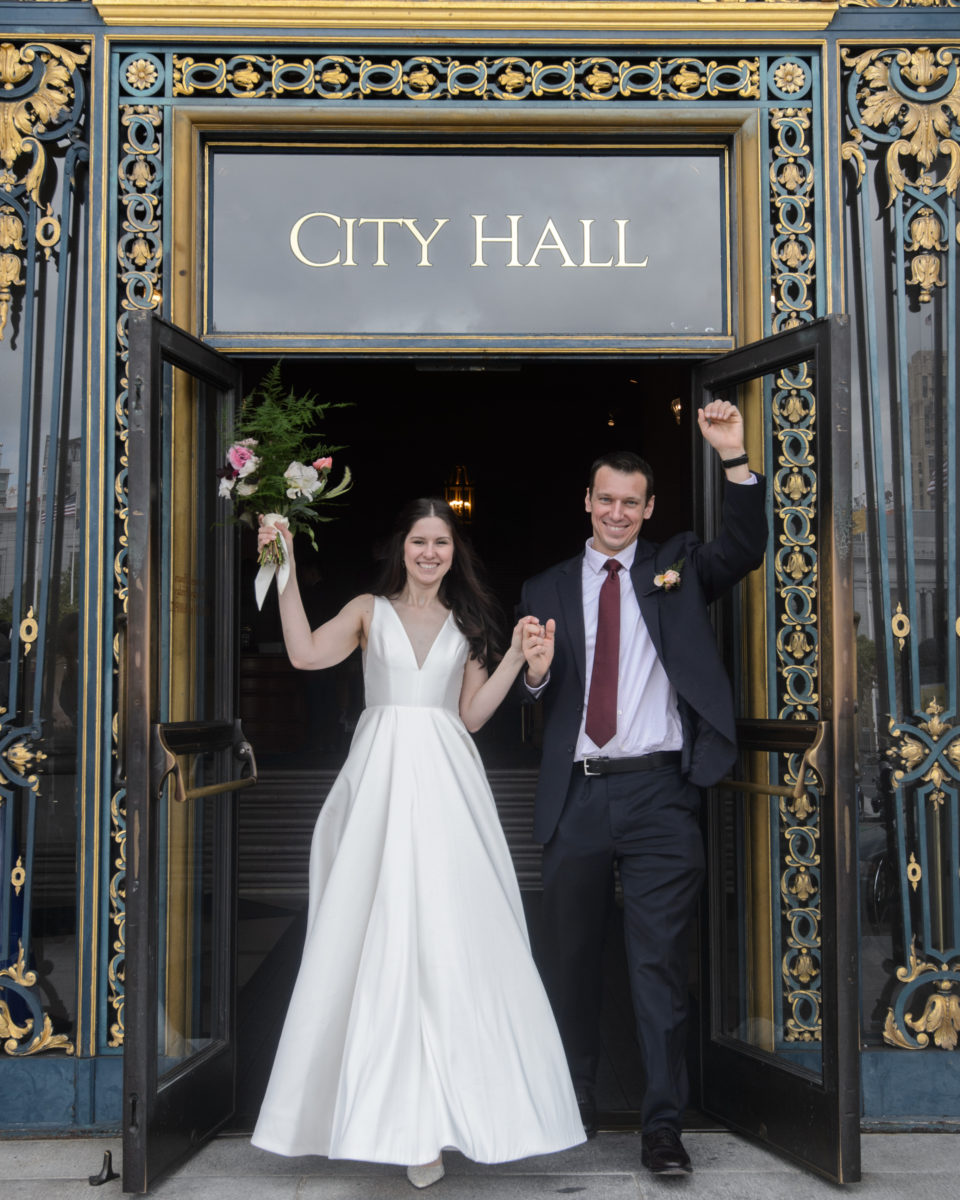 What Makes a San Francisco City Hall Wedding Photographer Great
Friendly Service is Super Important! As I have discussions with the best SF city hall wedding photographers I find one common denominator among them…  They are all nice people!  Fun to be around and upbeat, especially when they are shooting.   Reading their Yelp reviews reveals that many of their clients take the time to talk about their demeanor and friendliness and not just the quality of their wedding photography.  Another often discussed aspect of this friendly attitude is that it actually results in better pictures.  I believe the reason for this is that the bride and groom feel more at ease with an up-beat photographer and thus display their more natural side.  There is little doubt in my mind that a nervous or uneasy bride and groom will not take great pictures.  Their wedding photographer can have a significant impact on how the couple feels throughout the shoot.  If you think that it is only important to get good pictures from your wedding photographer, I am here to tell you that there is more to it than that.  Liking the person that you will spend a good part of your wedding day with can be equally important. It makes the entire city hall wedding experience fun and memorable. 
Expensive Equipment Barely Matters.   I have seen wedding photographers at SF city hall use all types of camera equipment.  They range from super expensive all the way down to cheaper consumer level  cameras.  I honestly see no correlation between the amount of money a photographer spends on their camera and the quality of the pictures.  However, it IS important to have proper lighting equipment including an off-camera flash in my opinion.  But even this does not have to be expensive to get the job done.   The bottom line is that with today's technology even the most basic cameras take amazing photos.  Especially when compared to year's past. The difference in quality of the end product (the wedding pictures)  has much more to do with the city hall wedding photographer's skill and creativity.  Posing the wedding couple is also super important. We recently added some better off-camera lighting and it has improved some of our photography in the darker areas of city hall like the Mayor's Balcony.   This flash on this new lighting system also recycles faster giving us the ability to capture more important moments.   Again, even this type of advanced lighting equipment does not guarantee superior images. I completely understand that this opinion puts me at odds with other professional wedding photographers.  Many of whom, purchase the latest and greatest upgrades in equipment.  There is nothing wrong with doing that, but it doesn't guarantee quality.
San Francisco City Hall Experience is huge!  There is no doubt in my mind that the best wedding photographers at San Francisco City Hall are primarily also the most experienced.  The lighting in the building is super tricky and can change in a matter of minutes as the San Francisco fog rolls in and out.  More important are the significant challenges that city hall often imposes upon brides and grooms.  Special Events, closing down of certain areas, protest marches and unexpected arrivals of a huge tour bus are just some of the things we all have to deal with at San Francisco city hall on a daily basis.   The more experienced professional city hall wedding photographers know how to make adjustments on the fly no matter what the current circumstances are.  You have to know alternative beautiful spots and the best ways to get around floor closures.  We have learned these things over the years and are still discovering new tricks to this day!  Our discussions with other San Francisco city hall wedding photographers often help us in this regard as well.  We learn so much from speaking to others who do what we do.  I have noticed that most  of the seasoned city hall professionals are willing to share ideas and we are happy to reciprocate.
The Top City Hall Wedding Photographers help their clients with every aspect of the event!  We take a lot of pride in helping our brides and grooms deal with the somewhat confusing process of getting married at San Francisco City Hall.  We offer many pointers on our website and try to act as a guide when it comes to check-in time at the County Clerks office.     We see this with many of the other experienced professional wedding photographers at city hall also.  We just received a Yelp Review from a great client who complimented us on helping the groom with shortening his pants (we used scotch tape).  I also held the mirror so the bride could put on her eyelashes.  These little things make a difference on how you become the best wedding photographer possible.  We also love what we do and that shows in our work!  It is most important to maintain a positive attitude and willingness to help in every way possible.  We always realize that the wedding pictures are the most important thing, but there is still time for helping out.  Wedding planning is not officially part of our job, but it often falls to us, especially when it comes to San Francisco city hall weddings.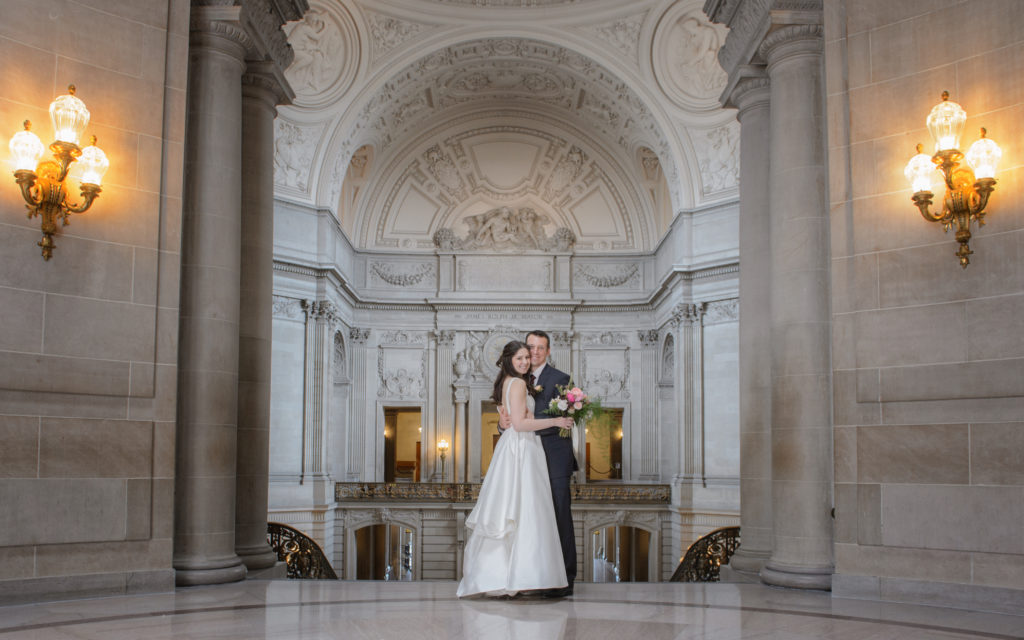 Some City Hall Wedding Photographers May Not Agree
We recognize that there are many other opinions that exist regarding this subject.  Some wedding photographers feel that equipment is everything.  They will spend a significant amount of time boasting about their modern cameras and accessories on their website.  Others may feel that spending so much time assisting the bride and groom with personal tasks can break their concentration.  We agree that providing great wedding pictures to the couple is the most important thing.  I do not doubt that there is some merit to these opinions from others.  We strongly feel that our approach results in the happiest couples and that is our goal. One example I always give is the improved technology in today's Digital cameras that allow a photographer to shoot in very low light.  I agree that this is an amazing advantage, but for some photographers it can be used as an excuse to not use lighting.  As I have said in many other places on this website… Natural light isn't always the best light. Here are some thoughts from other experts on this subject.  What makes wedding photographers the best?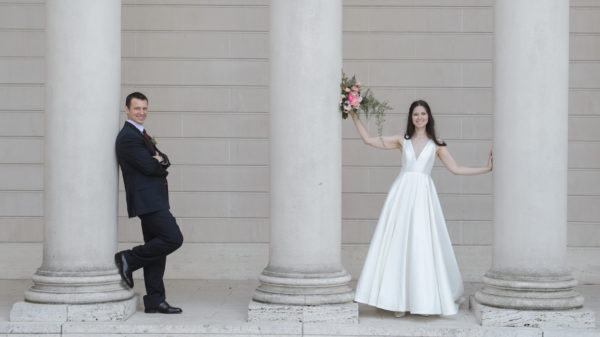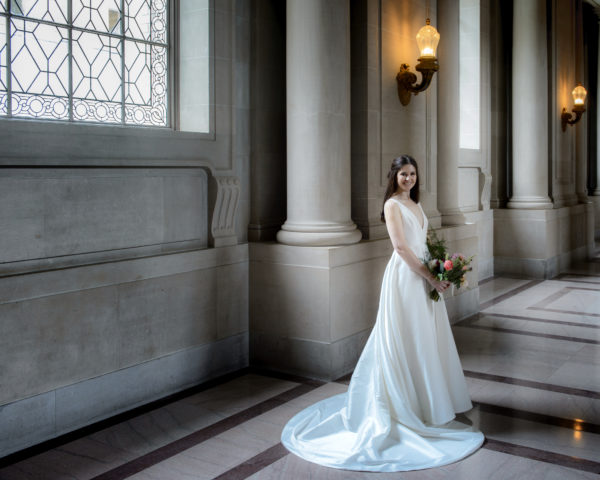 Elegant Bride at San Francisco City Hall posing on the 2nd floor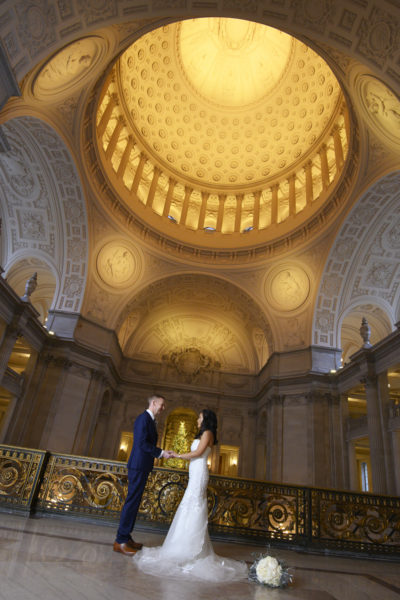 Featured in the photo above is the magnificent SF City Hall Dome. It is actually 2 domes in 1 when viewed from inside the building. At certain times in the late evening, it glows like you see here.