Romantic City Hall Wedding Photography
One of the challenges of San Francisco city hall wedding photography is making sure you create romantic images for your couple. This is not always easy and it can largely depend upon the couple. Some brides and grooms are not comfortable with outward displays of affection in public places. Others actually need no encouraging and love to pose for the camera and help us create the proper mood. We certainly understand as wedding photographers that it is our responsibility to bring the romance out and record it in our cameras. We feel it is important to feel out our couples before the shoot to figure out what they want with their wedding photography. We never push our couples into posing in a way that makes them uncomfortable or uneasy. However, we DO point out that if they truly want romantic imagery in their final product, then they have to help a little too. So here again, good communication between the city hall photographer and the subject is imperative. Our questions early on in the shoot hopefully will reveal the type of wedding photography the couple desires and their willingness to pitch in. The important thing is to keep the shoot just the way the bride and groom envision it. We should not place our own values and desires in place of theirs.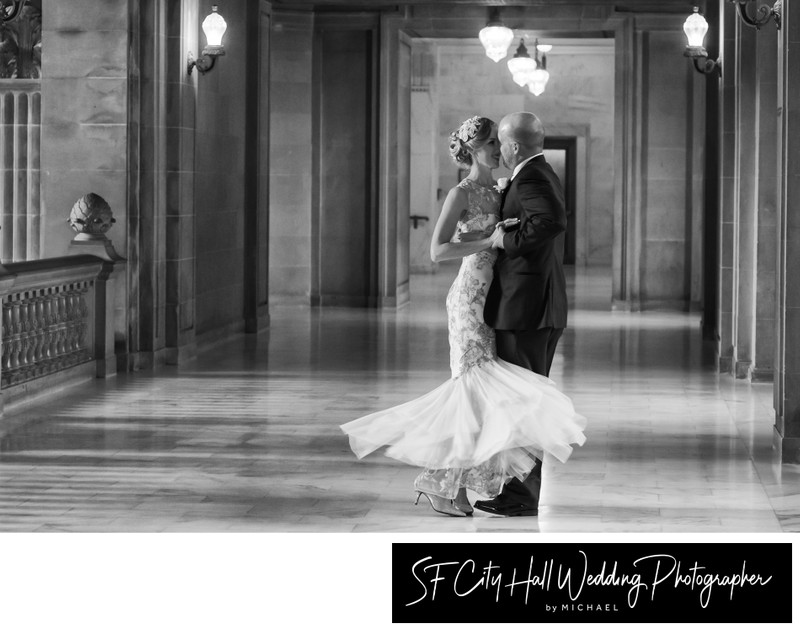 Romantic challenge at SF City Hall
San Francisco City Hall presents unique challenges for a wedding photographer trying to capture the above mentioned romantic images. Why? Well, unlike a typical weekend wedding, the bride and groom's portrait session occurs in a public building loaded with tourists and other couples. We don't often face this on a typical weekend wedding. Usually when it comes time to photograph "the formals" we take the couple aside and do a series of wedding photos in various places. Most of the time, these locations are private and away from the wedding crowd. This is especially true with regard to large weekend weddings. This gives the couple more freedom to be themselves. City Hall does not provide this privacy, so we try very carefully to pick our spots for the more romantic images. We also suggest to the couple that their guests not follow us around during the formal wedding photography for this same reason. The fact is, we know some of the best wedding photography locations in the building that provide the needed privacy combined with a beautiful background. They definitely exist and you can feel free to peruse our website and see for yourselves. Just remember that some of the more iconic and popular places like the Grand Staircase are not so private. We love it when our couples tell us that they liked a particular background or pose from our website. It makes it very easy to provide them exactly what they want.