Stop Action Wedding Photography
We took this couple to Crissy Field because they wanted a nice photo in front of the Golden Gate Bridge. It was a picture perfect day with ideal weather and very clear. The few wisps of clouds in the sky were just enough to provide a nice backdrop to this picture. We put them up on a little mound by the water and took a series of wonderful shots of them posing in front of the bridge. We ended the shoot with a jumping shot, which was requested by them. I got down low so I could get the angle seen here. I was hoping that they would get enough height to be above the bridge. The result was perfect as they both had much better than average vertical leaps! It almost looks they are jumping over the Golden Gate Bridge. Great job by this city hall bride and groom! You would never think that Action photography would be part of covering a San Francisco Wedding. In most cases, this is probably true, but at times you can direct your bride and groom to do the kind of thing you see here and you get a fun action shot. This location is one of our favorites for obtaining shots of the Golden Gate bridge. It is quite different from many of the typical images you see of the bridge. One slight negative is that the bottom part of the bridge is obscured by the hill, but I think the uniqueness of the wedding photo makes up for this.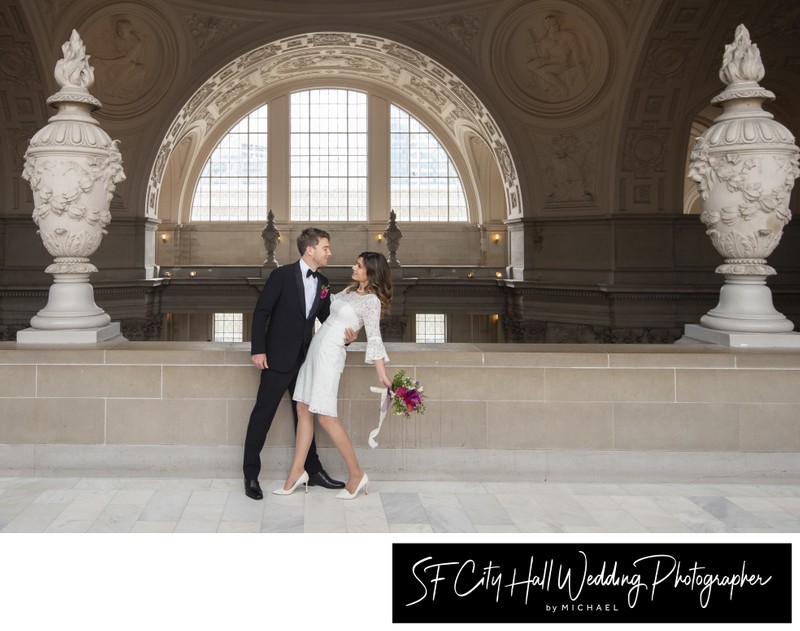 How to Take Effective Action Wedding Photos
When we do a photo like this we set our camera up to shoot multiple frames per second. This assures that we catch the bride and groom at the top of their jump. Oddly enough, the biggest challenge for perfecting this type of photograph is timing. It can be quite difficult to get the bride and groom to jump at the same time. We have tried counting to 3 or even having the couple count themselves. Different techniques tend to work for different couples. So we often try multiple ways to ask the newlyweds to jump. Other couples will call this type a wedding picture "cheesy" so it is always helpful to get to know your couple and figure out what is important to them and what they consider to be silly. In my humble opinion, anything that we can do in terms of picture taking on the couple's wedding day that is fun, belongs in their wedding album. As mentioned previously, we never ask our brides and grooms to do anything they feel uncomfortable with. We once had a couple on this same grassy mound that ended up tumbling down the hill. The groom decided to carry the bride down the hill after we had completed the wedding photography. He slipped on the grass and they both went down. Fortunately, neither one of them was hurt so it ended up being a humorous occurrence. But it does show you how it's possible to get injured even while doing something as innocent as a San Francisco City Hall wedding photography session. This is the primary reason we never ask our couples to do anything that could result in injury. If they suggest it, we will take the pictures! The funny thing about the fall is that the bride and groom asked us later if we had it on film. We actually did!