Ballerina Bride at SF City Hall
We had an amazing shoot with this city hall bride. She was talented, beautiful and fun. Once we discovered that she was a ballerina, we started thinking about ways to use that in our photos and poses. Even better was the discovery that her groom was a ball room dancer. Needless to say, we created many poses that involved dance moves and looks. We had them do dips, spins and hugs. In the end, we figured why not just have the bride do some ballerina moves for us. The photo above is the result of that idea. Her unusual dress was also amazing to photograph. I remember talking to this bride by cell phone at San Francisco city hall before we met. I told her what I was wearing so she could easily find me in the hallway outside of the County Clerks office. She laughed and told me not to worry, because she would be easy to spot. That was definitely true and definitely in a great way! As I have mentioned before, city hall really lends itself to colorful wedding gowns. The neutral tones really make red dresses and flowers stand out in a positive way.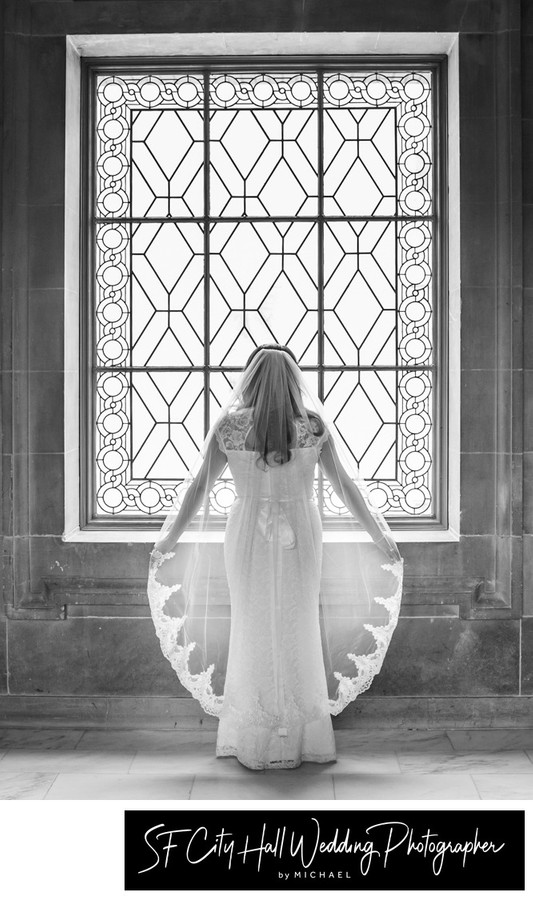 Types Of SF City Hall wedding Dresses
One of the questions we frequently are asked by San Francisco city hall brides involves wedding dresses. They want to know what is appropriate for a Civil Ceremony. I tell them that there is a wide variety of wedding gowns that we see each day we are here. Ranging from long flowing formal gowns and short less formal ones. We even see red dresses like the one pictured on the main photo above. The main point I make to brides is to not hesitate to go big and formal if that is what they want. San Francisco city hall may offer Civil Ceremonies, but because of the elegance of the building anything will work. There is such historic significance associated with this building that it makes it perfectly fine to dress in an elegant fashion. I also don't mind saying that it certainly enhances your city hall wedding photography. We have seen some of the biggest and longest trains here and also short and fun dresses. I also think that it is important to point out that casual clothes are fine too. Wear what you want and don't worry about what may or may not be traditional.