Back of the Wedding Gown at City Hall
Brides spend a lot of time and thought into choosing their bridal gown. As a San Francisco city hall wedding photographer it is important to make sure we photograph all angles of the bride's dress. Obviously, the bride paid special attention to the details not just in the front of the dress, but also in the back. In the image above, we made sure to show the back of our bride's beautiful dress with the train fully extended. In this particular image, we presented it in Black and White to emphasize the texture of the gown. We felt that the detail was so impressive that only black and white would display it the way we wanted. We approach this a number of different ways. In this case, we are strictly focusing on the back of the dress and you can't see the bride's face. We have another pose that displays the back of dress, but we turn the bride's head sideways and have her look down at her flowers. This creates a nice profile image of the bride which parents love! The back of the dress is still in view so in a sense you get 2 things accomplished with one pose. The final way we will display the back of the dress can be tricky for some brides and involves her doing a little bit of a twist at the top. Not all brides can pull this off, but it makes for a nice image when it works out. There are a few other tricks we have learned over the years to really make the dress shine. One of them is to have the bride hold the lower part of the dress out and spin back and forth as we take pictures. We can also sometimes have the bride just spin around in circles, which can really be pretty with some dresses. Our goal with San Francisco city hall weddings is to always make the bride's dress a center of attention. The more the bride handles her gown, the more attention is paid to it. The other important aspect of making sure this photo comes out great is lighting. If we would have used direct flash, it would have flattened all of the details. Instead, we photographed this mostly natural light but with a very small bit of light coming in from the side from our off-camera flash. Angled light will always accentuate texture in fabrics.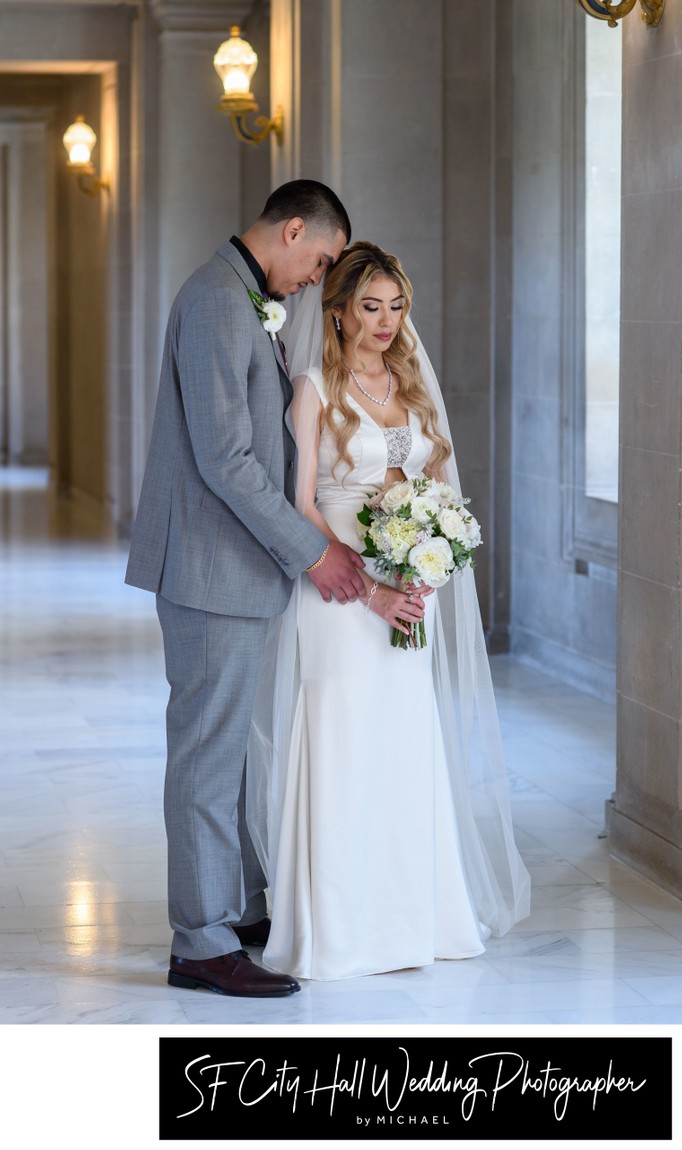 We Let Our SF City Hall Brides Rest
Whenever our bride's shoes start to hurt her we make sure she gets some time not walking. Even during resting time we can still get a few shots if the bride is willing. This particular bride loved wedding photography and kept encouraging us to get some great images. She actually chose the resting place, but I saw it as photo opportunity which would not require her to do anything. We never want to push our San Francisco city hall brides too hard.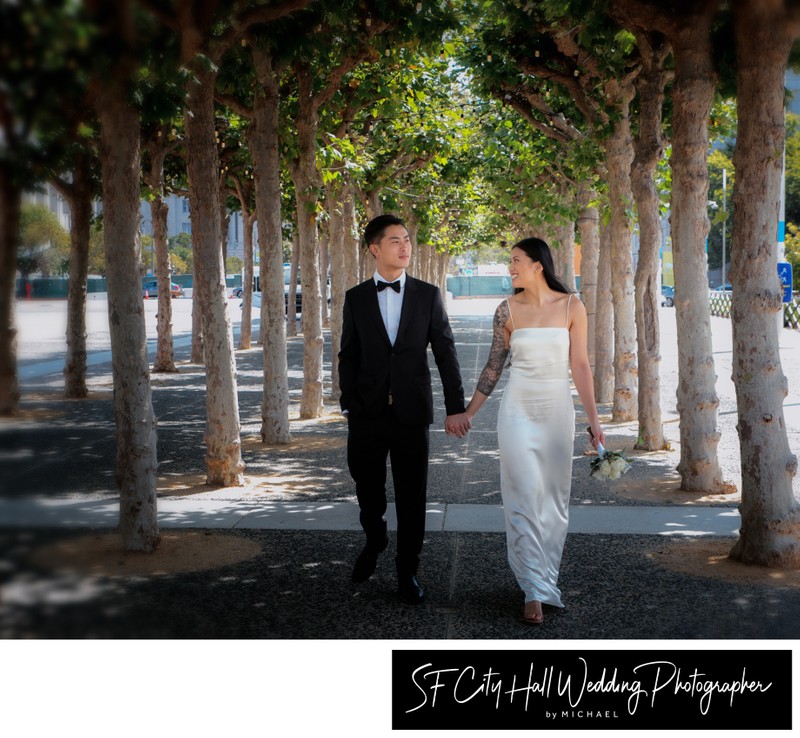 Exterior Images at San Francisco City Hall
This is not a picture you see very often because the trees seldom look like this outside of City Hall. This was one of my first images captured after city hall closed for the Pandemic of 2020. This couple had scheduled their wedding there and it ended up being cancelled by the San Francisco powers that be. The couple instead, decided to do a remote wedding through the County Clerk's office in the comfort of their own home and then came to San Francisco to get some nice wedding images. We also took them to the Palace of Fine Arts for additional pictures. It was kind of an eerie feeling to take wedding pictures in Civic Park during the Covid-19 closure. This wedding photography session was done just a few days after the Lock-down and there was nobody around. One thing for sure was that we didn't have to worry about people in our pictures in the background anywhere we went. Looking back on the closure, there was nothing really good about it and I am very glad City Hall has reopened and things are back to normal.