Special Effect Image Editing in Photoshop
We occasionally like to throw in some special edits for our San Francisco city hall clients. We don't overdo them, we just like to give each client a sampling of a few select images. It might be something as simple as an antique look or Sepia Tone image. We also will usually provide you with at least one image like the one above where part of the image is in color and the bulk of it is in Black and White. We also do vignettes and softening occasionally. By request, we can try to do something you have seen before and liked. In this particular photo we actually used 2 different effects. We used a fish-eye lens AND converted the photo to black and white with the exception of the bridal bouquet and some natural skin tones. This has the effect of really making the bride and groom stand out from the background in big way. Another interesting aside is that black and white photography such as this, can actually enhance the details of architecture. As San Francisco city hall wedding photographers, we love to do what we can to make sure this aspect of the building is highly noticeable. So many of our perspective clients tell us how important this is to them in their final result. Why does black and white photography favor detail in architecture? I think it is the simple fact that with no colors to distract the eye, we are able to really focus on the lines, angles and arches present in this famous French style of architecture. Color adds other great attributes, but not so much related to architecture. The design at San Francisco city hall employs many repeating lines and symmetry. These architectural patterns stand out much more with black and white. These attributes are what makes Beaux-arts architecture so compelling and long lasting.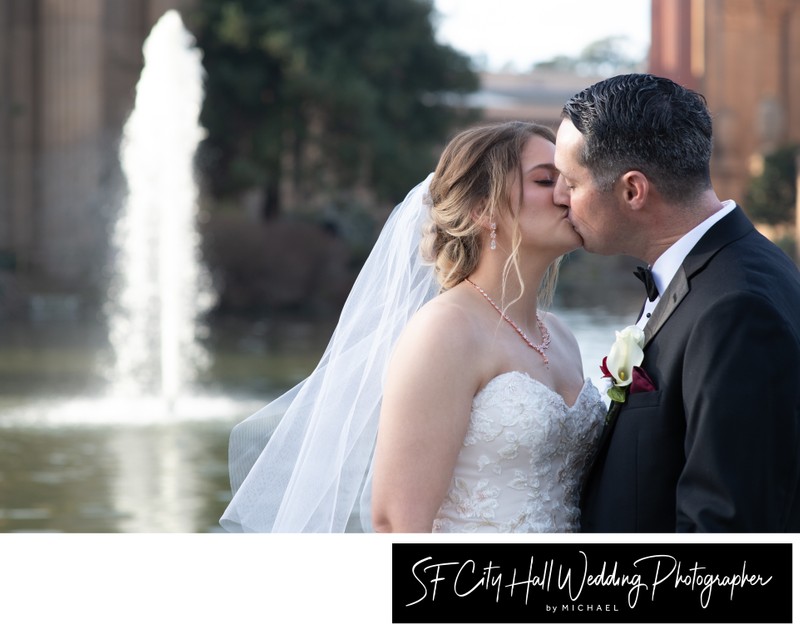 Beaux-arts Architecture in City Hall Wedding Photography
Beaux-arts was used extensively throughout Europe in the late 1800's and early 1900's. It has also been used in many buildings in the United States including churches and capital buildings. Especially those built in the early 20th century. Many of these monuments to French architecture still stand today and San Francisco city hall is perhaps one of the best examples on the West Coast. Why does it work so well with wedding photography? It has a lot to do with the angles, repeating lines and arches. Placing the bride and groom along a wall with beautiful patterned lines gives the image depth and richness. Dimension is often cited as a strong attribute of good portrait photography and using this technique contributes to this in a great way. Beaux-arts is also know for it substantial use of arches throughout the building. Arches are an exceptional means of framing the client's faces and bodies to obtain a nice comfortable look. We personally try to find these natural frames wherever we can as we wander through SF City Hall during our wedding photography sessions. Our brides and grooms tend to be big fans of city hall architecture, so we try not to disappoint them. It would be a shame to book your wedding at this historic building and not show the beautiful backgrounds. Some close-up photos are always important, but at San Francisco city hall, it is all about the architecture.