Bridal Portrait Photography
We spend a lot of time taking great images of our wedding couples together, but it is also important to create some nice individual portraits as well. With LGBTQ couples the bridal portraits should be different, we want each bride to feel unique and special. So we purposely avoid using the same pose or background for each of the 2 brides. We do this with male Gay couples also. In the image above, we placed the bride in the window light, but did not include the window in the framing of the image. With the other bride, we did some photos of her actually in front of the beautiful City Hall window. Each bride enjoyed their beautiful images. The important thing is that each bride had their own pictures to show to family and friends. Then of course they were able to show the pictures of the 2 of them together. The point is that we always provide our newlyweds with a wide variety of images to ensure that everyone is happy. This particular couple was very vocal about what they wanted in their wedding pictures, but did it in a very nice way. We are more than willing to accommodate the wishes of all involved.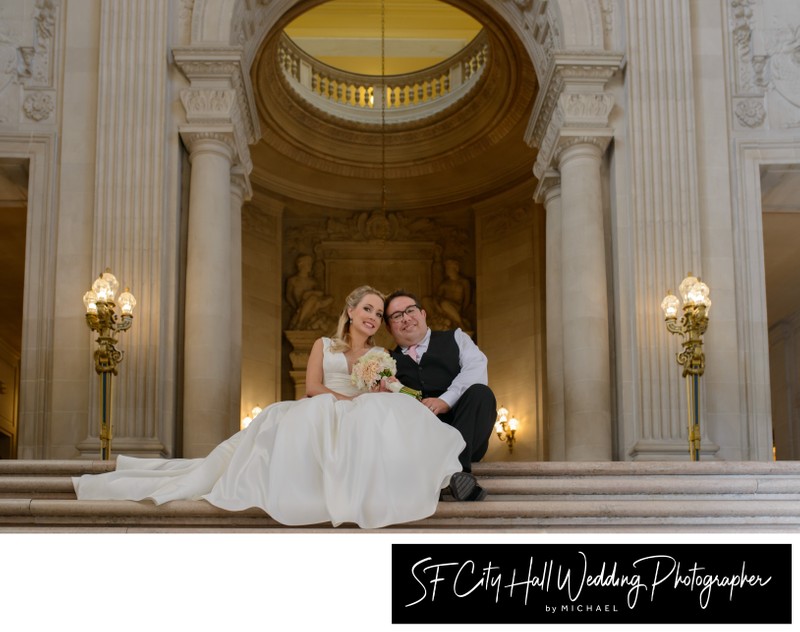 Family Photos for the LGBTQ Newlyweds
When doing the family group photos for this LGBTQ couple, we pretty much left it up to them what groupings to photograph. We make no assumptions regarding who to photograph together. Both brides had their own family pictures they requested, but then we did a lot of combined pictures as well. We have a favorite place we like to do the Family shots at city hall. It just to the right or the left of the Grand Staircase at the very top. After we take all of the smaller groups, we then take the whole wedding part to the front of the Staircase to capture a nice picture of all participants. This can often be the favorite image for the couple to remember their wedding by. Listed below is a step by step summary of our normal wedding photography coverage in order.
Ceremony candid pictures
Family Photos - Group shots
Newlywed pictures around the building - "City Hall Photo Tour"
Special requests from the Newlyweds
City Hall Entrance picture
Outside shots of the building (optional)