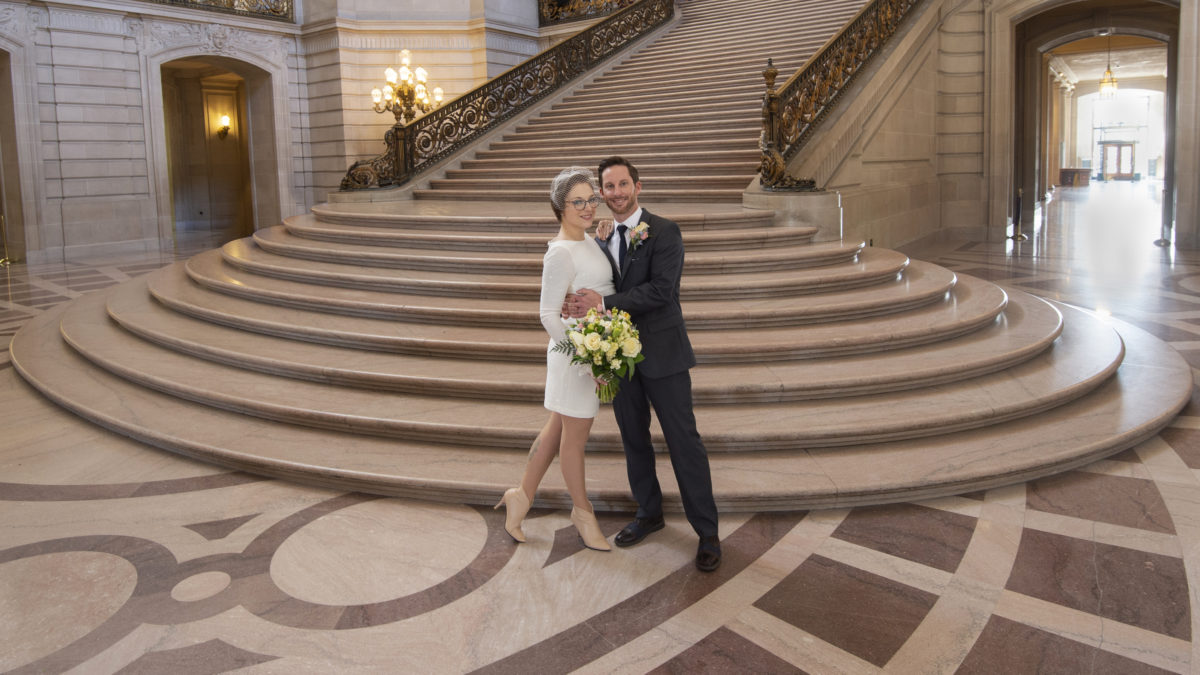 We spend a lot of time on this blog talking about all the reasons our clients should consider holding their nuptials at San Francisco city hall. I thought it would be interesting to present a different view point. A perspective that has nothing at all to do with the potential benefits and advantages of City Hall weddings to the general public. Instead today, I present a photographers view of the joys of shooting weddings here. Why do we like it and are there actually a few things that we dislike.
Introduction
The first time I ever set foot in San Francisco city hall, I was greeted by multiple brides walking around. Understand that at this point I had already been a wedding photographer for many years. In my world, brides only existed on weekends or maybe an occasional Friday. Weekday brides? This can't be, I thought! I investigated further and realized that yes, people DO get married during the week. Not just a few people but many, many people. A further investigation revealed that, in fact, San Francisco city hall hosted approximately 35 weddings per day! A wedding photographer's paradise!
Wedding Photography as a Career
Before I get into what I did after making this amazing discovery, I think it is important to share a few quick words on Wedding Photography from a business owner's perspective. In many ways, being in the wedding and event business is very rewarding and it can be lucrative if you have the right niche. However, anyone in the Wedding / Event business will tell you that once you become successful your weekends are mostly shot. Especially during the summer months. When my business was at it's peak, I would sometimes go 6 or 7 weekends in a row without being able to do anything in the summer that didn't involve pointing my camera at pretty brides. My wife was always having to make excuses for me and explaining to family members why I could not attend events and parties. "Mike has a wedding that weekend".
Investing In San Francisco City Hall
It didn't take too long for me to figure out that I should try to explore the possibility of photographing more weddings at city hall and less big weddings on weekends. So before it was popular to do so, I made a City Hall Wedding Photography website and also added a City Hall section on my main website. I am not saying I was the first of many San Francisco wedding photographers to make these changes because I wasn't. However, I certainly was among the first pioneers to specialize in weddings here. Many other wedding photographers have followed and now there are dozens that claim it as a specialty. Not so long after I made these changes, the weddings started to pour in and we found ourselves busier than ever. It didn't take long for me to be able to cut back on my big weekend weddings and now I am happily one of the leading wedding photographers shooting weddings at this amazing venue.
End of Part 1 – Part 2 coming tomorrow!