The month of January is always our slowest time period for city hall weddings.   It's in the middle of the winter and there is no special event or holiday in January.  December of course is always busy due to the Beautiful Christmas tree and brides and grooms just like to get married at that time of the season.  February features Valentine's Day and we always have weddings right around this date.  Many engaged couples actually choose to have their nuptials on this romantic holiday!  Given this slight lull, I thought it would be helpful to take the time to discuss some of our favorite destinations in San Francisco that we take our city hall wedding couples.
Iconic San Francisco Destinations
We take our couples throughout San Francisco after our city hall wedding photography sessions.  Here are some of the best san francisco wedding photographer locations:
Palace of Fine Arts
This is by far the most popular wedding photography destination.  Especially chosen frequently by our international brides and grooms.  It has a very large area for wedding photography with lots of options.  The beautiful building is obviously the centerpiece, but there are large columns  everywhere to use as a backdrop.  The only negative is the amount of tourists here.  Depending upon the time of day, it can be hard to find space without people looming in the background.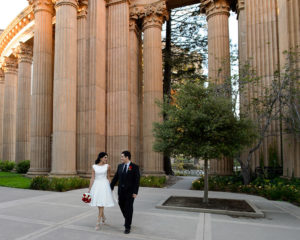 Legion of Honor
Another popular wedding photography spot, but fortunately MUCH less traveled by tourists.  The Legion of Honor offers beautiful Beaux-Arts style architecture which  many of San Francisco's older buildings possess.  We love taking our city hall brides and grooms around the inner open area and pose them between the gray repeating columns.    The light is also fantastic here from a wedding photography standpoint.  This is because you have indirect light that comes in from the side, but is also reflected by the neutral tones of the building.  Perfect for a rainy day as well!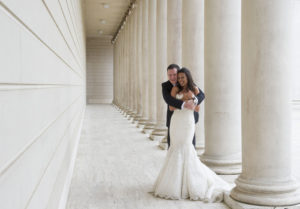 The Golden Gate Bridge
This is an obvious one, but there are many options and decisions to make.  We try to help our newly married couples decide by providing them with the best possible information and ideas.  Late in the afternoon you can approach the bridge from Ocean by Baker Beach.  This provides nice warm light on the bridge and enhances the colors.  Earlier in the morning, we often like to take pictures of our brides and grooms from the San Francisco Bay side of the bridge.  This will often provide very nice dimensional lighting on the Golden Gate.  Listed below are some of the most common angles to approach wedding photography of the bridge
Baker Beach
Crissy Field
Fort Point
Legion of Honor
17th Hole of Lincoln Park
Fort Baker
Lands End
Battery East Vista
Golden Gate Overlook
Marin County side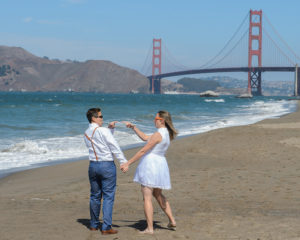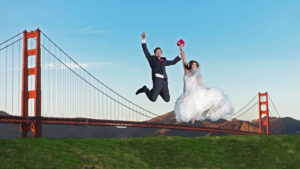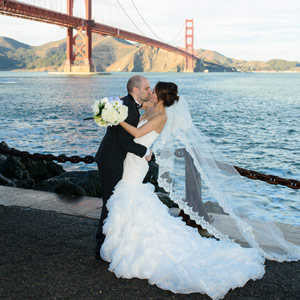 This completes part one of our San Francisco City Hall wedding photo destination options.  We will be adding more locations next week,  please stay tuned!