We also enjoy taking our couples to some of the less popular and also less touristy destinations.  In Part 2 of this blog post, we will discuss some of these areas:
Painted Ladies
One of San Francisco's most iconic landmarks are the brightly painted Victorian houses that you will see throughout the city.   But there are 6 particular houses right in a row which have captured the imagination of many and have become relatively famous.  They were partially made famous when the appeared on the opening Credits of the popular San Francisco Based TV show "Full House".  Located by Alamo Square Park, these beautiful homes attract visitors from all over the country.  There are a number of angles you can use to photograph the Painted Ladies
We prefer placing our bride and groom on the edge of the Alamo Square park and shooting from that angle.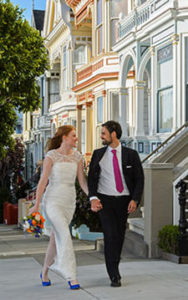 Russian Hill / North Beach
This is actually a district in San Francisco and not so much a photography location.  However, it is a great area to wander around and get some fantastic street photography.  We often take our newly married couples up to the top of Russian Hill to begin with so we can get some great views of San Francisco.   Once that is completed, we can wander down to the actual North Beach area and explore the many shops, bars and restaurants and take photos as you do it.  We have a few favorite spots we like to stop at including Sotto Mare which has outdoor seating.  What better place to get a natural photo of you and your spouse sipping Italian Wine!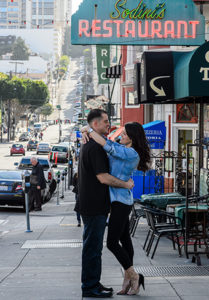 Woodline at the Presidio in San Francisco
A hidden Gem in the Presidio in San Francisco is a little place we discovered called Woodline.  It's basically a cut through of the thick and dense woods that you normally find when walking through the Presidio.  Few people know about it so it is rare that we run into tourists when we take our married couples there for wedding photography.  Rather than describing it, I think it would better to just post an example image: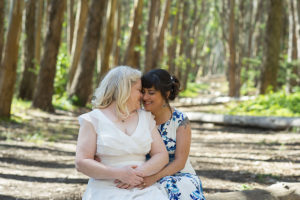 Ghirardelli Square / Cable Car
While it may be true that Ghirardelli Square IS a well known San Francisco destination, it's not quite so famous as a wedding photography spot.   We love it!  Why?  Because it is such a great place to walk around and experience San Francisco!  By far one of the best places to get a Cable Car image because the cars sit there on Hyde Street waiting to be boarded.  In addition, you have the Famous Buena Vista Cafe which is an iconic pub that serves the best Irish coffees that you can imagine!  Ghirardelli Square is also just a nice area to have our couple walk around and enjoy while we photograph them!