The first thing people ask me when they book me to be their San Francisco City Hall wedding photographer is… "When are the best times to avoid the crowds." There are many common answers to this question. Most people will tell you that early morning is the best time to photograph a couple at San Francisco City Hall. Others will tell you to avoid Fridays like the plague because it is one of the busiest days of the week. However, what if you are forced to have your wedding on a Friday because you need to bring in guests who are only available on the weekends? Or what if you don't want to get up at 4:00 a.m. In the morning to get ready on your wedding day. Not to mention the fact that you have to tell your guests to also get up super early so they can come to your wedding. I seldom talk about the times of the day when I am discussing the problem of crowds at San Francisco City Hall with my perspective couples. The reason for this is that you really never know when the building will be less crowded. Let's talk about the risks involved in suggesting to any married couple that getting married in the morning or late afternoon will result in less crowds for their wedding photography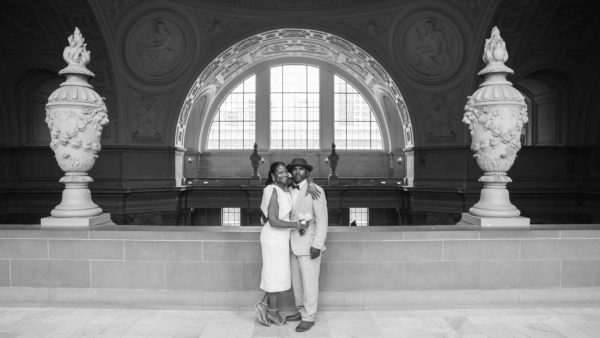 San Francisco City Hall Crowds are Unpredictable
There are way too many variables to be able to accurately predict crowd volume at San Francisco City Hall. For one thing, this whole idea that the crowds will be lighter in the morning in the afternoon is common knowledge. If you read just about any San Francisco City Hall wedding photographer's website this advice is almost always provided. My own website is no different. I do mention that the odds are better of avoiding crowds especially in the early morning. At the same time I also make it clear that this is in no way a guarantee. The obvious reason that there are no guarantees is that many of these brides and grooms are following this advice and coming early to City Hall just for wedding photography. Some of them of them don't even have their ceremony scheduled until later in the day. Their photographers have convinced them if they come early they will be able to get some great shots on the grand staircase with nobody else around. I have seen this backfire on numerous occasions. I see early morning brides and grooms lined up trying to get on the grand staircase. All of these couples came early thinking these crowds would be avoided. If everyone know about it, is it a secret?
Another not so well known fact is that tour groups often like to get to San Francisco City Hall early as well. The tour bus can arrive at 9:00 am and suddenly the building is flooded with 50 Tourists who, of course, want to walk up the grand staircase and take pictures. So how about the late afternoon, isn't that a safer bet to avoid a crowded grand staircase? The answer is maybe. During the winter months, once school is out, the Quinceanera photographers are there with their 15-year-old clients all dressed up in their big beautiful colorful dresses. Often times these photographers will have elaborate lighting setups which they place all over the grand staircase in order to get the perfect shot for their client. Keep in mind that they have as much right to be there as our brides and grooms do, because City Hall is a public building. One could argue that brides and grooms should have a slight priority because they did pay for the privilege of being married at San Francisco City Hall. The Quinceanera families are not paying anything to be there. In truth, however, this argument is irrelevant because this has been going on for years and nothing is probably going to change this. For the most part, I have found Quinceanera photographers to be courteous and will often let a Brian groom go before them. But the point is they're there and often quite a few in the late afternoon.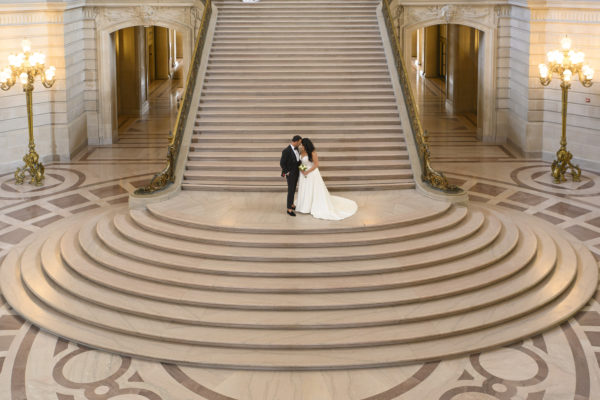 Other Factors that Can Contribute to City Hall Wedding Photography Disruption
In addition to the above points I have made, there is another completely unpredictable factor that can contribute to Newlyweds not being able to have full access to the building for their wedding photography. We like to refer to this as the dreaded San Francisco City Hall private event. Private events often occur in the afternoon, but can also disrupt things in the morning as well. Especially if the event is going to be large. The City Hall Events Department will often shut down the entire first floor so they can set up furniture and decorations for special events. This means that the grand staircase is also shut down in those situations. Before you ask, let me just say that no, there is no reliable website or calendar that shows when City Hall events are going to occur. Since we are friends with some of the event planners, we occasionally receive advanced notice, but this is rare. In reality, we are usually just a surprised as the bride and groom are to walk into San Francisco City Hall on their wedding day and see that the entire Grand Staircase is roped off and closed down for the day. Another less frequent occurrence is when City Hall plans a large wedding during the week right in the middle of the Grand Staircase. These events can last up to 45 minutes and can make it impossible to take pictures anywhere on the first floor.
Should Fridays be Avoided at SF City Hall?
If you have read this far, you will probably understand that scheduling your wedding on a non-Friday is no guarantee that you will have no disruption to your wedding photography. The fact remains, Fridays are the busiest day at San Francisco City Hall. So if you do schedule your wedding on a Friday you can pretty much be assured that things will be crowded. There are more private events on Fridays and there are more reserved weddings on Fridays. Both of these occurrences lead to more guests wandering around the building and more possible disruption to your San Francisco City Hall wedding photography plans. So if possible, it's still a good idea to avoid having a wedding on a Friday.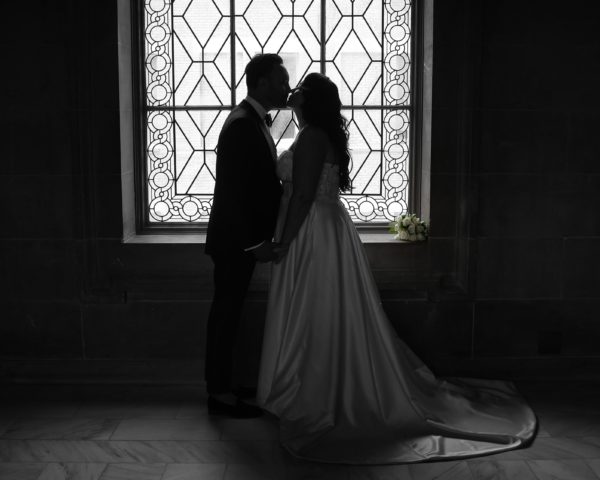 The Real Secret to Avoiding the Crowds at San Francisco City Hall
After reading all of this, you are probably wondering how it is possible to avoid the crowds and have a smooth and fun San Francisco City Hall wedding shoot. A big part of our so-called Secret is educating the bride and groom beforehand about all the wonderful and beautiful options there are for wedding photography at City Hall. In some ways, it's a question of attitude. Some brides and grooms can come into the building obsessed with getting that perfect Grand Staircase photo. However, if you just look at my city hall website and others, you will see how many amazing places there are to photograph couples at this historic building. The Rotunda, the Third Floor Hallway, the Mayor's Balcony, the 4th Floor Gallery, and the Second Floor Hallway are just a few of the options presented to you as potential spots for memorable wedding pictures. Once your SF city hall ceremony is completed we will take you on a photo tour of the entire building focusing on all of these beautiful and much less crowded areas. As we travel with our newlyweds, we keep our eye on the Grand Staircase. If we notice that there are not many couples waiting we will stop what we are doing and immediately head down to capture photos while we can. This formula has worked for us for 12 years and yes there are some times where we never got the clear shot on the grand staircase that we wanted to. But we certainly try and can always present our brides and grooms with plenty of great photos captured throughout beautiful San Francisco City Hall.