A couple of years ago the San Francisco county clerk's office had been asked by the Mayor's office to start enforcing the 6 guest limit rule. At that time, we were not sure how city hall planned to enforce the new rules, especially given the short notice for all married couples affected. To summarize my prior blog entry, the decision was made to hold any large weddings up on the 4th floor since there is more room up there and it is far enough away from things to not be disruptive. The problem with this solution is that in many ways, it rewarded couples who brought large groups with them because being banished to the beautiful 4th floor North Gallery was actually a great thing. The issue is that the Rotunda which is the default location for all San Francisco city hall ceremonies is adjacent to the Board Of Supervisors meeting room. It's also just across from the Mayor's office. Since that time, we have noticed many different solutions to this problem. As it stands right now (May, 2022) there seems to be no single way of handling couples that choose to bring in more than 6 guests. You can check out our City Hall photography home page for more information also.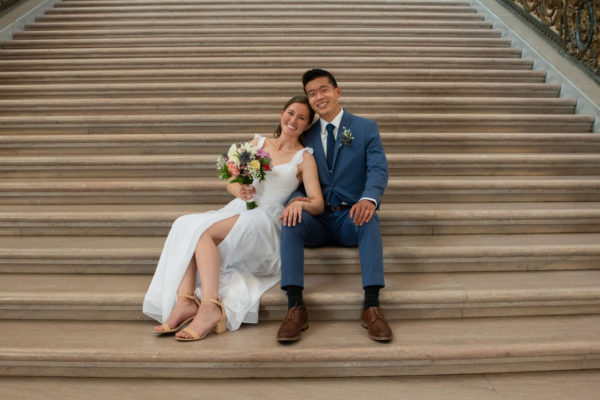 Marriage Ceremonies in Private Room
Back in 2019 the SF County Clerk's created a solution to this issue. Couples who went over the 6 guest limit were required to have their Marriage Ceremony in the Private room. The Private room is a relatively small city hall ceremony location that affords the bride and groom privacy and relative quiet. It's not particularly a popular location for city hall marriages because engaged couples that come here are mostly looking for the beauty and architecture that makes SF City Hall Famous. In fact, just to give you an idea, I have photographed about 600 city hall marriages over the years and I have only set foot in that room about 6 times. A very low percentage indeed! Moving ahead to 2022, this solution is not being utilized. I can only speculate, but my feeling is that the Officiants do not want to be stuck in a small room with 12 people that does not have great ventilation. Obviously, Covid-19 made this an unacceptable solution.
Splitting the City Hall Wedding Guests up
A solution I have seen recently that is being used by some Marriage commissioners is to not allow the whole group (the amount over 6) to stand close by during the ceremony. 6 guests are invited to watch right there in the Rotunda, but the others are banished to try to see the ceremony from far away. Of course the obvious problem with this becomes how do you decide who gets to watch up close and who gets banished. This can be tricky and it can cause some problems. On a few occasions, I have seen San Francisco city hall officiants refuse to start the ceremony until the extra guests depart.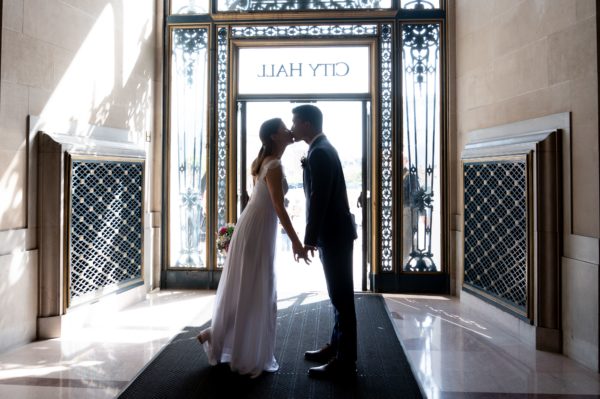 Do Nothing
From my own experience, this seems to be the most common solution. When faced with a San Francisco city hall couple with extra guests, most Officiants just go ahead with the ceremony and everyone is included. This is the easiest and least disruptive way of handling it. The thought is, why ruin the wedding day of a bride and groom by being mean to their guests? So many San Francisco city hall Marriage Commissioners simply "look the other way." This may seem like the least controversial way to handle this, but there are problems with this solution as well. The majority of brides and grooms DO follow the 6 guest rule. However, when they arrive at San Francisco city hall with their 6 guests, they see other couples getting away with 10,12, or even 15 guests. This understandably makes them upset because many of them probably told certain relatives and friends they couldn't come. It can also be awkward for San Francisco city hall wedding photographers like myself who are constantly being asked if the rule is enforced.
County Clerk Procedure for Handling Guest Count
The new procedure occurs at your County Clerk ceremony check-in . Now they specifically ask you: "How many guests for your wedding?". If you say 9, for example, they tell you that you are only supposed to have 6 and may give you some of the suggestions detailed above. Obviously this can be a problem for the couples that have been bringing 20 plus guests to their San Francisco city hall wedding. As mentioned earlier, the recent issues involving the Covid-19 pandemic make the private room not a great option anymore. In fact, I would venture to say that only about 8 people can fit comfortably in that room anyway. At this point, if you are planning on having a large group for your San Francisco city hall wedding, the safe thing would to consider reserving more space in the building by having a reserved ceremony. 2 locations are available for this and you can research and even book them by clicking on this link to the City Hall Events Department. The other option is to trust to luck and hope you get a lenient Marriage Commissioner.