I thought it would it would be nice to go back in time and feature some of our more memorable weddings in addition to keeping up with new ones.  When Toni and I think about past city hall wedding experiences, Robyn and Jeff always come to mind.  We probably overuse the term "fun couple", but with them it totally fit!  Neither the bride or groom seemed at all nervous, but they were definitely excited to get married.  They booked us for the full treatment by requesting our San Francisco Tour Package.
They had a large gathering of family and friends who watched their nuptials in the Great Rotunda at San Francisco City Hall.  After photographing them with with their guests we took them around the building for a fun-filled tour.  Robyn knew how to pose for the camera and seemed to be having fun doing it.  In many cases, they improvised on our suggested positioning, adding their own personal twist.  We have included a photo of them standing in the city hall window, a practice that is no longer allowed on the 3rd floor.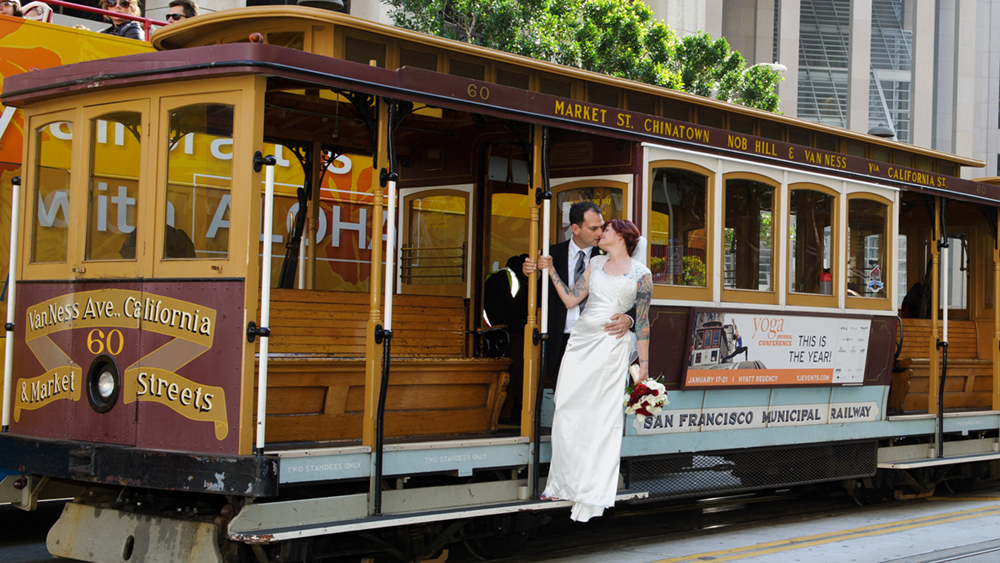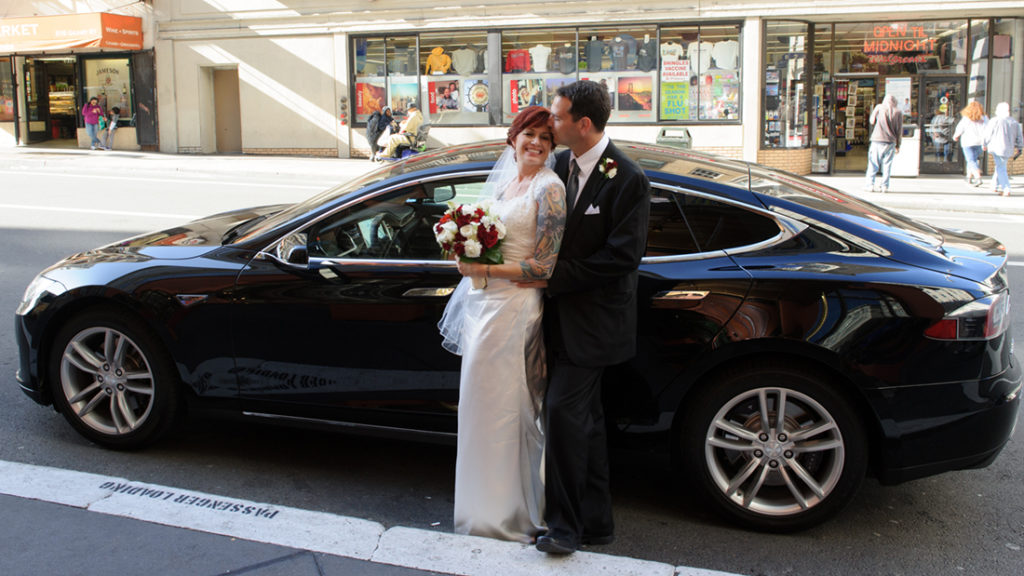 Next it was off to Nob Hill to get some Cable Car shots on California street.  We got an unexpected treat when the newly married couple informed us that THEY would be supplying the transportation and we would be riding with them in a brand new Tesla Model S!  Yes, that's the one with a temporary performance setting that electronically puts out around 700 Horsepower.  The car goes from 0-60 mph in under 3 seconds in that mode and we pretty much experienced it on California Street.  I believe the Mode is called "ludicrous" and sure enough, it was that fast.  A fun filled ride ending with some fantastic Cable Car shots.  The Car belonged to a friend of theirs and at the time, Tesla's were a bit of an oddity.  Now of course you can find them everywhere. 
San Francisco Street Wedding Photography
After our thrilling ride and Cable Car shots, Robyn and Jeff wanted to take some pictures of them just walking around town.  The idea was to show some of San Francisco's typical street scenes in the downtown area, which happened to be a favorite location for them.  So went down closer to Market Street and did some "street photography" with them just crossing streets (carefully) and interacting.  we made a special point to show the high-rises in the background and some restaurants.  Great stuff and a fun way to end the trip.
Note:  This wonderful couple was one of our first at San Francisco city hall.  We just found out the the bride very tragically passed away.  One of our favorite couples ever so we were very sad to hear this.  Condolences to Jeff, he was such a loving husband throughout Robyn's struggles.