It was Christmas time at San Francisco city hall and there were no reservations available for civil ceremonies. In fact, City Hall weddings were so booked up in December that the County Clerk made the decision to temporarily increase the number of weddings scheduled per hour. This was helpful, but even these new time slots disappeared quickly. So what do you do if you are an engaged couple and want to get married at City Hall during this busy time of the year? Fortunately, there is an alternative way to have your wedding in this historic building overlooking the beautiful Christmas tree. Keep reading to learn how this works.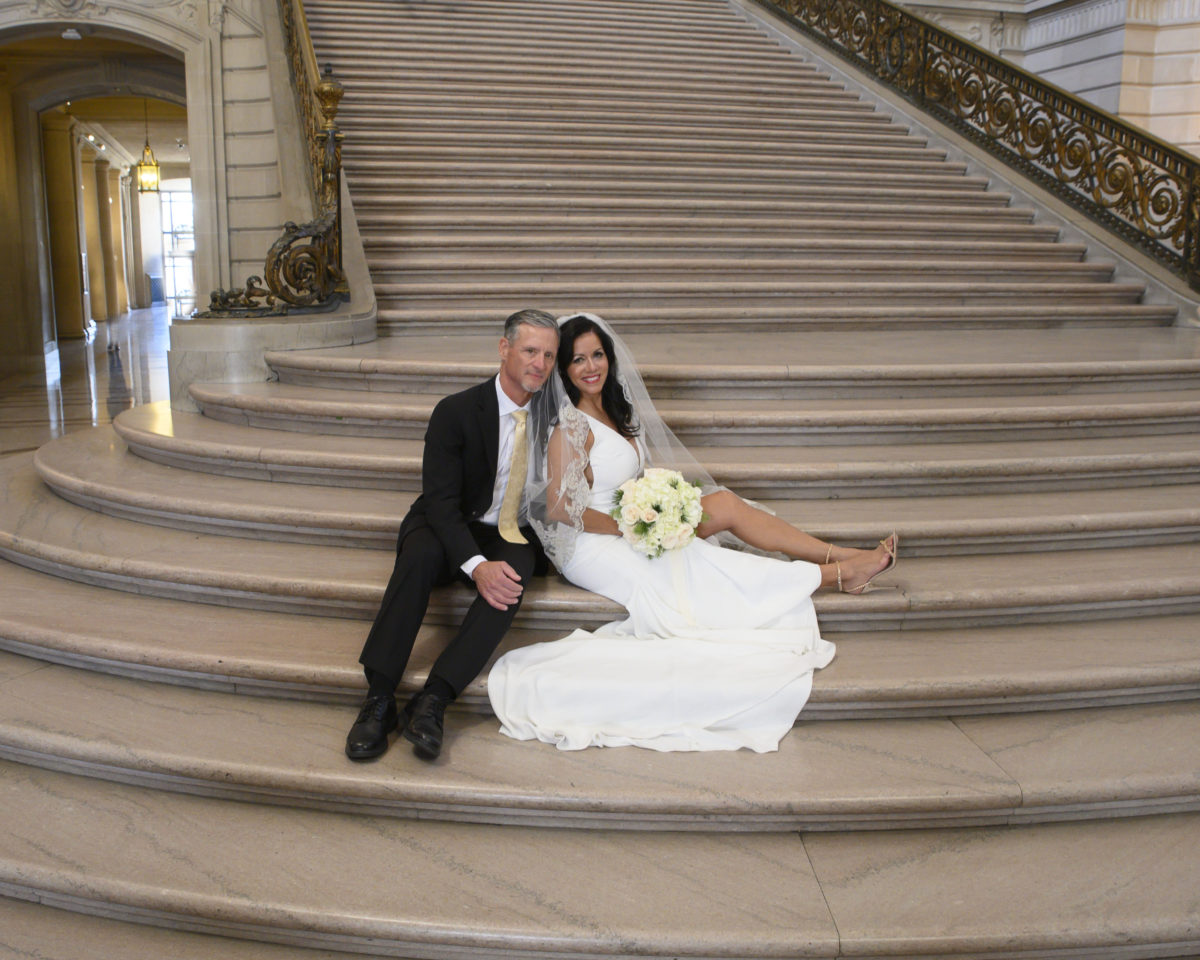 Book Your Own Officiant and Get Married at SF City Hall
The couple displayed all through this blog post were determined to have their wedding at City Hall during the Christmas season. They contacted me to be their SF City Hall Wedding Photographer and asked for suggestions. I mentioned a few options which included trying to book a Reserved Ceremony at the Mayor's Balcony or 4th Floor North Gallery. Also suggested was the possibility of having their marriage elsewhere, but coming back to San Francisco city hall for wedding pictures only. However, the suggestion they liked the most was hiring a private officiant and getting married in a quiet location within the building. We let the couple know that we were happy to help plan this and even suggest some experienced Officiants. We recommended hiring an officiant who had done private ceremonies in the past at city hall and gave them a list of qualified ones.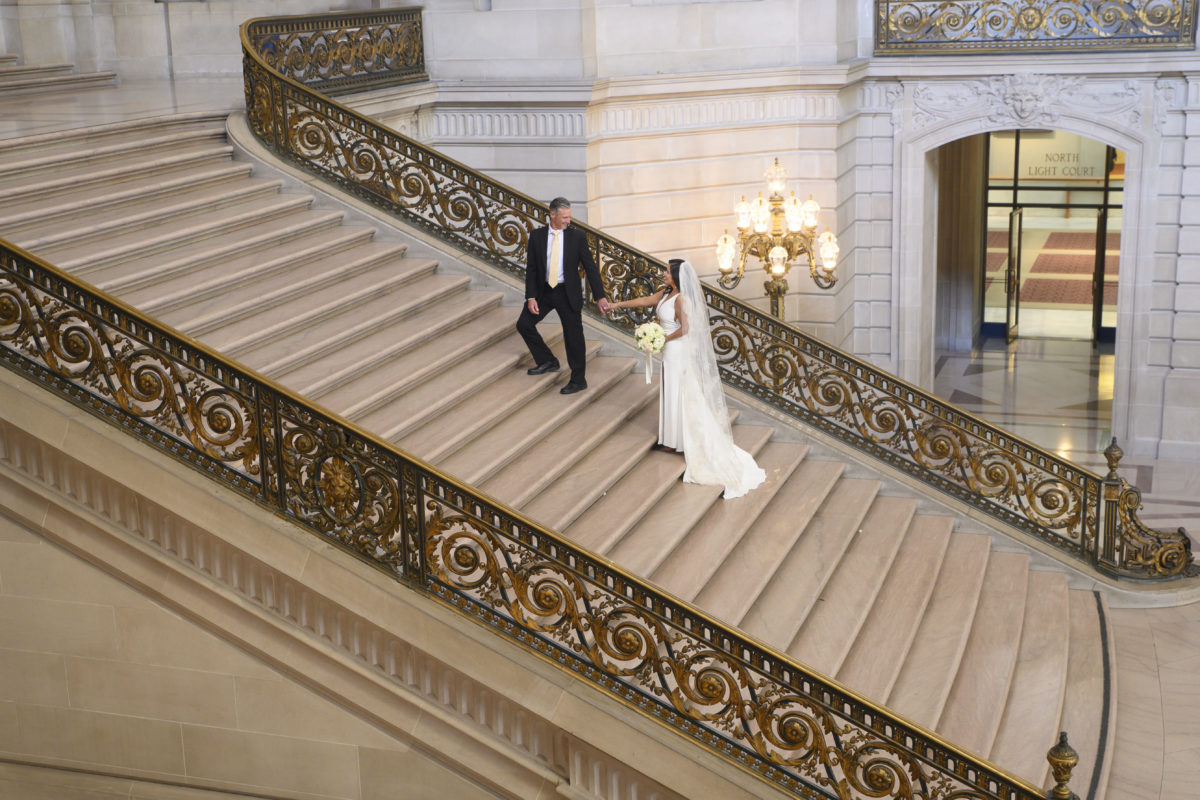 Starting the Photography Coverage at the Grand Staircase
Our original plan was to start our wedding photography coverage with the private ceremony. We were to meet the officiant by the Grand Staircase and then together find a suitable place in the building for ceremony. Fortunately, the couple happened to arrive early and we noticed that the Staircase was clear of foot traffic. This gave us the opportunity to start taking photos right at that moment. We always try to take advantage of an uncrowded Grand Staircase when we see it. The couple arrived 10 minutes early, which was just enough time to get some amazing wedding pictures before the San Francisco city hall ceremony was to start. Once this mini wedding photography session was complete, it was time for the ceremony.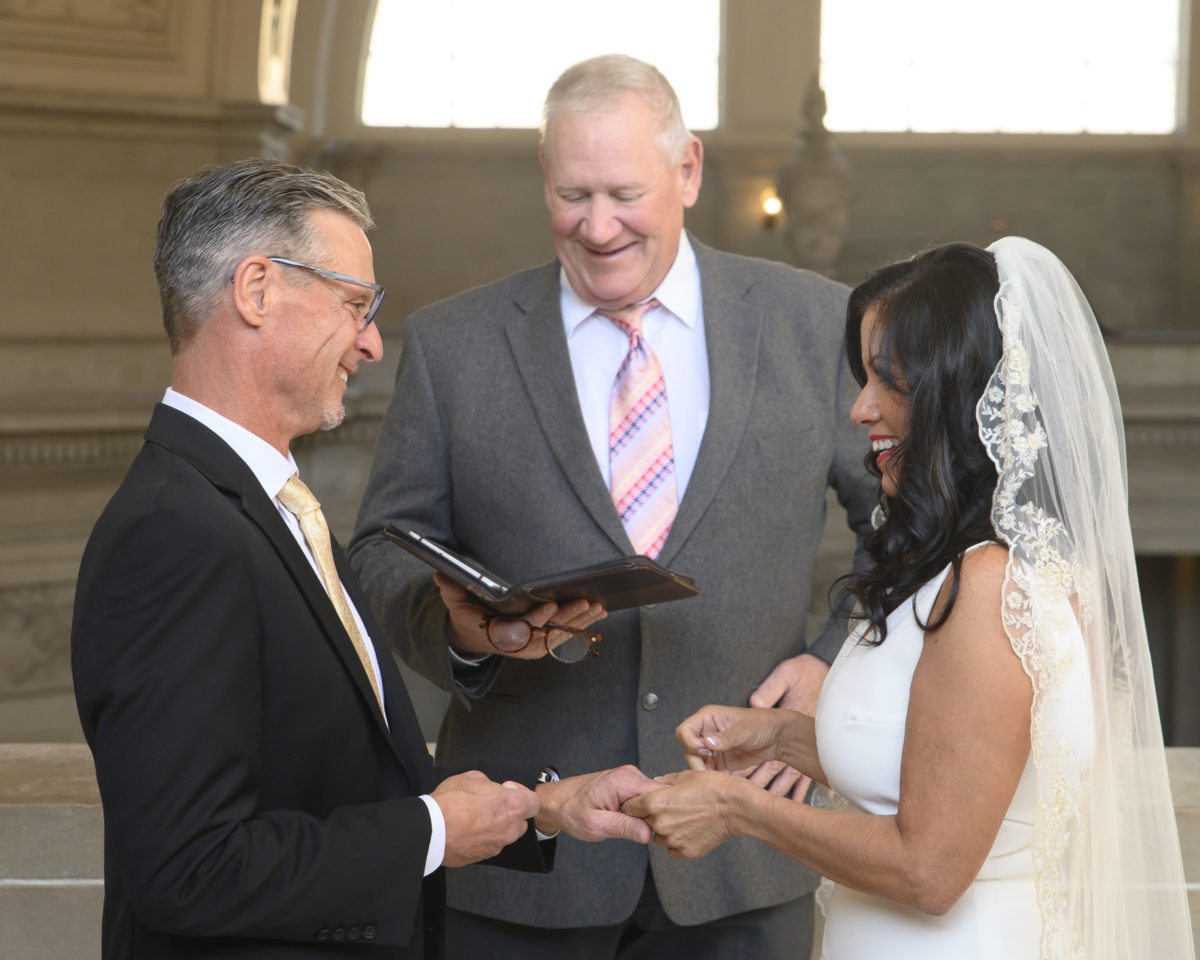 Finding the Best City Hall Ceremony Location
Our usual focus when it comes to San Francisco city hall private ceremony locations is finding a private area. Yes, beauty in the background is also essential if possible, but it takes a back seat to providing the couple with a nice quiet location to celebrate their nuptials. If we can do both, all the better, but there is always the time after the ceremony to get great wedding pictures around the building. We ended up choosing the 3rd floor on the south side of the building for our ceremony and it worked out great. The couple did not have a huge number of guests and so that area accommodated them with no problem. Once the ceremony was complete, we did the family photos and group shots with everyone in attendance.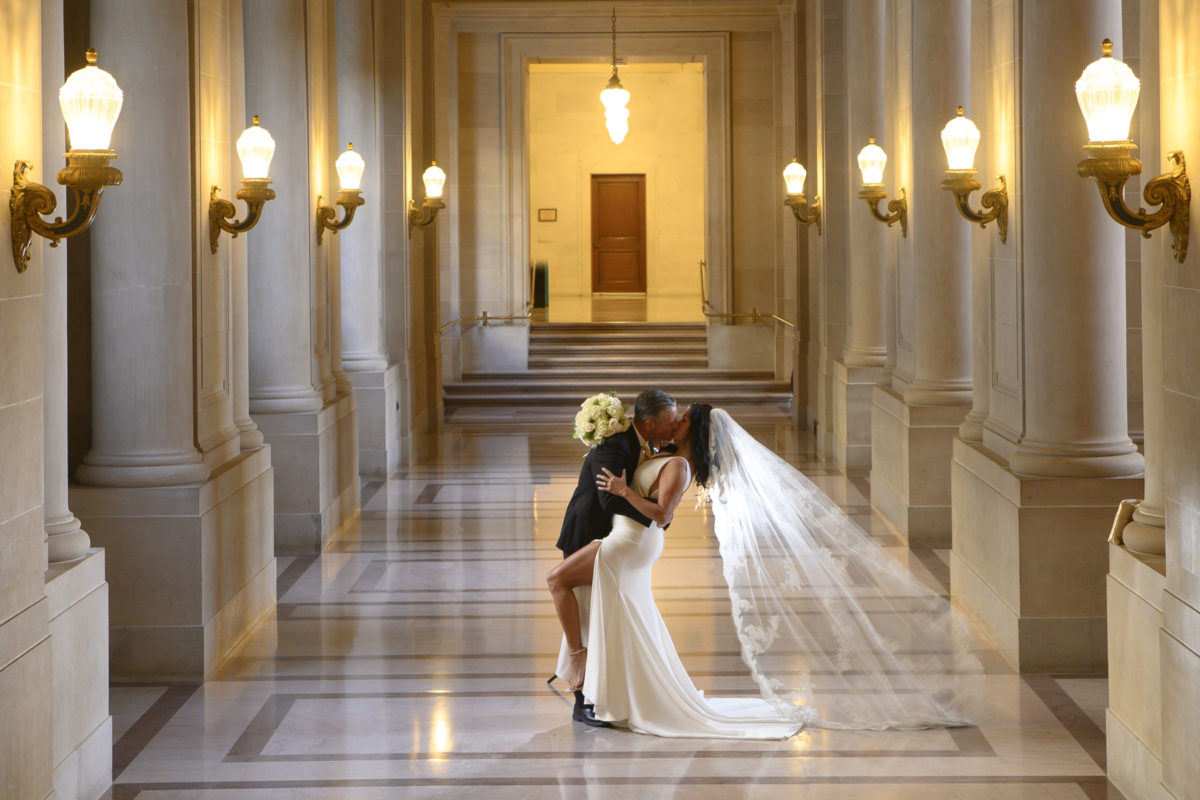 SF City Hall Wedding Photography Tour
With all of the wedding essentials out of the way, it was time for our formal wedding photography session around San Francisco city hall. We like to call this our City Hall Photo Tour. We take the newlyweds to various places around this beautiful building and capture some great memories. We usually do this with just the couple alone, but they have the option of bringing some people along for more photos if they so desire. With this particular couple, we had already captured images of them on the Grand Staircase, so we proceeded to go to many of SF City Hall's most desirable locations such as the Mayor's Balcony, The Rotunda and the 4th floor North Gallery. We completed the shoot as we always do, with photos of the happy newlyweds by the City Hall entrance sign.