City Hall Crowd Rules
The city hall website specifically states that the maximum number of guests allowed at standard civil ceremonies is 6.  The rules go on to explain that if you DO bring more than 6, city hall reserves the right to have the guests removed from the building.  The rules also talk about your guests being a nuisance and disrupting city hall business.  The Rotunda is restricted now to 6 guests due to past disruptions by large groups making loud noise.  This has become even more of an issue with recent reopening of San Francisco city hall after the pandemic closing.  They are being super cautious and trying to keep crowds to a minimum.
So the question is, should you as an engaged couple violate the rules and and still try to invite anyone you want and as many people as you want?  My opinion is that couples getting married at San Francisco city hall should, at the very least, respect  the spirit behind the rule.  So if you are going to go over the 6 guests, don't go way over. Realize that your extra guests may not be allowed to witness the ceremony close by.  In general, city hall finds it difficult to restrict the number of guests that come in to the building to watch your wedding, but they ARE able to prevent the large group from being present at the actual ceremony.  Please keep in mind that if every couple brought 25 guests the place would be a mad house.  The rules are there for a reason, to try to keep the environment safe and quiet.  Plus, there are alternatives.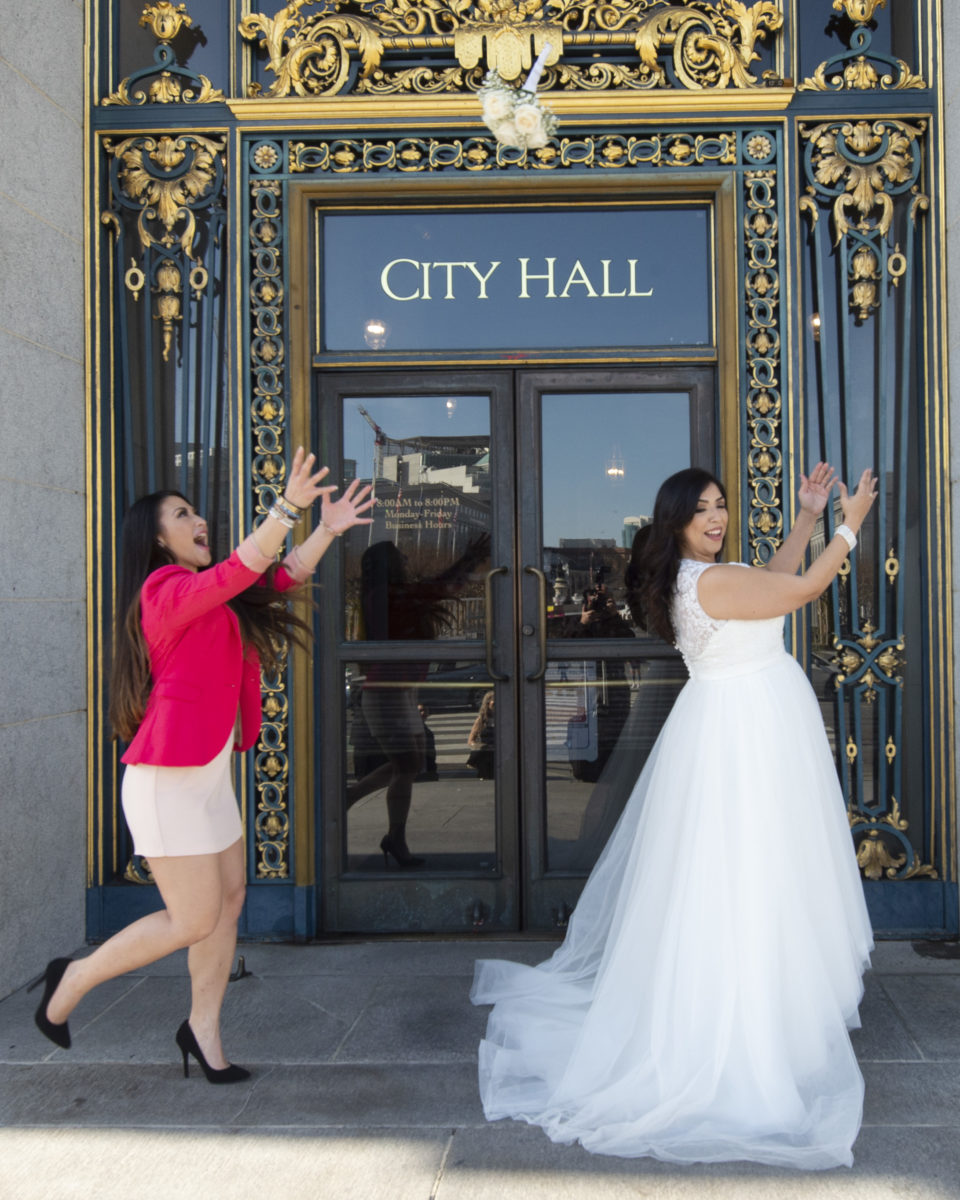 Reserved Ceremony Option
So what do you do if you have a large crowd but still want to get married at SF City Hall?  Contact the Events Department and talk to them about reserving a space to have your city hall ceremony.  It only costs around $1,000 and you are able to have a nice section of city hall all to yourself.  They even give you 2 choices for this reserved ceremony.  You can have your nuptials on the Mayor's Balcony or The 4th Floor North Gallery.  Both locations are exceptionally beautiful and provide plenty of room for the couple and their guests.  You can seat up to 60 people on the 4th floor and up to 40 at the Mayor's Balcony.  If you bring more guests than those numbers, the remaining guests can stand. They also rope off the area to keep others out which provides your wedding a certain amount of privacy.  Please keep in mind that despite the privacy afforded by booking a reserved wedding, there is still going to be plenty of people around and they may be making noise.  If you officiant is not experienced with handling San Francisco city hall weddings, you may want to warn them about the background noise.  They will really need to speak up to be heard over the ambient sound in the building.
Music is Allowed for Reserved Weddings
Another very nice feature of reserved weddings is that SF city hall allows you to bring in music to be played at your ceremony.  Book  a harpist, string quartet or guitar player.  It is your choice so long as you choose one of the SF Event Departments approved vendors. You can use the music to announce the bride coming in during the processional or when the happy couple leaves the ceremony.  Many couples also just  want to have background music for the time leading up to the actual ceremony.  Even after the ceremony, you can book the musicians to stay and keep playing.
Keep in mind all of  these many options before you decide to bring your whole family and friends to a small civil ceremony.   It will make your special day more enjoyable for you and your guests!  They can even listen to music!