We had a large rush of weddings when City Hall reopened after a long closure due to the pandemic. Now things have slowed down a bit as the backlog has mostly been taken care of . Given this slight lull, I thought it would be helpful to take the time to discuss some of our favorite destinations in San Francisco that we take our city hall wedding couples. There are so many amazing places in San Francisco to take brides and grooms for wedding photos, it can be hard to choose. We provide our newlyweds with some very nice options, but limit the time so they can still celebrate their wedding day at their party or reception.
Iconic San Francisco Destinations
We take our couples throughout San Francisco after our city hall wedding photography sessions on what we call a "Photo Tour". We really want our couples to enjoy the whole process and not just the pictures they receive after the session. We will even share interesting facts with our brides and grooms about some of the San Francisco destinations. Here are some of the best San Francisco wedding photography locations that we have discovered over our 15 years of shooting weddings here.
Palace of Fine Arts
This is by far the most popular wedding photography destination in San Francisco after we finish up at City Hall. Chosen frequently by our international brides and grooms, it has a very large area for wedding photography with lots of options. The beautiful building is obviously the centerpiece, but there are large columns and trees everywhere to use as a backdrop. The only negative is that at certain times of the day, there can be quite a few tourists here. We always seem to manage to obtain great picture's and will do our best to make it seem like our newlyweds are the only ones there!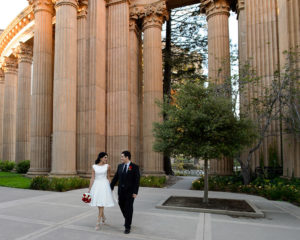 Legion of Honor
Another popular wedding photography spot, but fortunately MUCH less traveled by tourists. The Legion of Honor offers beautiful Beaux-Arts style architecture which many of San Francisco's older buildings possess. We love taking our San Francisco city hall brides and grooms to the inner area and pose them between the gray repeating columns. The light is also fantastic here from a wedding photography standpoint. This is because you have indirect light that comes in from the side, but is also reflected by the neutral tones of the building. It comes very close to studio lighting in an outdoor setting! Perfect for a rainy day as well because it is covered in certain spots to allow shelter. If it is really pouring down rain, we could actually conduct a whole wedding shoot there.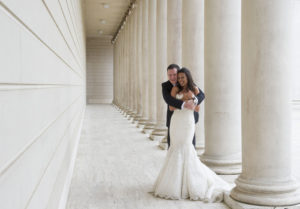 The Golden Gate Bridge
This is an obvious one, but there are many options and decisions to make. We try to help our newly married couples decide by providing them with the best possible information and ideas. Late in the afternoon you can approach the Golden Gate Bridge from the ocean side by Baker Beach. This provides nice warm light on the bridge and enhances the colors. Earlier in the morning, we often like to take pictures of our newlyweds from the San Francisco Bay side of the bridge. This will often provide very nice dimensional lighting on the Golden Gate. Listed below are some of the most common angles to approach wedding photography of the bridge. We are happy to discuss these options with the bride and groom and determine the best San Francisco locations based upon weather and the time of the day.
Golden Gate Bridge Views for Wedding Photography
Baker Beach
Crissy Field
Fort Point
Legion of Honor
17th Hole of Lincoln Park
Fort Baker
Lands End
Battery East Vista
Golden Gate Overlook
Marin County side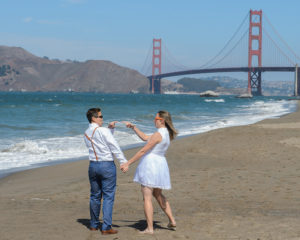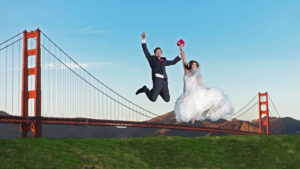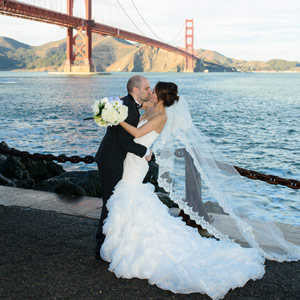 Downtown San Francisco – Bay Bridge
The San Francisco Bay Bridge by downtown is another favorite spot and becoming ever more popular. We seem to end up in this area quite frequently for photos. Part of the reason for this is that there are so many great places to eat along the Embarcadero. Because of this, many of our clients want us to cover their wedding reception after their San Francisco city hall ceremony in this downtown area. Once we arrive here, it is natural to take the newlyweds on a photo tour of the nearby sites. Pier 7, the Bay Bridge and Cupid's Arrow are just a few of the spots available to photograph our Town Hall wedding couples. We can also just have them walk around the downtown area and grab candid photos of them enjoying the city. It's fun and natural and our clients love it. Pier 7 can be a bit crowded, but we have found that if you wait long enough, you can usually get a good image without too many people. It just takes a little patience and good timing.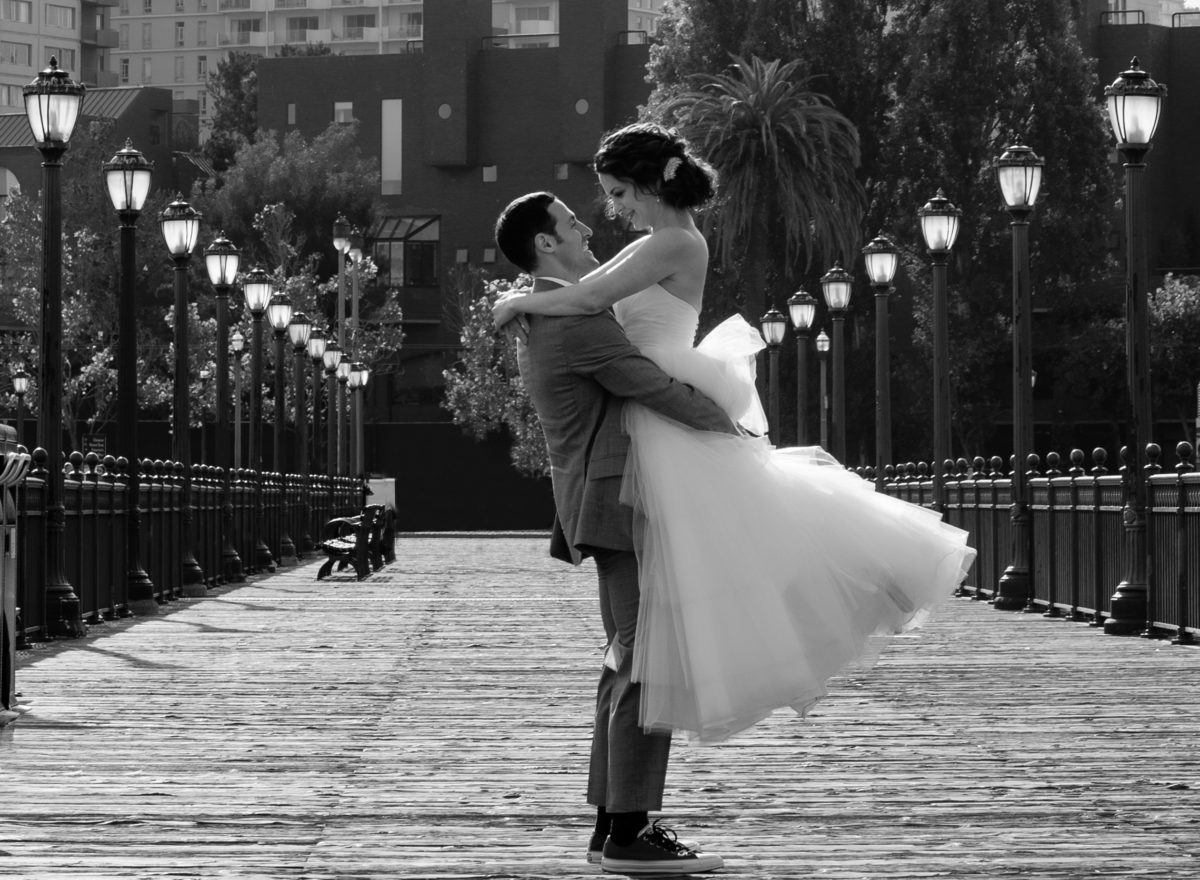 I have listed some of the most popular San Francisco wedding photography destinations, but there are so many more. Below is a list of some of our other favorites. We will discuss these in more detail in a future blog post.
Other Favorite San Francisco Wedding Photography Locations
Crissy Field
Golden Gate Park
Russian Hill
The Painted Ladies
The Botanical Gardens
The Japanese Tea Gardens
Lands End Trail Head
Sutro Baths