With the pandemic far back in everyone's minds, San Francisco City Hall is starting to have private events again. The only good thing that came out of the pandemic is that City Hall had very few private events for a couple years afterwards. This made our job very easy for quite a while. In most cases, City Hall closes off the entire first floor when they have a big event and this can make it very difficult for brides and grooms who unluckily chose that date for their wedding. Does their wedding day need to be ruined? The answer is no! With our many years of experience as a San Francisco City Hall wedding photographer, we have figured out how to make the best of this situation. We have learned alternative places to take the couple and also how to actually enhance their wedding day. Listed below are some of our best ideas when confronted with a private event on a San Francisco City Hall wedding day.
Incorporate some of the event decorations and colors into your wedding photography shoot. When San Francisco City Hall has a special event, the planners redecorate much of the building to coordinate with their company colors and themes. They will add colored carpeting to the City Hall entrance and also on The Grand Staircase. Oftentimes colorful lighting is utilized to highlight some of City Hall's amazing architecture. Large plants, trees and other appropriate decorations are also added. We have often used some of their decorations to enhance our newlywed's wedding pictures. In one particular instance, the colors that were used by the company actually matched the flowers of our bride. In fact, she was excited to see purple everywhere because not only was it her favorite color, but it was also her wedding color scheme. If you look down to the bottom of this post you will see a wedding picture we took with her on the purple carpet in front of San Francisco City Hall. We have even used some of the event lighting in the background of our pictures to add some color.
Capture more photos outside of San Francisco City Hall. When a large private event at City Hall closes down The Grand Staircase it takes away some of the photos that we would normally provide to our couple. However, there is plenty of beauty outside of the building on both sides. We can take the couple across the street into the park and use the trees as backdrops for some of our photos. The outside of the SF city hall building also makes a great background using a wide angle lens. The extra time afforded by the background closures also gives us the opportunity to take some pictures on the Van Ness Avenue side of City Hall. There's some beautiful photos that can be taken on that side of the building and we frequently do not have time to go over there under normal circumstances. We always talk about City Hall's beautiful interior architecture, but this is the chance to capture some of the exterior architecture.
Offer the couple on alternative location for some of their wedding photos. This is something we always do when confronted with a private event at San Francisco City Hall. The County Clerk's office still will do the ceremony and it will often be moved up to the Fourth Floor North Gallery. Once we complete our normal wedding photography coverage of the ceremony, we will take some nice photos of the bride and groom on that floor itself. It is at that time that we will have a discussion with the newlyweds and offer alternatives to them. One of our favorite wedding photography alternative locations is the Palace of Fine Arts. The architecture at the Palace of Fine Arts bears some resemblance to certain aspects of City Hall. For our typical 1.5 hour wedding photography coverage we would probably spend about 30 minutes at City Hall and then take them to the Palace of Fine Arts for the remainder of their coverage time. Not all couples choose this option, but we always offer it just in case. Of course, there are many other options in San Francisco for beautiful wedding photography and we can also suggest those to our Couple. The Golden Gate Bridge, Crissy Field, Ghirardelli Square, and Baker Beach are just a few of the other places we can take our couples that are affected by a city hall event.
Provide our normal San Francisco City Hall photo coverage despite the event. This may be the final idea listed on this blog post, but it is probably our most frequent way of handling City Hall events. As mentioned in the introduction to this post, our years of experience at San Francisco City Hall have provided us with lots of great ideas to steer our couple around some of the obstacles that come up when an event is scheduled on the wedding day. Yes, in most cases The Grand Staircase will not be available for photos. But there are so many beautiful alternatives throughout the building that we take our couples. There are still three other floors which are usually not affected by the event decorations and Lighting. In fact just last week, we were confronted with an event and offered our couple the opportunity to go to the Palace of Fine Arts since the grand staircase was closed. The couple told us that they were just as happy to stay at City Hall and follow our lead. The resulting pictures came out fantastic and I'm sure the bride and groom will be very happy when they receive them. We even posed them on what we call the miniature staircase which is in the Rotunda area. This small staircase still is a great place to take photos and we can sit the couple down on the stairs for some of the shots.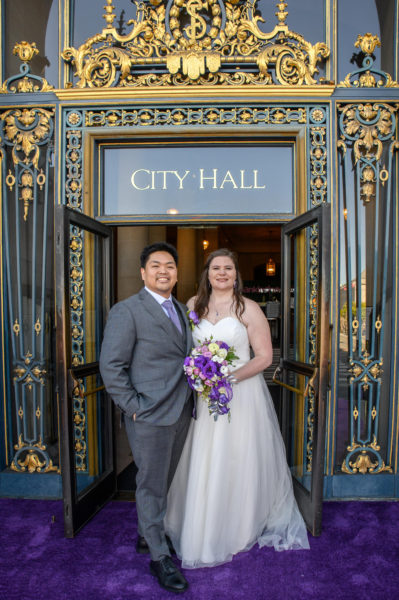 Final thoughts
The county clerk offers no apologies to a couple who have their wedding scheduled on the same day as a large private event. They would probably tell the couple that all they really paid for is the Civil Ceremony itself. Yes, everybody knows that people come to City Hall from all over the world to get married here because of the beautiful architecture. Unfortunately, some of this architecture may not be available on your wedding day and there's not much you can do about it.
When a couple walks into San Francisco City Hall on their wedding day and sees barriers put up everywhere and lots of construction going on it can be a little disconcerting. If they arrive late in the afternoon on a special event day they may even have a tough time finding the way to the county clerk's office to check in for their ceremony. We feel that is our duty as San Francisco City Hall wedding photographers to make sure that their day still goes smoothly despite the small setback of a private event. We keep a positive attitude and don't dwell on the negatives. We assure the couple that everything will be great and will still get plenty of wonderful photos of their wedding day.