This is a quick step-by-step planning guide for your upcoming San Francisco City Hall Wedding.  We receive many questions about what to do and how to prepare for a civil ceremony in this amazing historic building.    The obvious first thing to do is choose a wedding date, we would suggest avoiding Fridays if possible because there are so many tourists and other  weddings going on that day.  Also, the wedding photography portion of your day will be much more challenging with so many people everywhere.  Once you have your date you can:
Decide whether you want a reserved space at city hall by paying $1,000 and putting a deposit down on either the Mayors Balcony or 4th Floor North Gallery.  You can do this by contacting the Events department at city hall by clicking the link.  The advantage of doing this is that you will have a 1 hour roped off section of city hall all to yourself, complete with chairs for your guests.  Most people only do this if they are planning on many guests.  San Francisco city hall limits it's standard weddings to 6 guests.
Book your marriage license appointment by clicking this link.  This appointment should be made at least 1 hour before your ceremony.  The County Clerk says you can just book it 30 minutes ahead, but my experience is that this is rushing it a bit.   Be prepared to bring your current Identification and any other legal forms you might want to present.  If you have a pending divorce, be sure to bring those documents just in case.  You can use a Passport or Driver's license for identification, just be sure that they are unexpired.  City Hall will not accept out of date ID's.
If you decided against paying for the reserved space but still want your wedding here, its now time to book your civil ceremony at City Hall.   If possible, try to choose a Tuesday or a Wednesday for less crowds.  We understand that many people do not have this option, but if you can, it's well worth the smaller crowds.  The time of your ceremony matters also, we suggest early morning or late afternoon for best access to all of the building without tourists everywhere around you.
Hire a professional wedding photographer!  This is not just a pitch to have you book us, we are very passionate about the importance of recording this all important life milestone.  Why rely on your friends Iphone camera?  There are many great city hall wedding photographers available and some have excellent pricing.  Just look around or talk to us!
On the day of your wedding, be sure to bring your ID and license if already obtained).  We have had some couples forget to bring their Identification or assume that they don't need to again.  But you do!  We also encourage the bride to bring walking shoes, the floors are marble and will take their toll after strolling through the building for a while.
Update:  We are now providing our clients with free wedding planning services.  You do not need to book with us to be eligible.  Just email us with your questions and we are happy to help.  Hopefully the above guide will give you a good start.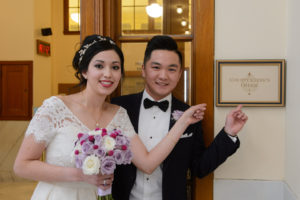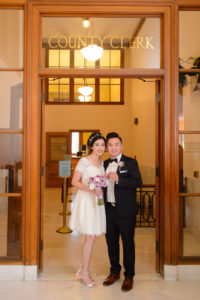 Enjoy your wedding day in this historical wedding venue!