Yes, I know you are probably thinking that you have seen this type of article over and over again.  It is usually written by frustrated  professional San Francisco city hall wedding photographers who are begging  you to understand why it is so important to hire a pro.  The author will usually go on and on about the quality of work, the superior equipment and sharper and clearer pictures that typical professionals will possess.  They will also spend considerable time discussing the pitfalls of having a friend do your wedding photography because they are likely to mess things up and/or take blurry images.  When I sat down to write this article for my blog, I decided I wanted to approach it differently.  Rather than stating the obvious, I wanted to provide my audience with some unique issues that they probably didn't realize.   This blog post is also specifically about  SF City Hall wedding photography since that is what this blog is all about!  I should also acknowledge that the other blog posts that I am referring to above still have merit and all of those things are obviously true.  I just wanted to provide some additional insights.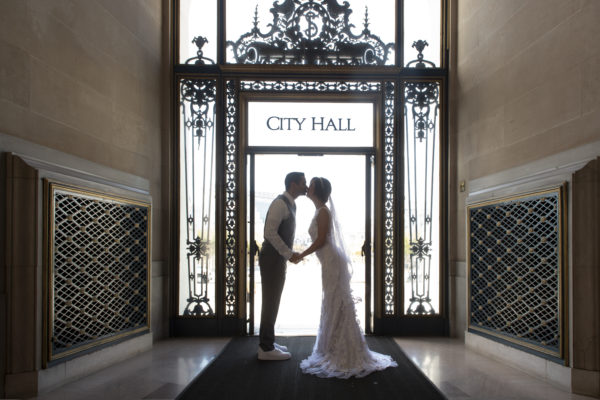 Safety and Security
What are some of the nightmare issues I have heard about from clients when they choose to have their friends photography their wedding?  Corruption of data, bad Flash Cards, hard drive crashes and insufficient backup systems are among the problems we hear the most about.  Professional San Francisco City Hall wedding photographers including myself have a pretty complex file back up system.  Most of our pro cameras write each images photographed to 2 cards simultaneously.  This helps to lower the odds greatly that a Card Failure or corruption will wipe out your wedding memories.  Many of the so called "Prosumer" cameras do not have this feature.  Every photo I take is written to 2 cards with one being a backup for the other.  I hold on to one of the cards without deleting it until my clients have their images in their own possession.  This eliminates the possibility of loss or other failures.  What can be more important than this?  Even if your images are not that great, you need to at least receive them! This is the first line of defense against losing your precious memories simply because of technical problems.
If you have Uncle Bob do your San Francisco city hall wedding photography, chances are he will take your photos and then put them on a hard drive at his home.  Or he may just give you the cards.  Does this sound like a safe way to handle your precious memories?  Certainly not!  What if you lose the cards that he gives you?  What if his Hard Drive crashes or he has a house fire?  Does he have off-premises back up?  I am sure he does not.   When I shoot a city hall wedding, my cards go directly on my PC hard drive.   Within seconds, they are also copied to my external hard drive.   They are simultaneously backed up to an off-premises location (the cloud) and then eventually uploaded to your secure site for viewing.   As I previously mentioned, I also keep one of the cards until the client receives their images.  So when you hire me as your professional wedding photographer, your images are basically backed up in 5 differently places temporarily and 3 places permanently.   Even the viewing site where we upload the photos serves as a file backup system. Your wedding is a precious memory, it is not worth the risk of losing everything.
Tricky SF City Hall Lighting
Yes, this is a beautiful wedding venue and a great place for wedding photography, but is it easy to take pictures here?  Not really.  The huge windows and uneven lighting can give you fits.  There are some places that are impossible to shoot without a flash because of the strong back lighting.  We often wonder how some of the people we see shooting weddings without any professional lighting can get anything resembling a good result.  There are certain places in City Hall that are very dark.  Other places have unattractive overhead lighting.  This type of natural lighting will give all of your subjects "Raccoon Eyes".   This is a very unattractive look and not one you will appreciate.  Everyone loves to rave about "natural light", but in my view it has to be nice and not just natural. While it is true that there some some incredible locations at the city hall venue with amazing natural light, it's not always easy to capture it.  It takes practice and experience to master the interior photos taken at city hall.  By the way, what if it is foggy on your wedding day?  This pretty much takes care of a large part of the natural light.  To be honest, my first few weddings here 12 years ago were a challenge.  Our clients  loved our results, but we feel that we are doing even better these days.  Experience with the venue is key, but the lighting is the biggest challenge.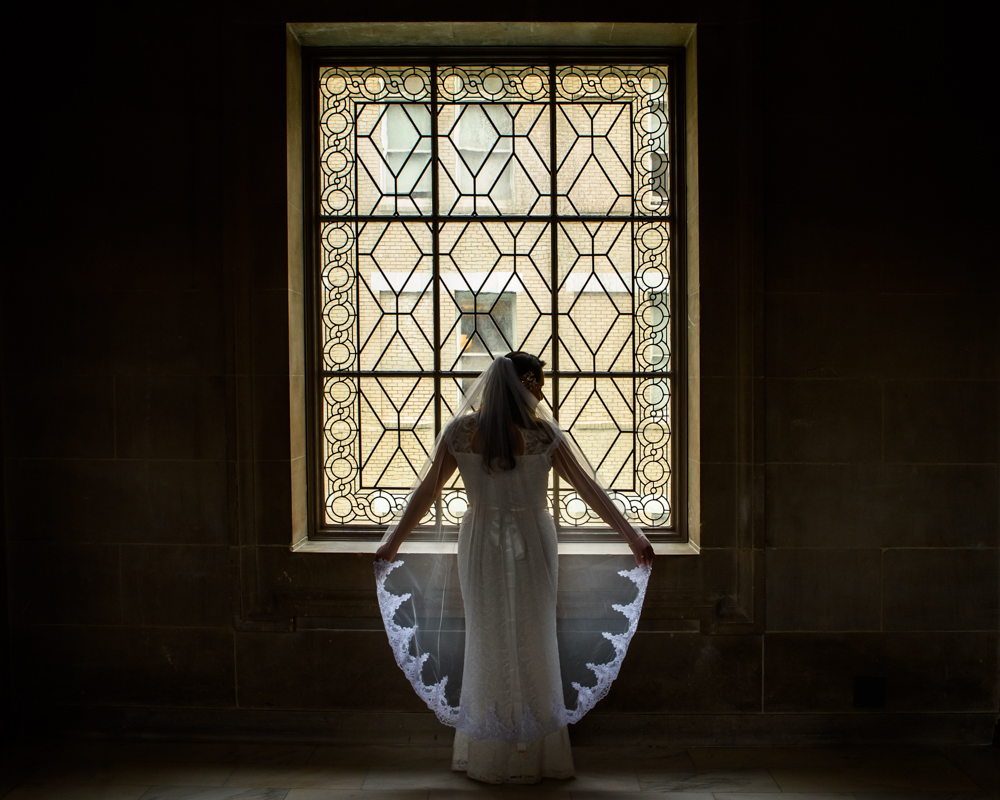 San Francisco City Hall Major Events
One of the unknown things about San Francisco city hall is that they schedule large events throughout the week during the same time that weddings are occurring.  This is often surprising to many people and they don't know how to handle it. When events are scheduled, City Hall frequently ropes off the Grand Staircase making it impossible to take photos in the area.  Since this is probably where about 75% of all photography takes place within city hall, this can be a problem.  The advantage of hiring a professional city hall photographer is that they will know other places to take you that are also beautiful and historic.  Some of these other areas may not be obvious to your amateur "friend" wedding photographer.  I know the first time I did a wedding at city hall, I had no idea about some of these other areas.  This is one of the huge advantages to hiring a pro.  Not only do they know where to take you to avoid the crowds, but they also know about the "secret" locations around the building.  In addition, we also can use our contacts within the Events department to sometimes allow us to sneak in and get a quick shot.  They usually only do  this for professional wedding photographers they are familiar with and like.  This type of information is not guaranteed, but anything we can find out about ahead of time can be helpful.
Stay tuned for additional insights on this same subject with our next post coming soon!