Christmas at San Francisco City Hall is always a wonderful time.  The place is always very busy and the giant Christmas tree becomes the center point of this great wedding venue.  For the past few years the tree has been decorated with Origami which makes for a very unique look.  In addition, when evening comes the light reflects off of the Origami and creates patterns on the walls at city hall.  It's a pretty amazing scene.  We photographed 6 weddings this year during the Christmas season and each one had it's own unique feel.  The primary reason for this Blog post is to just display a few photos from one of our larger weddings this Christmas season.  Update:  The County Clerks office is now allowing brides and grooms to move their ceremony away from the Christmas Tree for religious or cultural reasons.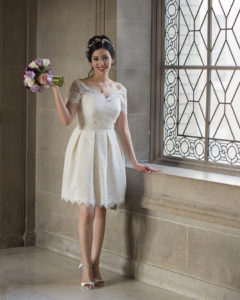 We started our formal shoot on the 3rd floor because city hall was pretty crowded and we were having trouble finding places without people in the background.   This particular wedding was on a Friday which is definitely one of the most crowded days of the week.  We have learned over the years where and when to take our brides and grooms once things get crowded.  The 3rd floor is one of those places!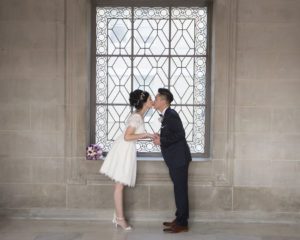 Once we completed our time on the 3rd floor, we headed back down to the Christmas Tree to get a few nice shots.  Again, there were people everywhere and virtually no room to photograph the couple in the traditional place facing the Rotunda.  Fortunately, we have alternative angles into the tree that is off to the side.  Even though it's a pretty obvious angle, many photographers without experience at city hall don't know about it.  We  were able to get some fairly private images in front of the tree before moving on to our next location.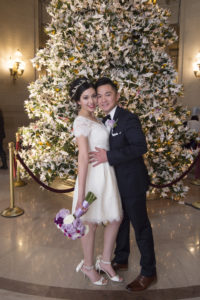 We spent over 1.5 hours at San Francisco city hall touring around taking photos and having fun.  We managed to get all of the shots that most people always ask us about including the Grand Staircase and the 4th floor North Gallery.  This despite the fact that City Hall had scheduled 7 reserved weddings that day, which usually brings a large number of people into the building.  We were lucky to walk up to the beautiful North Gallery just when one wedding was ending and another was about to be set up.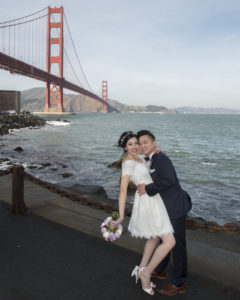 Once we completed our City Hall photo tour, we drove the couple to Fort Point to get some professional wedding pictures  with the Golden Gate Bridge in the background.  The couple's family also showed up at Fort Point allowing us to include them in many of the photos.  It was a fantastic way to end our day.