Most of the people reading this are probably wondering why this is even necessary. Why would you need to prepare the wedding guests? How does this help? San Francisco city hall weddings are a bit different than a typical wedding. A Civil Ceremony is generally a small affair with around 6 guests in attendance. This is the current limit allowed at San Francisco city hall and most brides and grooms adhere to this rule pretty closely. As a long time San Francisco city hall wedding photographer I have seen many instances where the marriage celebration would have gone much smoother if a little counseling would have been given to the guests beforehand. Here are some examples of suggestions the bride and groom can make to their guests before a city hall wedding:
Make Sure Your Guests Arrive on Time
San Francisco civil ceremonies are not like a typical church or outdoor wedding. Weddings at city hall happen twice per half hour everyday between 9:00 am and 3:30 pm. It is the responsibility of the Deputy Marriage Commissioners (i.e. The Officiants) to make sure these ceremonies stay on schedule. Unfortunately, they are not in a position to delay your ceremony to wait for mom to show up. If they did try to hold off for a bit, all of the weddings that come after would be late. The best they can do is to skip your turn and try to fit your ceremony in later. However, this is usually done with little disruption to the other scheduled weddings, which means your wedding could end up being REALLY late. Keep in mind that this will NOT work with weddings that are scheduled for 3:30 pm. This is the last ceremony of the day and everyone goes home once that is done. So you should let your guests know this in advance and also explain that before they even get into San Francisco city hall, they have to deal with traffic, parking, and security. All of these things can easily delay the arrival of your guests.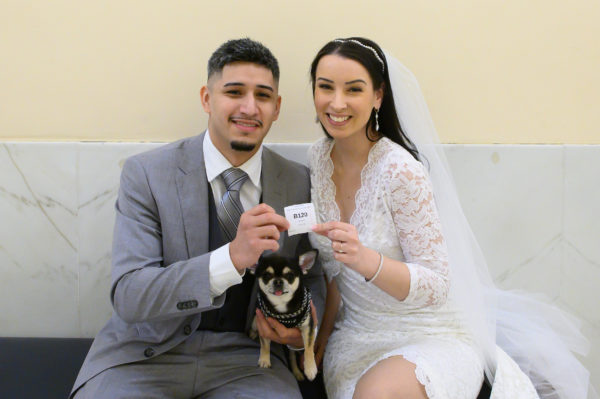 Ask Guests to Not Accompany you to the County Clerk Check-in
All couples must check-in to the County Clerk's office approximately 5 minutes before their scheduled ceremony time. Only 1 witness needs to be with them. The other guests can stay in the Rotunda area or hang out by the Grand Staircase. There is nothing to see when it comes time to check-in and guests have been known to follow the couple into the back office where they do not belong. When they do, they are quickly shooed away because the County Clerk's office is place of business and not a place for guests to invade. This can lead to a bit of stress for all involved so we always tell our brides and grooms to let their guests know that they will not be missing anything. There is no need to accompany the couple for check-in. It only overcrowds the hallway area and makes everything louder and potentially more stressful for the bride and groom.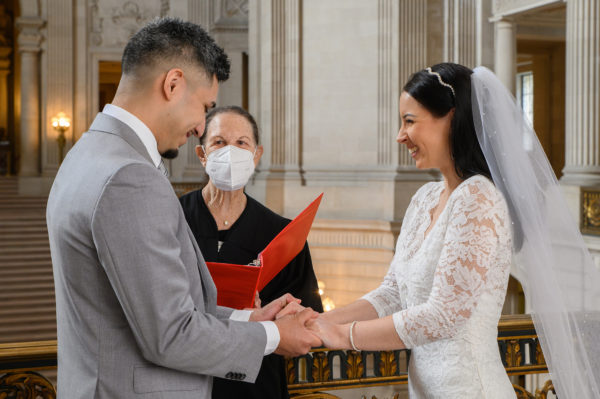 Ask Picture-Taking Guests to Stand Close to the Wedding Photographer
We have no problem with family and guests who would like to take cell phone pictures during the ceremony. Often times the bride and groom will designate a family member to also take video of the ceremony. This is also perfectly fine. However, we find that many of these guests choose to stand directly on the other side of the ceremony from the SF City Hall wedding photographer. This basically puts them in every single picture we take of the Civil Ceremony. I think that some guests think that they are being more intrusive if they stand next to the photographer, so to be polite, they stand on the other side. Unfortunately, this can ruin many of our photos. Our resulting pictures will often have cell phones and video cameras coming out of the heads of the bride and groom (seemingly). Ask your guests to either not take photos of the ceremony (since you hired a Professional City Hall photographer) or stand on the same side as the official photographer. This will keep them out of your pictures.
Explain to Your Guests in Advance What Happens After the Ceremony
Our normal process after a San Francisco city hall wedding is to take pictures of the bride and groom or Same-Sex couple with their Guests. These are called the family/friend portraits. By explaining this in advance, your guests will know not to leave to head to the bathroom or have a smoke right after the completion of the ceremony. In addition, it is a good idea to explain to the guests that once those family pictures are completed, the wedding photographer will take the couple around the building for a photo tour. In most cases, the family is NOT included in this tour. However, if the bride and groom prefer, the family can tag along for additional pictures. This may not always be the best option if you want to optimize the number of photos you receive of the bride and groom, but we understand that for some couples, family pictures are a priority. We are fine either way, but this should all be explained in advance to your guests to avoid confusion.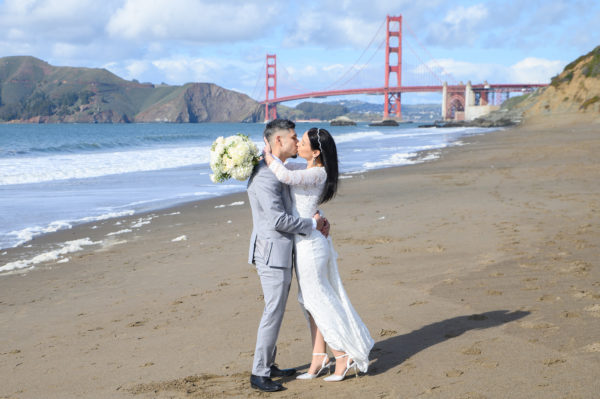 Let Your Guests Know the Plan for After The Wedding
Every wedding we photograph at San Francisco city hall is different. Some couples just want to get married and have a celebration at a later date or that evening. Others want to do something directly after the ceremony in the local area. The one constant I see after every time is the confusion over the logistics after the wedding when there is going to be a celebration. This becomes even more confusing if the newlyweds have opted for one of our San Francisco tour packages. If possible, it is a good idea to discuss all of this with your guests before the wedding and also make sure everyone has transportation and knows where they are going. Making these plans after the ceremony can delay making it to the reception location and shorten your city hall wedding photography session. It can also cause some undo stress for all involved.
Communication is Key to a Successful San Francisco City Hall Wedding
To summarize, it really does make sense to acknowledge the different type of challenges present at a typical San Francisco city hall civil ceremony. These challenges are easily handled with just a little preparation and communication with your guest prior to the wedding. It will make everyone involved have more fun and make things run smoothly.