Civil ceremonies at San Francisco city hall do not always end when the wedding is over. Many brides and grooms want to celebrate their nuptials in some of the many great restaurants in San Francisco. However, not all restaurants have wedding reception facilities that can accommodate a fairly large group. Some may not have a private room that can used to provide the couple with a party atmosphere. Yes, it is definitely possible to just reserve a large section in a restaurant and have the guests "takeover" that part of the facility. In this article we want to share our ideas and experience with some of the better true wedding reception sites in San Francisco. The list below contains only restaurants where we have personally photographed weddings after a city hall ceremony. With over 800 weddings photographed at City Hall we have lots of experience with these venues. We based these recommendations on our own experience not only as wedding photographers at these locations, but also as guests.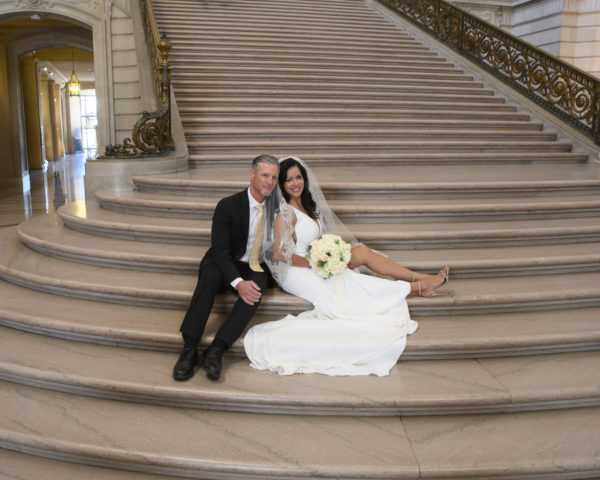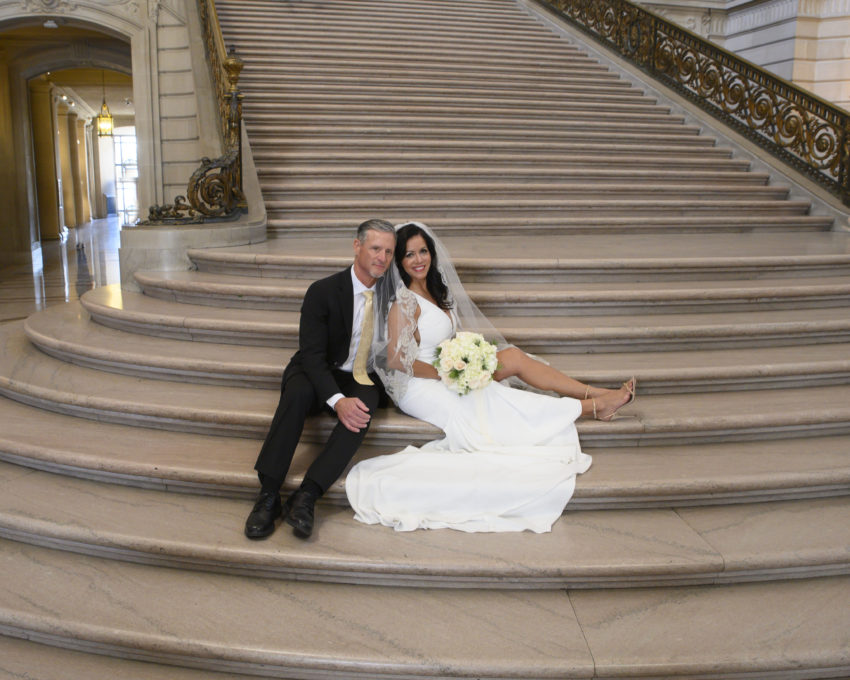 I listed this particular wedding reception location first for 2 reasons. To start with, Absinthe is located in close proximity to San Francisco city hall in the Hayes Valley neighborhood. This San Francisco district is one of the up and coming regions in the city. Years ago, it was known as a somewhat dangerous neighborhood, but it has now completely turned around and people feel pretty safe walking on the streets now. Speaking of walking, Absinthe is one of the only reception locations that is walking distance from your SF city hall wedding. I have done this walk with the couple many times and it is always a fun way to head to lunch or dinner with the newlyweds. Drivers honk as they go by and see the couple heading towards the restaurant. The second reason for liking Absinthe is the fact that they have a dedicated room just for wedding and events celebrations. It is the perfect size for a typical San Francisco city hall wedding guest list. This section is separate from the rest of the restaurant and thus offers nice privacy.
I love North Beach and this San Francisco restaurant has been here for years serving the local community. In addition, they have 3 dedicated rooms just for weddings and events. This makes it an ideal location for your San Francisco city hall wedding reception. The food and service are both great and the rooms have a great feel to them. If you go here, ask the manager to take you down to the basement to see their Prosciutto hanging and curing. This is a very authentic Italian eatery and worth checking out for your wedding reception. UPDATE: I have heard rumors of this location possibly closing after so many years in business. I am not going to say it is for sure yet, because there is always the chance of a buyer coming through in the last seconds.
This is a great and very unique wedding reception location in San Francisco. It is located in a trendy area of SF with lots of other great places to visit if the couple so desires. As the name suggests, there is always an old movie showing in the background. They have dedicated areas for receptions and parties which makes it the perfect place for your event. I really love the food here and the service seemed to be exceptional when I photographed a wedding here not too long ago. Also, if you love old movies, this is the place to be!
Starbelly is located in the Castro District and is a very popular reception site for San Francisco city hall wedding celebrations. Although it is not in walking distance from City Hall, it is very close by. No more than a 10 minute Uber ride and very convenient. One of the great things about this event venue is the extremely private and nicely decorated private room. It is sort of outside in the back of Starbelly, but also has walls to keep things warm in the winter. The food here is exceptional and the servers are very friendly. They even offered us wedding photographers a drink without us asking.