One of the first things our clients ask us about when we begin our City Hall wedding photography shoot is the sign picture.  They all ask: "Can we do the City Hall sign photo?"  I always let them know that of course we will, but it is best to save it for last because we avoid having to through building security twice.  I remember one particular groom seemed agitated during the whole city hall photography tour and I finally asked him if he was OK.  He told me he couldn't understand why we were not taking a photo with the sign, but didn't want to seem pushy.   Once I explained to him why we save it for last he felt a lot better.  I think this is the only photo he really wanted! I see other couples struggling with the same issues, so now I just tell every bride and groom up front.  We WILL take you to the City Hall Sign at the building entrance and get lots of pictures!  I was starting to realize that this was becoming an issue for many of my clients.  I think part of the problem is that the most of our newlyweds think of that sign as the entrance to the building so they automatically assume we should photography it first.  I certainly understand an agree with their concerns so I figure it is best to address it up front. We have provided a few different ideas for posing in front of this famous San Francisco city hall location.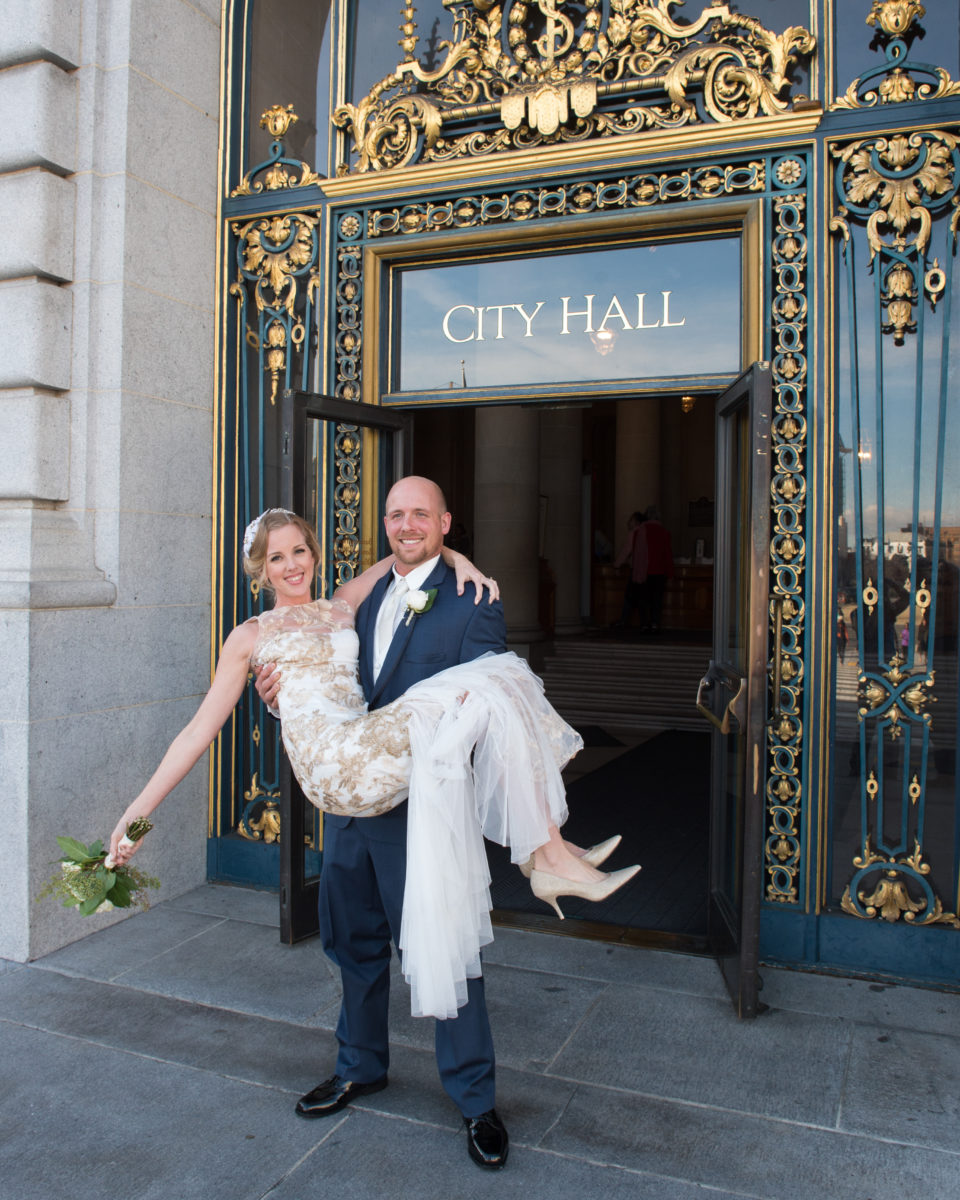 There are many variations to this ending shot.  You can do a simple posed shot, a walking shot or a celebration photo.  No matter what we end up doing with each couple, I think it is important for this photo to say something about the bride and groom.  Some couples want to be animated and be celebratory.  Others prefer a more traditional posed image.  Please understand that we will never force our couples to do anything silly or out of character for them.  We make suggestions only, not demands.  We want you to be comfortable with whatever poses we develop.  If you want to suggest something, please do.  We are always willing to listen.  Our clients often come up with better ideas than ours!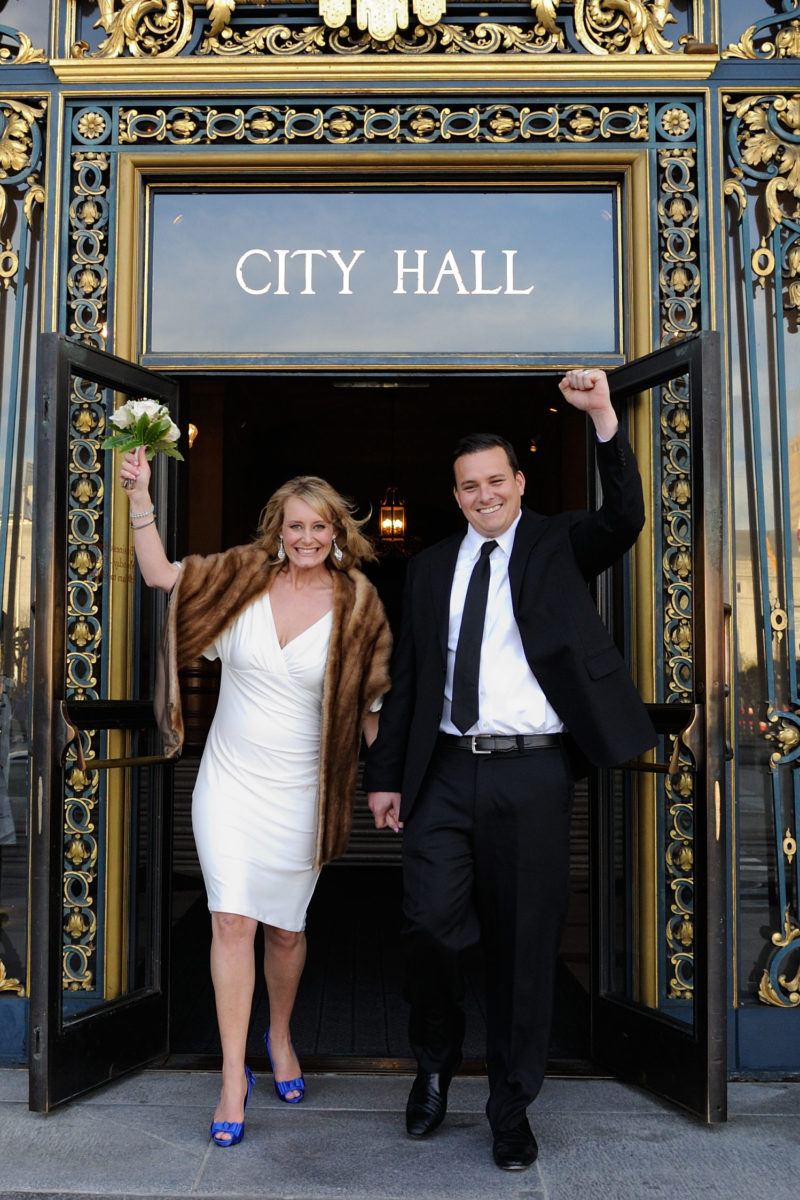 Recently we have starting doing a few photos of the couple inside the building behind the sign.  Of course taking the photo from this location causes the words to be reversed.  Sometimes we keep them reversed, but others we have to flip it around using Photoshop.  The 2 images below were both flipped: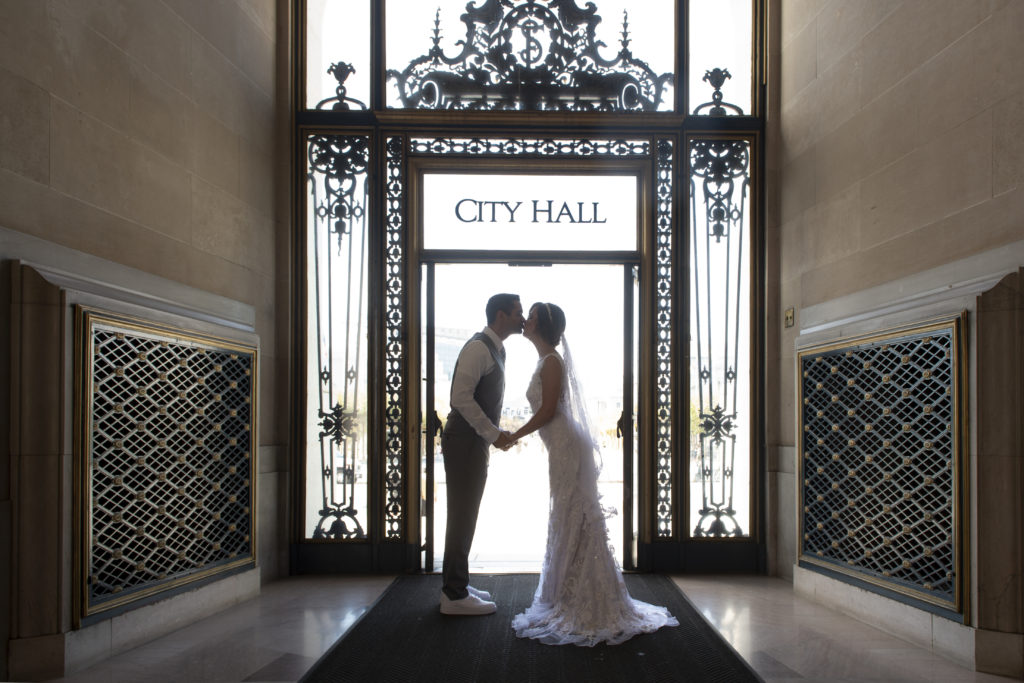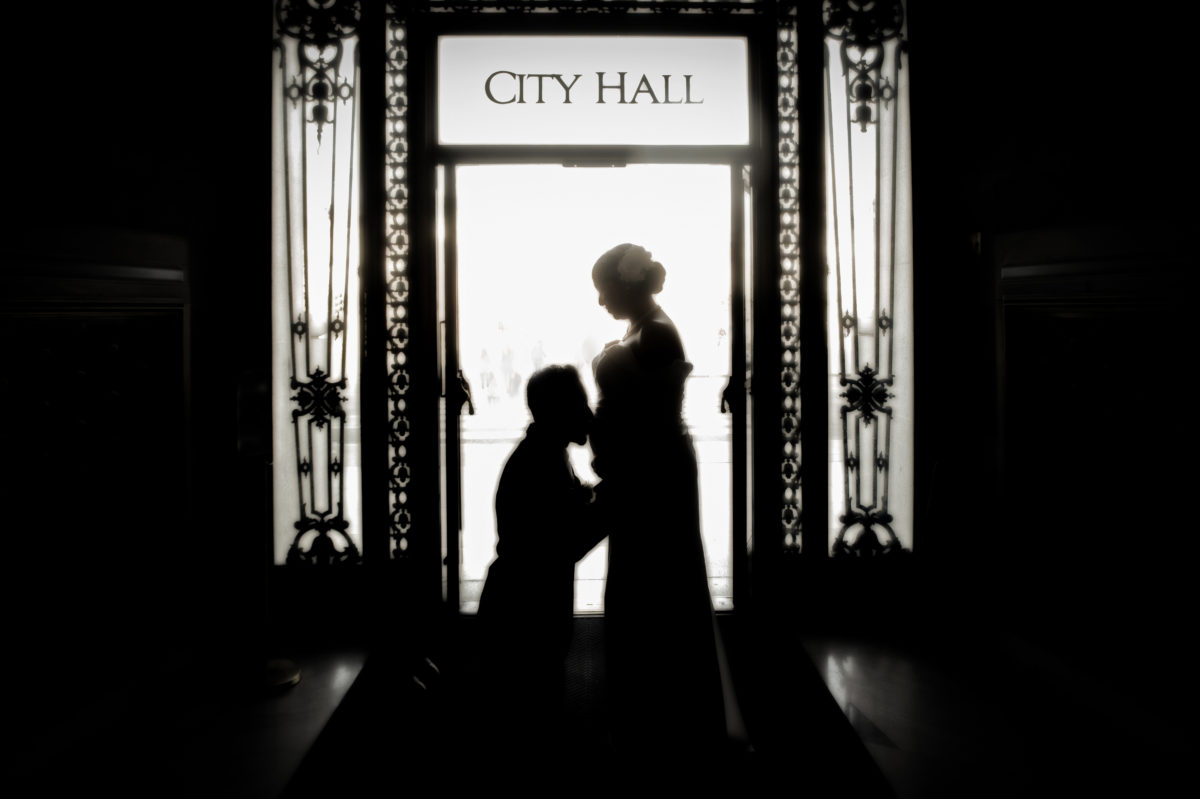 Some of our couples prefer to do more natural photos in front of the sign.  We will ask them to walk out of the building and raise their arms in a celebratory fashion.   "Yay, we did it! We got married at San Francisco city hall!"   These types of shots always give you the most bang for your buck in terms of showing emotion and fun.  It is also an opportunity to take a picture that appears candid in nature.  This is something most people want so its a good time to do it for them.  Other's feel that this type of pose is corny.   You can never please everyone, but it's important to ask.  As I have mentioned elsewhere on  this blog, San Francisco city hall weddings do not always provide tons of Candid moments to photograph.  This is one of them!
We also try to match our couple to the type of San Francisco City Hall sign pose.  For example, in the photo below, we thought it would be fun to spoof the famous movie "An Officer and a Gentleman."  The couple loved the idea and quickly got right into it.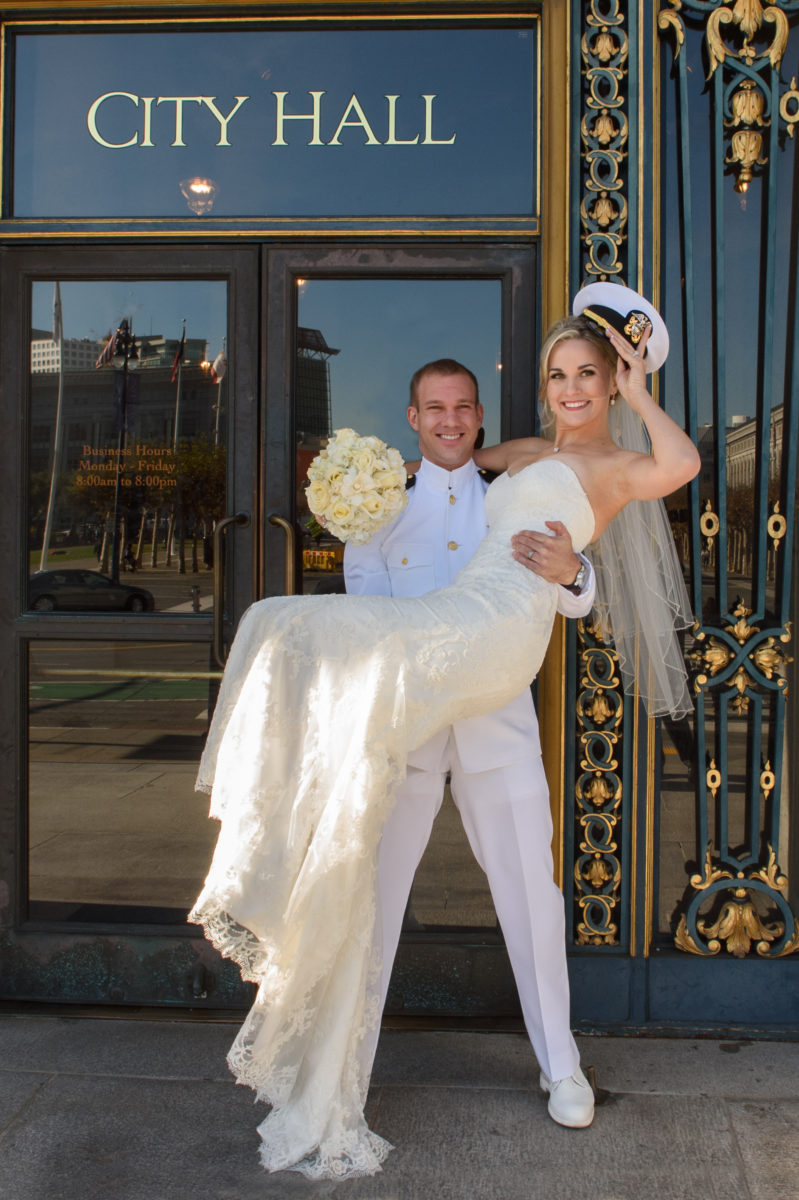 These kind of photos truly help make the occasion a memorable one for both bride and groom.  This is our goal, not just to get great photos, but to make sure the newlyweds were happy on the day.  We always feel like this is such a great way to finish our San Francisco city hall wedding photography session.