One of the first things our clients ask us about when we begin our City Hall wedding photography shoot is the sign picture. They all ask: "Can we do the City Hall sign photo?" I always let them know that of course we will, but it is best to save it for last because we avoid having to through building security twice. I remember one particular groom seemed agitated during the whole city hall photography tour and I finally asked him if he was OK. He told me he couldn't understand why we were not taking a photo with the sign, but didn't want to seem pushy. Once I explained to him why we save it for last he felt a lot better. I think this is the only photo he really wanted! If you check out all of our City Hall Wedding Photography galleries, you will see that we always take this very important picture.
Everyone Wants City Hall Sign Photo
One thing that this experience has taught us is this is a photo that should never be left out of coverage. I see other couples struggling with the same issues, so now I just tell every bride and groom up front. We WILL take you to the City Hall Sign at the building entrance and get lots of pictures! I was starting to realize that this was becoming an issue for many of my clients. I think part of the problem is that the most of our newlyweds think of that sign as the entrance to the building so they automatically assume we should start with the photo first. I certainly understand an agree with their concerns so I figure it is best to address it up front. We have provided a few different ideas for posing in front of this famous San Francisco city hall location.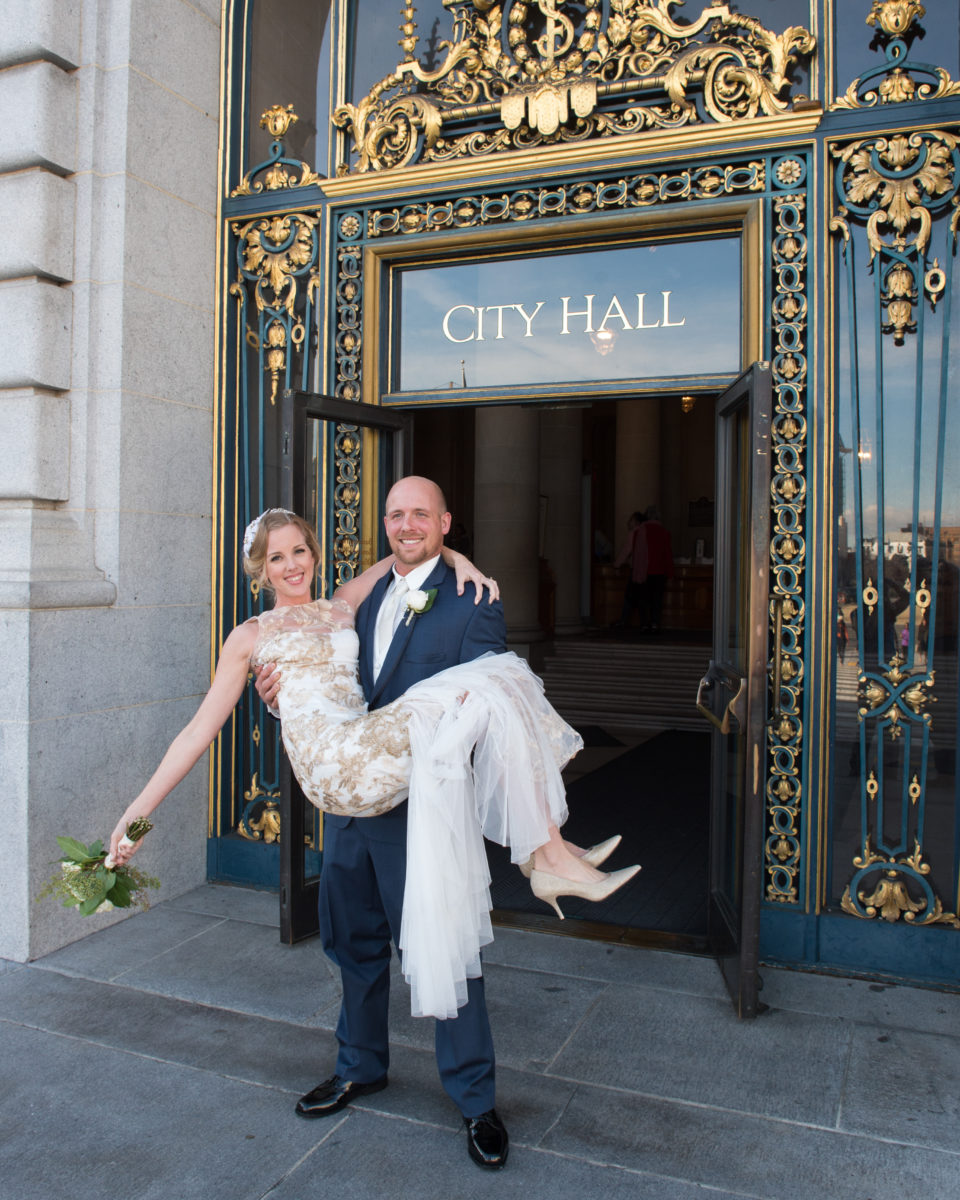 Fun Ideas for City Hall Sign Photo
There are many variations to this ending shot. You can do a simple posed shot, a walking shot or a celebration photo. No matter what we end up doing with each couple, I think it is important for this photo to say something about the bride and groom. Some couples want to be animated and be celebratory. Others prefer a more traditional posed image. Please understand that we will never force our couples to do anything silly or out of character for them. We make suggestions only, not demands. We want you to be comfortable with whatever poses we develop. If you want to suggest something, please do. We are always willing to listen. Our clients often come up with better ideas than ours! Here is summary of some of the best ideas for the City Hall Entrance image
Walking out of San Francisco City Hall and waving
Reverse view from inside of the building as bride and groom walk out
Groom lifting Bride in front of the sign
Happy Couple raising a fist in triumph as they leave City Hall
Newlyweds jumping for Joy in front of City Hall sign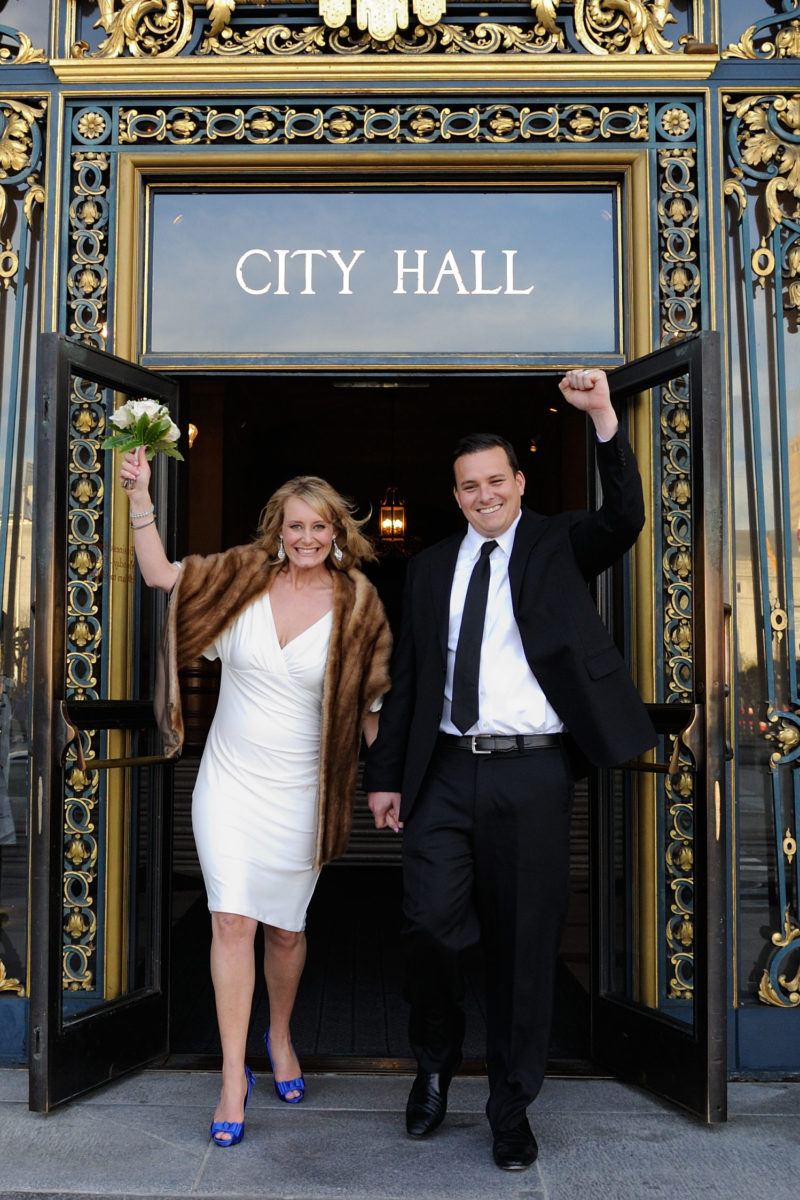 Recently we have starting doing a few photos of the couple inside the building behind the sign. Of course taking the photo from this location causes the words to be reversed. Sometimes we keep them reversed, but others we have to flip it around using Photoshop. We take this photo from inside of the building looking outdoors. Sometimes the strong backlighting ends up making this a silhouette shot. To see an example, check out the Maternity shot just below. Another variation of this image is to take picture of the happy couple from behind as they depart San Francisco city hall. I like this shot because it is symbolic. To me it represents the newlyweds leaving SF City Hall as a married couple and looking towards their new lives together. This could be a bit of a stretch, but I like the idea behind it. Both of the photos below have been flipped in Photoshop to have the words "City Hall" appear normally.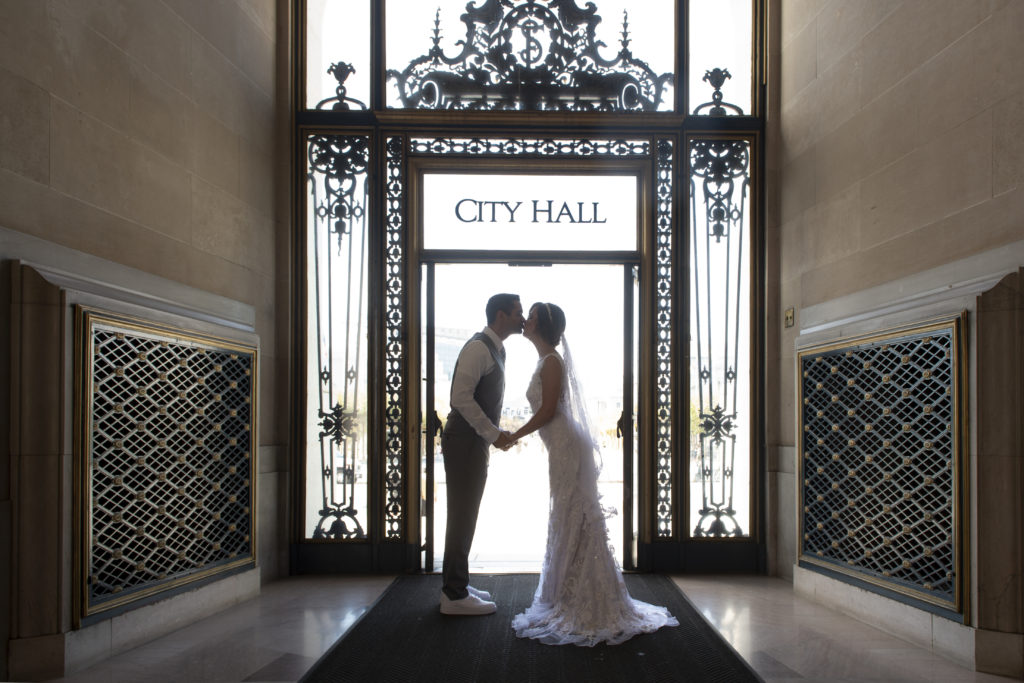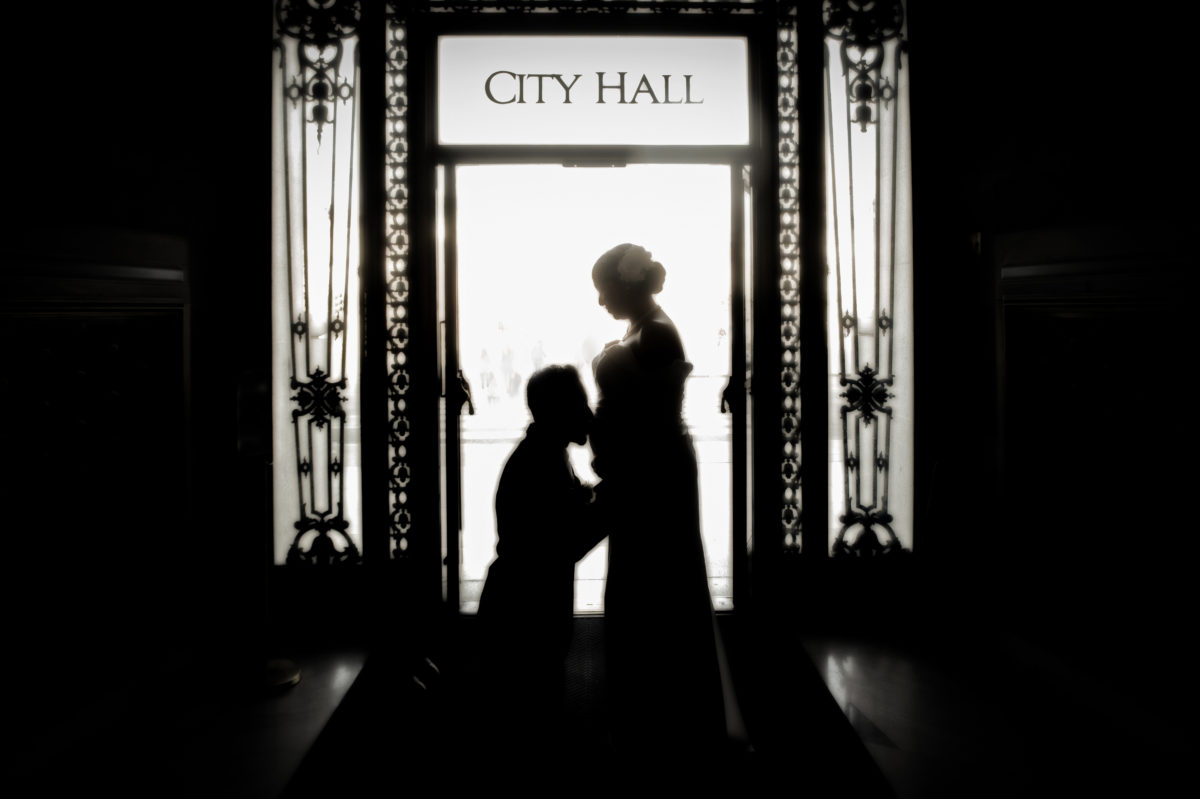 Our City Hall Newlyweds Often Have Their Own Ideas
Some of our couples prefer to do more natural photos in front of the sign. We will ask them to walk out of the building and raise their arms in a celebratory fashion. "Yay, we did it! We got married at San Francisco city hall!" These types of shots always give you the most bang for your buck in terms of showing emotion and fun. It is also an opportunity to take a picture that appears candid in nature. Often times our couples already have a very positive idea of how they want this image to appear. We always ask our couples beforehand if there is something specific they have seen on our website or a different one that they particularly like. As usual, it is always about pleasing the couple and making sure they get what they want. The celebration photo discussed above is often something most people want so it works out great for them. Other's feel that this type of pose is corny. You can never please everyone, but it's important to ask. As I have mentioned elsewhere on this blog, San Francisco city hall weddings do not always provide tons of Candid moments to photograph. This is one of them and so we love to take advantage of the chance!
Matching the Newlyweds to The Pose
We also try to match our couple to the type of San Francisco City Hall sign pose. For example, in the photo below, we thought it would be fun to spoof the famous movie "An Officer and a Gentleman." The couple loved the idea and quickly got right into it. Our sillier couples tend to want to do something goofy when they walk out. Perhaps make a funny face or do something that special to both of them. We recently had a couple who always like to give each other high 5's. So naturally doing that when they departed was the perfect plan. Many of our couple who are really into Family prefer to position their whole group in front of the City Hall sign. They may all do a cheer together or just a simple pose. The City Hall sign is also the place that many of our couples like to do pictures with their pets. Since only service animals are allowed inside the building, the pets often have to wait outside with a friend or pet handler. Once the couple exits the building, they have their chance! This can be a reunion picture with lots of fun and candid pictures or we may try to pose the animal with the bride and groom. Again, we leave these decisions up to the newlyweds. We figure that they know their pets better than we do. Here are some additional ideas for incorporating your pets into your wedding photos.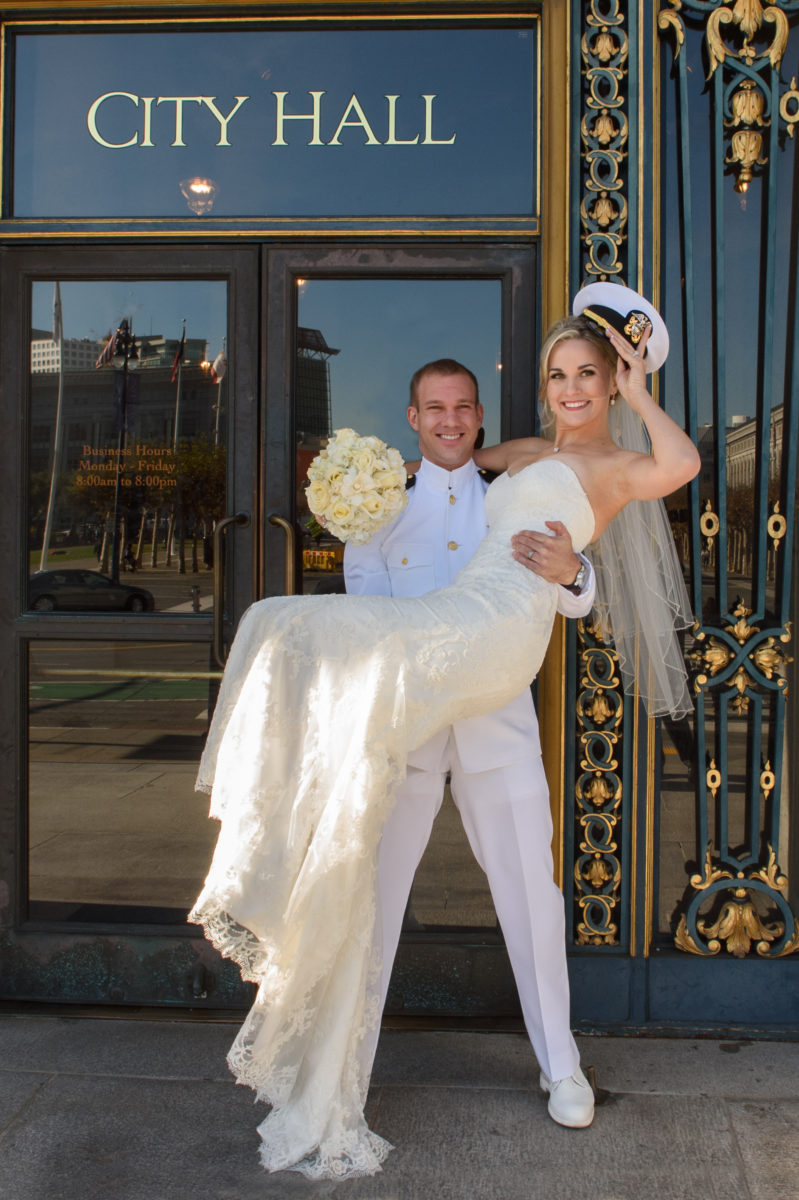 These kind of photos truly help make the occasion a memorable one for both bride and groom. This is our goal, not just to get great photos, but to make sure the newlyweds were happy on the day. We always feel like this is such a great way to finish our San Francisco city hall wedding photography session.