We photographed Cheri and Wesley's San Francisco City Hall wedding on 10/13 and had never met them prior to the wedding.  When I arrived at City Hall, I contacted Cheri so we could meet briefly prior to the wedding.  During our phone conversation Cheri told me:  "Don't worry, you will recognize me, I am pretty sure that I am the only bride in the building wearing a dress with black and white polka dots!"  She was definitely correct, we spotted her right away!  San Francisco City Hall is a great place to wear an outfit like this, everything seems to work here and the more colorful the better.  She received many positive comments from onlookers.  I can honestly say, this is my first polka dot wedding dress every photographed!  The red trim especially works great at San Francisco city hall.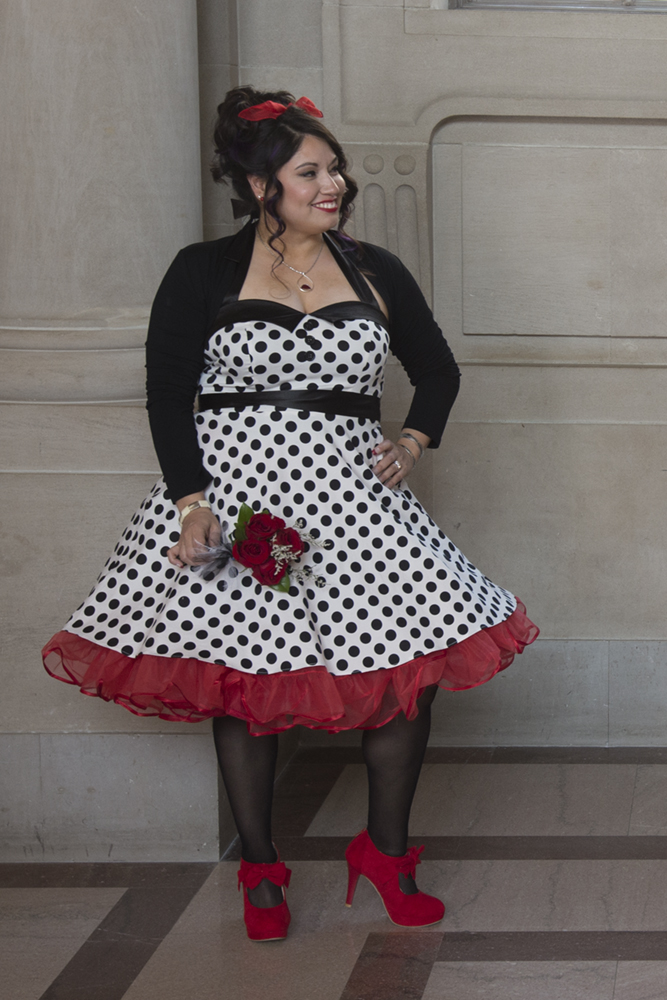 Polka Dot Wedding Dress at SF City Hall
Cheri's attitude matched the fun in her dress and we had a great time at their wedding.  They both came all the way from Alaska to have their nuptials at one of the best wedding venues on the west coast.  They talked about the affordability and historic beauty of city hall and how they really wanted to have their wedding here.  They chose our City Hall Tour Package which provided them with 4 hours of photographic coverage and 3 locations in San Francisco.  They choose to go to the Palace of Fine Arts, the Golden Gate Bridge and then finish up at Ghirardelli Square.  We took them to each location and took the some of the photos you see below.
Bride and Groom in Front of the Grand Staircase
The weather was gorgeous in typical October "Indian Summer" fashion in San Francisco.  We drove the couple to each location and had a fantastic time.   We love it when our clients choose the San Francisco Tour package.  It's affordable, fun and you really get to know the client.  We find that the end of the Hyde Street Line is one of the best places to take good Cable Car photos.  This location is right next to Ghirardelli Square so there are other great places to visit after the cable car picture. The Cable Cars line up here to wait to go in for their next load of passengers and so there is a nice opportunity to pose the newlyweds while waiting.   In the image below, we asked the couple to hang out a little from the Trolley to make it appear like they were riding.  Definitely a fun shot to go with our bride's fun dress. They were very happy with the wedding images and were glad they booked the San Francisco Tour Package because of all of the great San Francisco destinations.   Thank you for checking out our most recent Blog post about fun and unique SF City Hall weddings.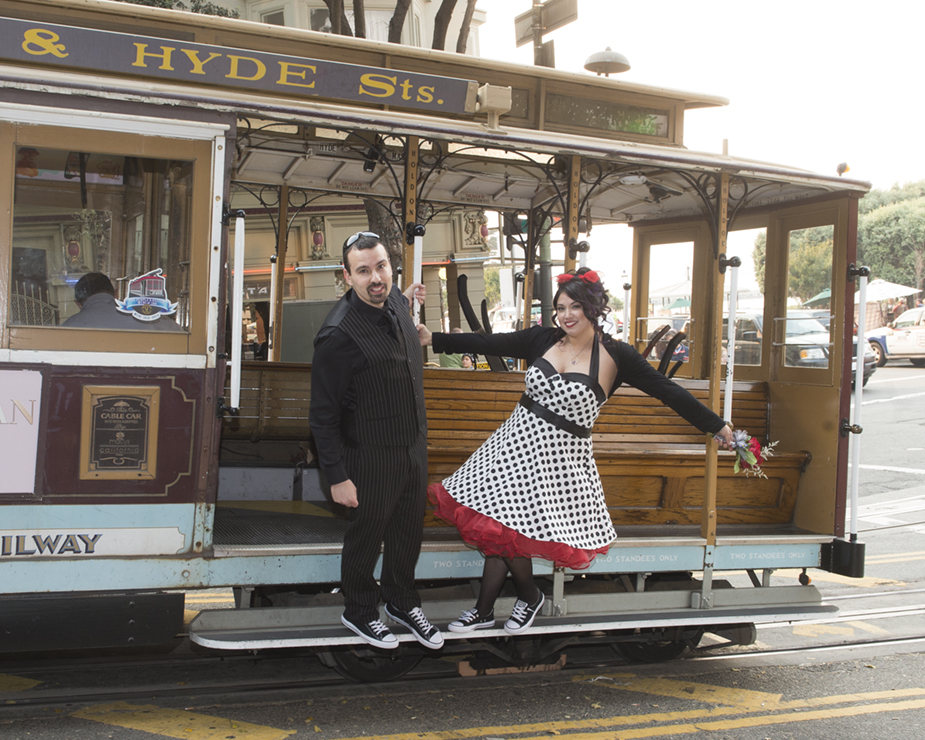 Cable Car on the Powell Street Line by Ghirardelli Square