The San Francisco Life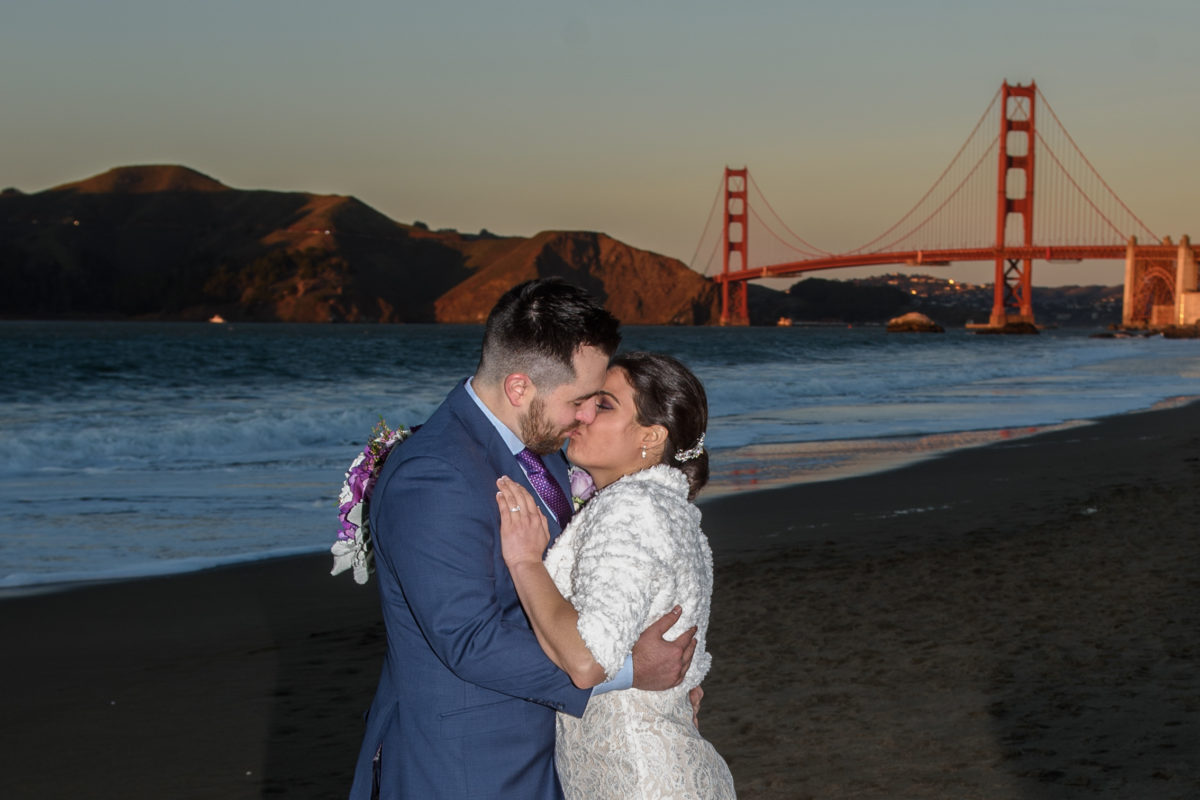 Kissing in Front of the Golden Gate Bridge in San Francisco
I am a rare breed, an actual San Francisco native.  I was born in the city and lived there for many years with my family.  My neighborhood growing up happened to be the famous Haight Ashbury District and I was there in the 1960's during the "Hippie" era.  I remember walking through the Pan Handle as a small child and literally stepping over Hippies lying in the streets as I walked with my classmates to school.   It was quite an experience and a different time.   Back then we called them hippies, now they are known as homeless people.  Despite this, we used to play outside by ourselves with no fear.  I could walk home from school by myself and we didn't think it was any big deal. I am still amazed thinking about how I would walk home 3 blocks from school as a third grader with no parental supervision.  Were my parents not vigilant enough? It just wasn't an issue back on those days, but things changed quickly as we all know. As a young adult I attended the University of San Francisco, which was walking distance from where I lived as a child.  So what does any of this have to do with wedding photography in San Francisco?  Keep reading to find out….
San Francisco as Inspiration for Photography
The San Francisco community fancies itself as an art society.   People here are very in touch with their "right brain".  What does this mean?  Right brainers are focused on creative pursuits and art.  San Francisco inspires artists to create.  It's hard to define, but I just know that many of the best San Francisco wedding photographers are concerned with providing their clients with more than just traditional images.   They want to use San Francisco as a backdrop for amazing creative and  historic images.  It is easy to do here, because the city offers so much.  Having grown up here, I find myself very much in tune with the beauty and history all around us.  We love taking our clients to beautiful places like The Palace of Fine Arts and the Legion of Honor.  We want to show our couples different aspects of living in San Francisco through wedding photography.   When we take couples on a photo tour of the city, we talk about the lifestyle and also show examples.  When it comes to San Francisco, it is more than just the beauty, it's the culture and  the history.   I know it may be overreaching a little bit, I truly think that many of our brides and grooms like to  feel the whole San Francisco persona.  It is a unique city and has a flavor all it's own.  We hope to capture this for you in your city hall wedding photographs including various San Francisco destinations we happen to take you to.  Unfortunately, there have been some changes with regard to the cleanliness in San Francisco and their are recent concerns about homelessness becoming more of problem.  However, these types of challenges exist in all big cities and there are no easy answers.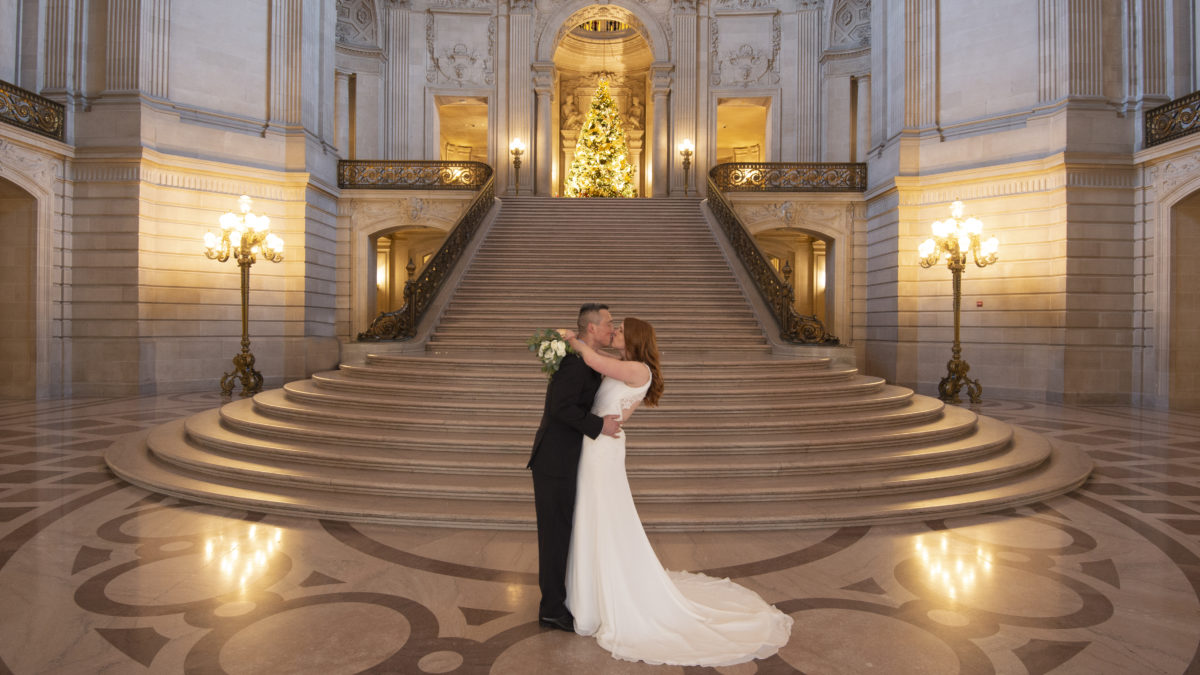 Christmas at city hall in San Francisco featuring the beautiful Christmas tree
San Francisco Historical Landmarks
The city has so many amazing landmarks and historical locations to take our couples for wedding photography.  The Grand Staircase in the photo above is one of these San Francisco Landmarks.  Tourists from all over the world flock to see it and take pictures of it.  It makes for a great wedding photography background as you can see.  On any given day, you will find many San Francisco residents enjoying the beauty and elegance of these places not only in city hall but outside.  This is part of the San Francisco lifestyle, a very easy going pace when compared to other large cities.  Hanging out in Golden Gate park, spending time by the Painted Ladies or just  walking on Baker Beach.  These activities are all part of how people live in the City by the Bay.  The fact that I grew up here makes me even more motivated to show visitors what a fun place it is to live.  It certainly is a great place to be a wedding photographer.  Where else can you give your newlywed clients so many options for picture taking.  We often find ourselves helping our clients to narrow down their choices when they are trying to decide where to go.  The weather in San Francisco is sometimes maligned for its persistent fog in the spring, but the fact is we rarely have terrible weather here.  In 600 city hall weddings that I have photographed here over the past 20 years, rain has only adversely affected my shoots 3 times.  We still managed to get some great umbrella pictures in these rare instances.  The photo below is more typical of the type of weather you can expect in San Francisco nearly year round.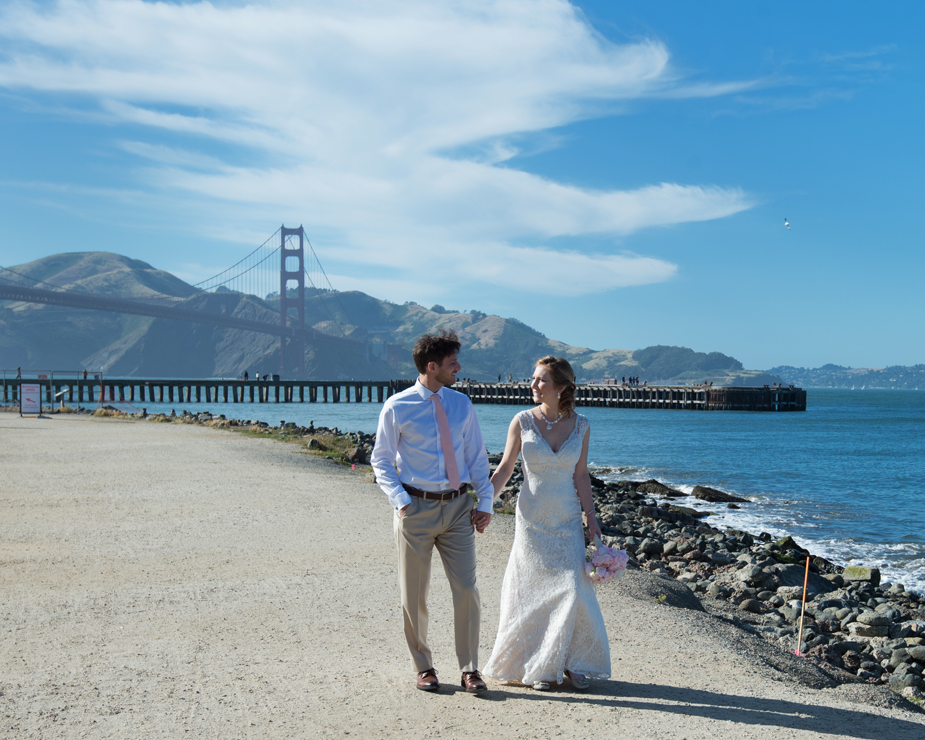 Experiencing the San Francisco lifestyle walking along the Crissy Field Shoreline
We look forward to sharing our vision of San Francisco with all of our brides/grooms or engaged couples whether they live here or are visiting from other countries.  Please make sure to let us know some of your favorite spots to go to and we will be happy to take you.  We can't wait to escort your through our beautiful city.