A Wedding Photographers Perspective
We spend a lot of time on this website talking about all the reasons our clients should consider holding their nuptials at San Francisco city hall. I thought it would be interesting to present a different view point. A perspective that has nothing at all to do with the potential benefits and advantages of City Hall weddings to the general public. Instead today, I present a photographers view of the joys of shooting weddings here. Why do we like it? Why would other wedding photographers like it? This posting is really more for other wedding photographers to enjoy, but I feel like brides and grooms may learn something as well.
Introduction to SF City Hall
The first time I ever set foot in San Francisco city hall, I was greeted by multiple brides walking around. Understand that at this point I had already been a wedding photographer for many years. In my world, brides only existed on weekends or maybe an occasional Friday. Weekday brides? This can't be, I thought! I investigated further and realized that yes, people DO get married during the week. Not just a few people but many, many people. A further investigation revealed that, in fact, San Francisco city hall hosted approximately 35 weddings per day! A wedding photographer's paradise! I found this out quite by accident and I am so happy that I did. It was actually a funny story because one of my photography second shooters decided to get married there and ask me to photograph her wedding. It was a lucky break for sure, or I might have never discovered it. I quickly put up a website for city hall only to try to capitalize on this new opportunity and eventually became one of the leading photographers at city hall.
Wedding Photography as a Career
Before I get into the details of what I did after making this amazing discovery, I think it is important to share a few quick words on Wedding Photography from a business owner's perspective. In many ways, being in the wedding and event business is very rewarding and it can be lucrative if you have the right niche. However, anyone in the Wedding / Event business will tell you that once you become successful your weekends are mostly taken away from you from a personal standpoint. This is especially true during the summer months. When my business was at it's peak, I would sometimes go 6 or 7 weekends in a row without being able to do anything in the summer that didn't involve pointing my camera at pretty brides. My wife was always having to make excuses for me and explaining to family members why I could not attend events and parties. "Mike has a wedding that weekend". I even missed a couple of close relatives weddings simply because they did not book their own event before I booked mine. One thing to always remember about being a wedding photographer is that you have to be there for your couples when they book you. They expect YOU to be the photographer and not somebody else such as a contractor or fill-in. I have heard that some Los Angeles wedding photographers will "bump" their clients to another photographer if they manage to book a celebrity wedding. I would never do this and I don't think it's a good way to build a solid reputation in the wedding industry.
Investing In San Francisco City Hall
It didn't take too long for me to figure out that I should try to explore the possibility of photographing more weddings at city hall and less big weddings on weekends. So before it was popular to do so, I made a City Hall Wedding Photography website and also added a City Hall section on my main website. I am not saying I was the first of many San Francisco wedding photographers to make these changes because I wasn't. However, I certainly was among the first pioneers to specialize in weddings here. Many other wedding photographers have followed and now there are dozens that claim it as a specialty. Not so long after I made these changes, the weddings started to pour in and we found ourselves busier than ever. It didn't take long for me to be able to cut back on my big weekend weddings and now I am happily one of the leading wedding photographers shooting weddings at this amazing venue. At our peak, we were photographing 12 weddings per month on average. Of course this all changed with the Pandemic, but with the reopening of City Hall we are back in full swing again.
More Time with the Bride and Groom
This certainly is the part we like best! A typical wedding on a weekend can last about 9 hours from Bridal prep until the last dance. So one would think that there are all kinds of opportunities to capture wonderful pictures of the bride and groom. Well, when compared to city hall weddings, this could not be further from the truth. When engaged couples book us for San Francisco city hall, they choose a level of coverage. Even our lowest package in terms of price and coverage time gives us more photographic private time with the bride and groom then we would get at a big wedding. It is not uncommon for us to be able to spend 45 minutes with the happy newlyweds after their city hall ceremony. We would LOVE to have this amount of time with our couple at a full weekend wedding. Ask any full-scale San Francisco wedding photographer and they will tell you the same thing. We are lucky to have 20 minutes with the bride and groom for photos. This 20 minutes is usually sandwiched between the family pictures and dinner service at the reception. It is frequently very rushed and stressful to all involved. In this short time gap, we also have to make sure we capture plenty of wedding party shots also. If I had a dime for the amount of times I have been told that I need to finish taking pictures because the caterer is serving dinner, I could retire. A typical full wedding day is loaded with events and yes, they all need to be covered by the wedding photographer. But what I really love about city hall weddings is the amount of time devoted to JUST taking pictures of the bride and groom alone in various locations.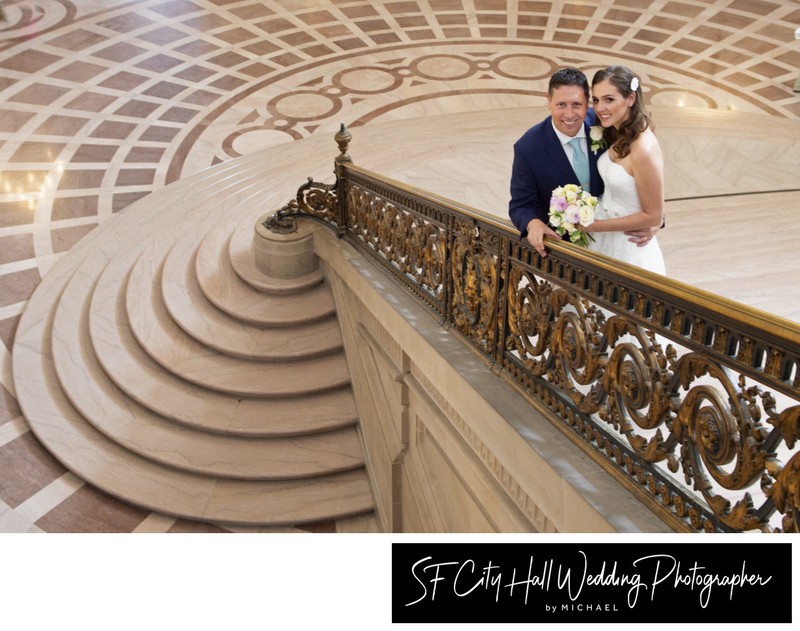 Our San Francisco City Hall Couples WANT Photos
If a San Francisco city hall couple books us to photograph their wedding, they are doing it because they really want great photos. You might be asking, doesn't every couple? The answer to this is, sometimes. Many couples who book us for a big wedding do it because they are either forced to by relatives or feel that it is important to record the event for the future. It is more about documenting all that happened during the day instead of capturing artistic and creative photos of the bride and groom. A couple that books a city hall wedding photographer pretty much knows that most of the time with us will be spent taking pictures of the 2 of them. Generally, we are not there to document the various events occurring throughout the day. There is no cake cutting and no first dance. There is no bouquet toss and no speeches. The coverage they book us for includes ceremony coverage (5 minutes tops) and then photos around the building. So we know that our City Hall couples want great wedding pictures and we are more than happy to oblige. We are generally not rushed and can truly enjoy the experience. We have actually been the wedding photographers for couples whose parents were the one's who booked and paid for us. Some of these couples only reluctantly go along with the idea of getting nice shots because they are doing it for their parents. As you might imagine, this is not conducive to obtaining great wedding pictures.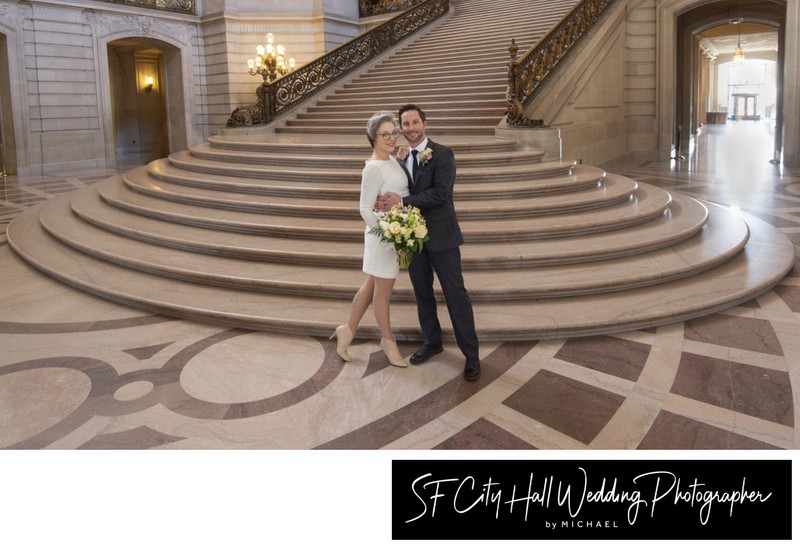 Affordable San Francisco Wedding Photography
I honestly love giving my clients bargains. I really feel that San Francisco city hall wedding photography is a great deal compared to large wedding coverage. It makes us feel good as photographers to provide our clients with so much more coverage time for their money. So this benefits both the client and us. We always explain this to our clients and we want them to understand it and take advantage of it. Our clients have the opportunity to book some of the best San Francisco city hall wedding photographers for under $1,000. Keep in mind that many of these same wedding shooters charge up to $6,000 for a full wedding. Everybody wins! To read more about our affordable wedding photography check out this page. Affordability isn't only just about price, its also about when you receive for your money.