Why Choose the "Ultimate Romance" Package?
This package is for the couple who wants it all! We will cover your San Francisco City Hall wedding from start to finish and everything in between (8 hours maximum coverage without special arrangements). Starting with your SF City Hall coverage of your ceremony and formal photos in the building. With full day coverage, you can be sure to capture all of the beauty of this amazing building and still have time to include extensive photos of family and friends. We then travel to the San Francisco locations of your choice (as many as you want in the time allowed!) Our coverage is not complete until all of your wedding reception events have occurred, including the toasts, cake cutting, first dance, and bouquet toss. For those future brides and grooms who truly prefer candid wedding photography, this is the package of your choice. We will creatively cover all of your wedding events and capture those special moments. A wedding reception is one of the best places to record documentary style wedding images. Hugging, crying, dancing, it all happens at the wedding party! We only recommend this package for city hall weddings with a reception the same day. There are more appropriate packages if you just want to tour San Francisco after your wedding. 8 hours of coverage is only needed if you have a wedding reception planned.
Full Day Wedding Photography Coverage
This Package offers up to 8 hours of maximum coverage plus all of the components of the "Storybook Album" Package. This means you receive a beautiful custom made flush mount Wedding Album by Epoca but with 50 photos! This book is a top quality professional wedding album imported from Italy. In addition, you also receive all of the digital images taken at your wedding with full reproduction rights. One amazing feature of this album is that we include free retouching and Photoshop work on all of your chosen images. In addition, we even provide you with the enhanced image files once we have completed your editing. This makes The Ultimate Romance Package a relative bargain, because in a sense you are receiving the retouching of 50 images for free. For additional information on this package and others please return to the SF City Hall Home Page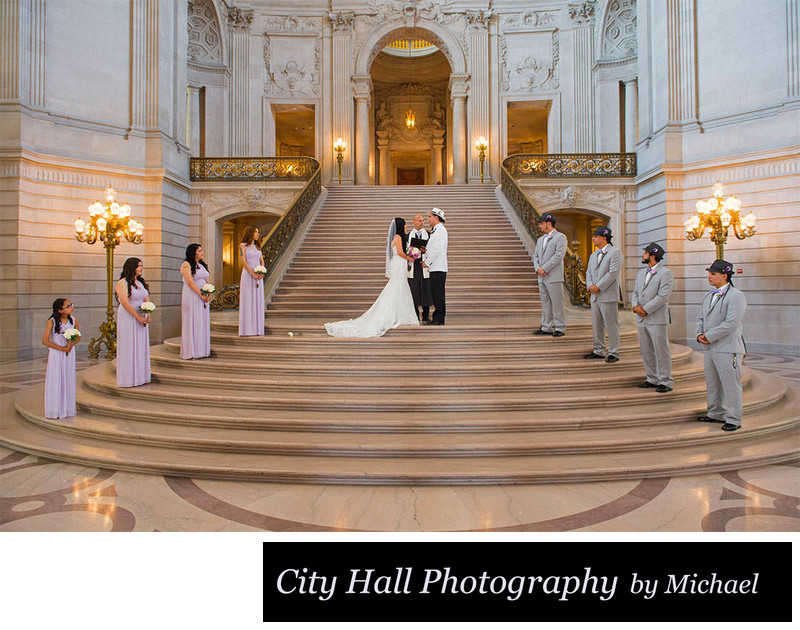 Saturday City Hall Wedding Ceremony
The photo above displays a San Francisco City Hall wedding on a Saturday. Yes, you can rent the entire building on Saturday for 2 hours and have your wedding ceremony in private. No tourists or crowds, just you and your guests. City Hall charges around $5,000 for Saturday weddings, but with additional options and security the price can go up from there. You may have other expenses including security charges and of course food and beverages. The event staff does restrict access to certain floors and it is a good idea to tell them beforehand where you would like photos taken after the ceremony. We usually are not allowed to venture up to the 4th floor for wedding pictures on a Saturday, but it helps to ask. In most cases, they will allow full access to the 1st and 2nd floor and most likely the 3rd. We particularly love Saturday weddings because once the ceremony is complete, we have the entire Grand Staircase to ourselves and can shoot any angle we want! We have been able to access at the least the 3rd floor if we agree to be accompanied by a security guard. This may also pertain to the 4th floor, but we just ask!
Saturday ceremonies can accommodate a very large number of guests unlike week-day weddings. I am not sure what the maximum amount of guests that are allowed, but I know it is close to 200 because I have photographed that size wedding on a Saturday before. If you would like us to cover your Saturday City Hall wedding, please
contact us
for special pricing. The Ultimate Romance Package would be one option to consider if you are planning a party afterwards or just want to tour San Francisco. We are happy to discuss these options with you. Just let us know! We listed this option here, because we have discovered that quite a few of our San Francisco City Hall brides and grooms thought this package would be great for their Saturday wedding. It provides the time needed to cover this longer City Hall wedding.


Third Floor Window at San Francisco City Hall
The truth is, we love taking photos on the 3rd floor of San Francisco City Hall! The light is amazing and can be controlled almost like a studio. Face the couple into the light from the window and you get soft directional light that adds a glow to their faces. Position them so the light is coming in from their side and you can create classic photography studio light. Shoot directly into the window for silhouettes or rim lighted subjects. The ability to accomplish all of this is partially because the light source is on the north side for these windows. Artists understand that northern light is the favored direction. For years, photography studios have attempted to have a north facing window to pose their models close to. Rembrandt was famous for his portraits with northern light illuminating his models. San Francisco City Hall just happens to have a number of windows facing North! Just one more reason we love shooting here!
In the photo above, notice how the window light makes this bride's veil glow. This adds another dimension to the image. Plus the nicely decorated window itself is a beautiful part of the wedding photo. This package provides enough coverage to allow us to really focus on some of these professional techniques and city hall locations. The Ultimate Romance includes all of these types of images and so much more. Let us know if we can answer any questions including wedding planning issues. We assume if you are interested in this package, you are also looking for DJ's, Cake makers, Videography, Catering and more. We would be happy to help you with these items if you so desire.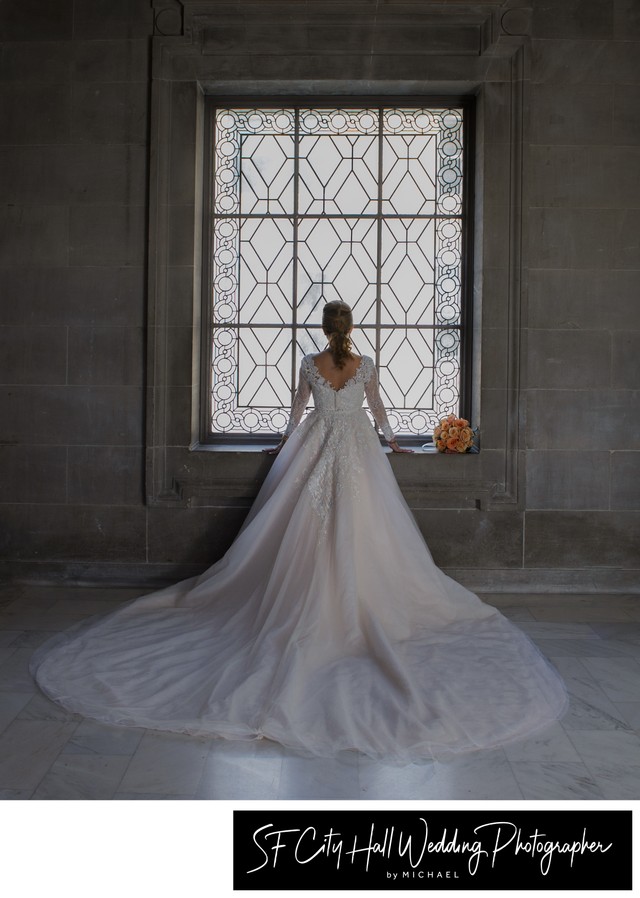 Return to Affordable Packages for City Hall Weddings