County Clerk Check-in Number
One of the steps involved in having your wedding at San Francisco City Hall is to check in at the County Clerk's office. In the photo above, you can see the happy couple displaying their County Clerk ceremony number. Once you check and let the Clerk know that you are here, you are given a number. Usually once the number has been provided it will take approximately 15 minutes for your number to be called. This allows you to meet with your marriage commission to discuss details about your upcoming ceremony. This brief meeting occurs inside the County Clerk's office and also involves the signing of the marriage license by your witness.
Documents for Wedding Ceremony Need to be Current
Don't forget to bring your marriage license and unexpired identification documents. Acceptable documents include a current passport or a drivers license. There are also a few other types of documents acceptable including the new California ID. Be sure and check with the County Clerk in advance if you are unsure of the legality of your personal documentation. The most important thing is to remember that whatever legal documents you bring, they all need to be current and up to date. The last thing you want is something to stand in the way of the 2 of you getting married that day. We have been involved in more than one wedding that was delayed due expired licenses or Passport. This is the one disadvantage of obtaining your marriage license of the day of your wedding. There is no time to fix things if you don't have the proper documentation. Other issues that can get in your way include divorce status from a previous marriage or improper documentation from non-citizens. As your City Hall wedding photographers, we also make sure that you have the appropriate documentation, but we are not legal experts. We do what we can to help our couples out to help relieve some of the stress involved in this whole process. We will also be happy to answer any questions you might have regarding the procedures outlined above. We are here to help and have been doing so for over 20 years. UPDATE: At least for now, this picture holding the check-in number is no longer possible. The County Clerk has decided to not allow wedding photographers back in the office for check-in or the license signing. This is a reaction to the still dangerous Pandemic. We will update this page and others once this changes.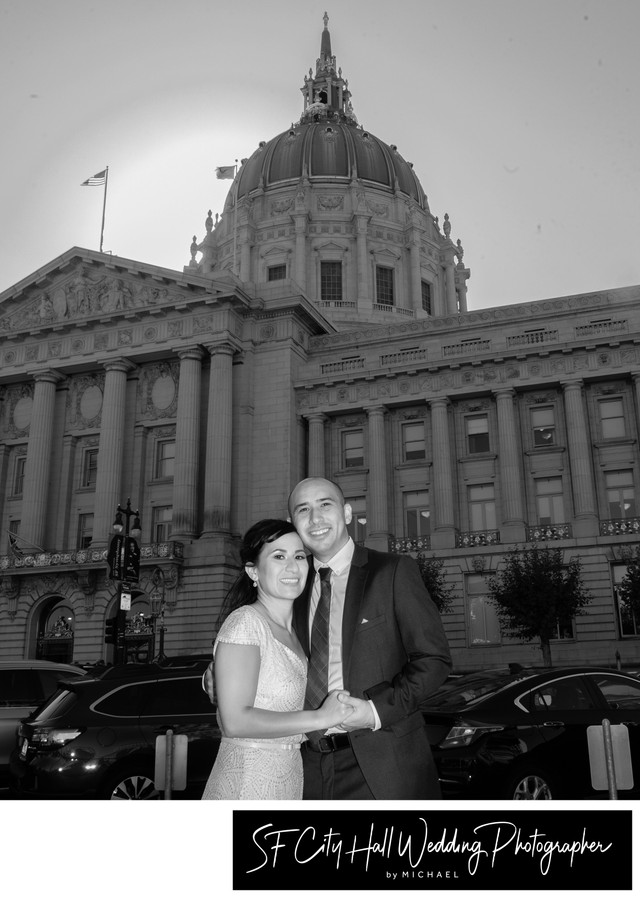 Exterior Image of San Francisco city hall