Capturing The First Wedding Kiss
Even after photographing over 1,600 weddings with 600 at city hall, I have not decided yet if I prefer the officiant to hide for the first kiss or just stand there. Everyone has a different idea on how to handle the first kiss at the ceremony and I am not sure how I stand on the issue. In the image above the Marriage commissioner chose to hide behind them, but as you can see, he is still visible. Other officiants will actually run out of the picture after telling the couple to kiss. In the long run, I think it is just better to keep things natural. I am pretty sure most San Francisco city hall wedding photographers would agree with me on this one.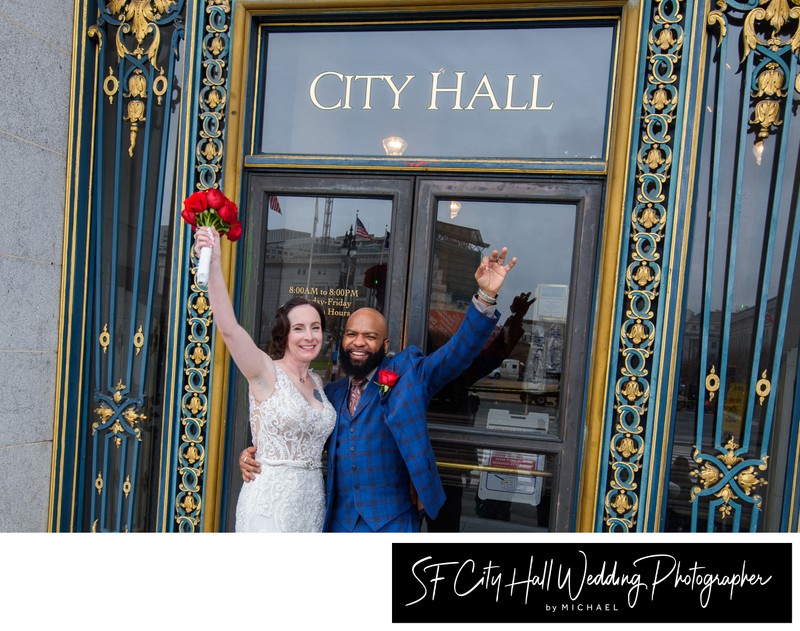 To Hide or Not to Hide
Some officiants will actually come up to me to warn me that they're going to move out of the picture when they call for the first kiss. It really doesn't affect how I'm going to take the picture of the kiss, but it's nice of them to let me know. Unfortunately, some officiants will take this duty to get out of the way too seriously and you can actually see them jumping out of the picture. This is not a good look either and I would just prefer they stand in one place instead of doing that. To be honest I have never had a couple complain to me about a first kiss picture because the officiant was visible. I really don't think most newlyweds care and since that is what is actually happening there is no reason to change it. In general I do like it when everyone who is working with the couple is doing their best to make the pictures as great as possible. So I still make a point to thank everybody for trying to help us out. This is the way it should be, all of us vendors working together to make the best wedding experience for the happy couple. At the end of the day, that is all that really matters.