SF City Hall - More than just a Wedding Venue
Let me just start this off by stating something that should be obvious..... I am just as disappointed as the bride and groom are when events or other activities disrupt a wedding scheduled at San Francisco city hall. I feel bad for the couple, especially those that came from far away just to get married in this beautiful building. The fact is, over our 10 years of photographing weddings at city hall, we have had a number of weddings where unavoidable disruptions became challenging to our goal of getting you great wedding pictures. However, we always find a way to make our city hall wedding couples happy. Sometimes it just takes some creativity. Her are some of the challenges we have faced over the years:
Major Party which closes down the Staircase and perhaps more
Inauguration of the Mayor which basically closed down the entire building
Funeral of a Mayor which also closed down the whole building
Water main break which caused evacuation of the building
Monthly Friday afternoon concert or dance which closes down the Grand Staircase
Ill timed Fire Drills which causes the whole building to evacuate for an hour or more
City Hall Events that can close down small or large parts of the building
Major tour bus arrivals which can flood the building with tourists
School tours
Protest Marches which can be disruptive and loud
This is only a partial list of things that can disrupt a San Francisco city hall wedding and also the photography. To me, there are a number of ways to approach these kinds of challenges. The wrong way is for the city hall wedding photographer to get upset with the bad luck and share this attitude with the couple. Such as making comments about how unfair it is that part of the building is closed off and letting your client see how upset you are. To take this even further, I have seen other San Francisco city hall wedding photographers write their own articles about how terrible it is that these kinds of things occasionally occur. Does it really have to be that terrible? It is true (as some feel) that city hall owes each and every married couple full access to the building? The answer to both of these question is no. City Hall does not owe married couples anything except a legal wedding for their money and no, it does't have to be terrible. In fact, Toni and I have figured out creative ways to make the best out of even the most challenging situations. Continue reading to see how a good professional city hall wedding photographer handles these problems.
Turning a Potential Negative into a Positive
Are Toni and I disappointed when a big event disrupts our wedding and our photography shoot that day? Of course we are. In a perfect world every city hall wedding would be held in an empty building with no tourists and no events. This, however, is not reality. San Francisco city hall is a public building and anything can happen. Our couples never have any idea that a disruptive day rattles us, because the truth is, it doesn't. we just shift into another gear and still make great wedding photography happen. By keeping our own positive attitude, the couple draws on that and their wedding day is not ruined by disruptions. In fact, we will go out of our way to work around any closed areas and bring our couples to unique and very beautiful alternative locations. Yes, everyone LOVES the Grand Staircase! City Hall offers so much more and we have spent years finding and perfecting photography at other locations around the building. Other things that the best city hall wedding photographers can do is to actually shoot the couple in front of the disruption or event! Recently, we had a wedding at city hall during fleet week in San Francisco and there was a large military marching band performing on the Grand Staircase. So what did we do? We placed our couple in front of the band and took a picture. This fun photo became one of their favorites and they even selected it for their Wedding Album. Another time there was a protest marching through the building.... Our couple asked us to take some pictures of them in front of the protesters. Great idea and a wonderful memory for the couple of something that made their wedding day unique and certainly not boring!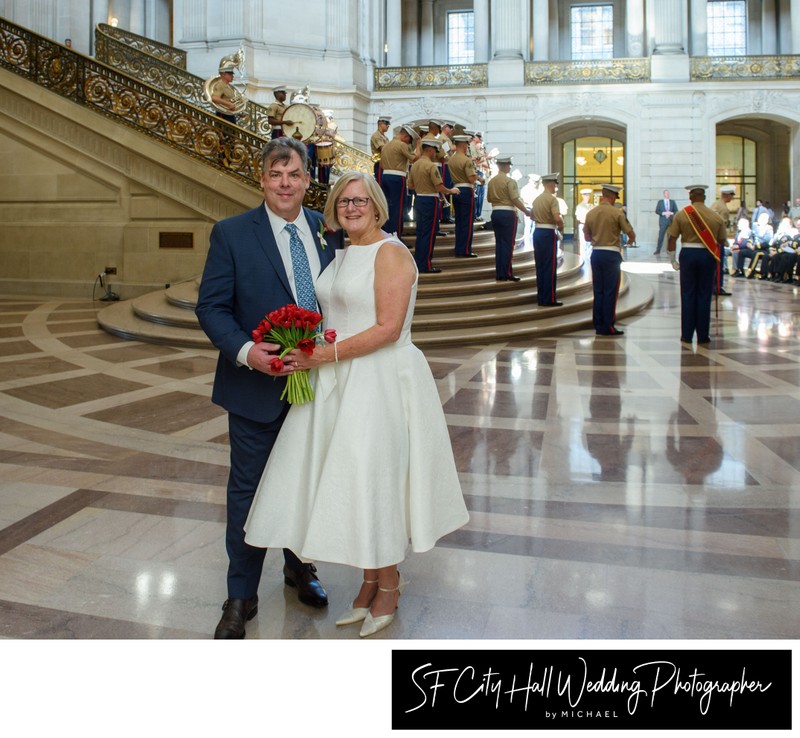 Bride and Groom's Happiness is what Matters
So to summarize all of this I would just say that our primary goal is making our clients happy. When things come up all we can do is make the best of it. We are very proud of the fact that our couples are always happy with the final result no matter what happens. We make sure they are! In one case recently city hall basically shut the entire building down. We decided to offer our couple a free shoot at a later date. They agreed! The basic think to understand is that San Francisco city hall is much more than just a wedding venue. It is a place of business and also historical monument that attracts tourists from all over the world. There is room for all of these things and we should all respect and help each other. The other thing I do to ensure the happiness of the couple may sound a little odd. I feel that it is important to let the couple know in advance that some of these things may happen. Setting expectations is important to everyone's positive attitude. Much better then the bride and groom being blind sided by disruption and unexpected issues. Just another way we prepare for a San Francisco city hall wedding. Making sure our clients are prepared for anything. UPDATE: At least for the time being, no events are being scheduled at city hall, but I expect this to change once Covid-19 settles down a little