Repeating Lines in Wedding Photography
When photographing our couples on the various floors of San Francisco City Hall, we are always looking for backgrounds that will enhance the image without causing distraction. In this particular photo, we used the classic background of repeating lines to add symmetry and drama to the image. In addition to the lines framing the background we also displayed the 3 lights. Another positive attribute of this image is the natural window light illuminating the bride and groom. North Window light is always the best!
Turning Day into Night through Lighting
This image appears to be taken in the late evening with a dim lighting and glowing lamps in the background. In reality, this wedding photo was taken at mid day with plenty of available light. We wanted to make a more dramatic image for this particular background because I love the look of the old fashioned lamps. To highlight them and the couple, I deliberately brought the lighting level down for my camera settings. This had the effect of making it look like an early evening shot, which it really isn't. Using this technique we were able to make the lights glow and bring your attention to them. At the same time, the bride and groom are still in the foreground and so the main focus remains on them.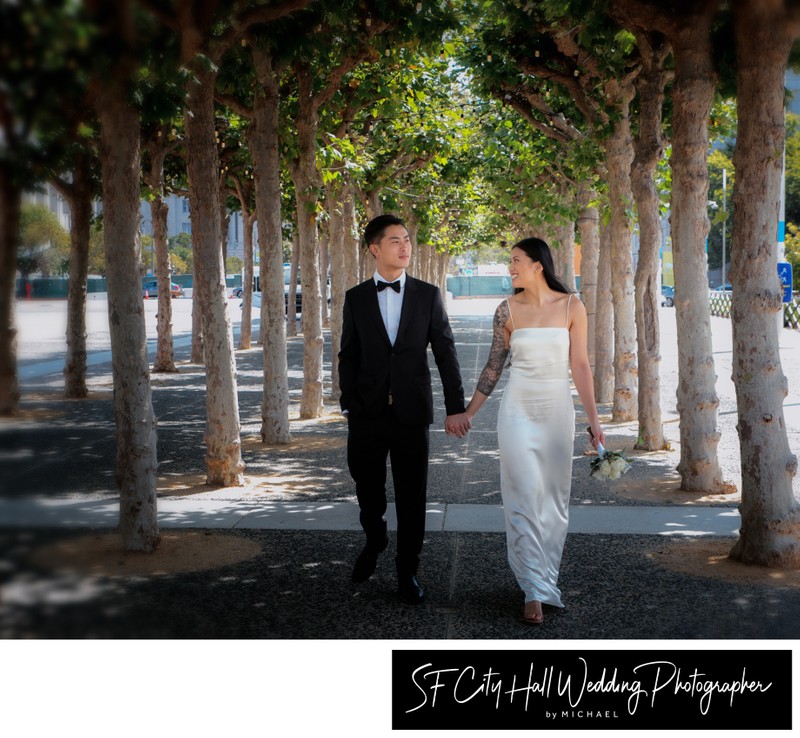 City Hall Newlyweds taking a leisurely walk through the Civic Center park trees in San Francisco